Late Night review - Emma Thompson star vehicle needs a serious rewrite |

reviews, news & interviews
Late Night review - Emma Thompson star vehicle needs a serious rewrite
Late Night review - Emma Thompson star vehicle needs a serious rewrite
The double Oscar-winner should have held out for a tighter, tougher script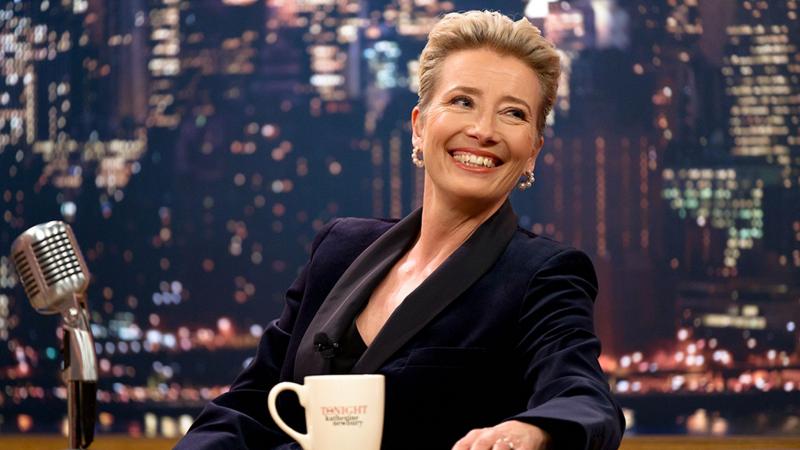 Brave-faced: Emma Thompson in 'Late Night'
"Get me rewrite!": That's likely to be a common reaction to Late Night, the well-meaning but surprisingly slipshod star vehicle for Emma Thompson set in and among the writing world of a New York late-night chat show that is hitting the skids. Thompson brings a peppery command (and some seriously stylish hair) to the role of Katherine Newbury, a disdainful small-screen personality who refers to her writing staff not by their names but by numbers.
And yet time and again, Mindy Kaling's script seems itself in need of doctoring from one of Katherine's put-upon scribes. You applaud the film's desire to hit numerous hot-button topics of our time, from racial and gender stereotyping to the hypocrisy embedded in the kind of "slut-shaming" that all but does Katherine in.
But neither Kaling (pictured above), who takes the co-starring role of the onetime chemical plant worker who becomes Katherine's new (and only female) recruit, nor her Canadian director Nisha Ganatra manage any consistency of character or tone. It's all but impossible to believe that a competitive, 56-year-old star of the small screen would refer to "something called a hashtag" – what planet is Katherine on? Kaling's appealing Molly, too, is jerked this way and that by a self-penned script beset with a ludicrous romantic subplot involving co-writer Hugh Dancy that goes nowhere alongside more firings and re-hirings than her hard-working character has had morning coffees.
You sense at once the indebtedness the film owes conceptually to, among others, The Devil Wears Prada, whose (in)famous Miranda Priestly sowed the fear of God among all in her midst just as Katherine does here. ("When she said my name," notes one of her writers, Tom, in the film's best line, "I almost got an erection.") Arching her eyebrows for effect, Thompson is at her most commanding when asserting the very authority that gives her an adrenaline rush, even as she must combat the disapproval of a boss (the great Amy Ryan, underused) who is prone to ominous remarks like, "I'm watching, Katherine; give a damn." (Additionally figuring among Katherine's fretful retinue is Denis O'Hare, seen recently at the National Theatre in Tartuffe and pictured below with Thompson.)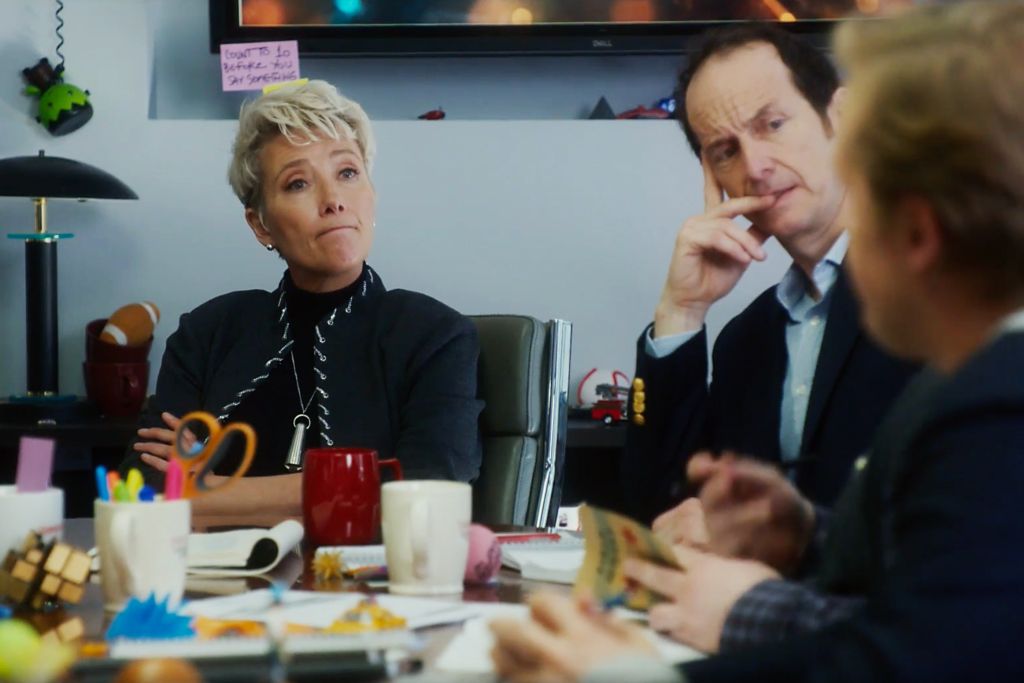 Away from the workplace, we see Katherine doing her maquillage in the company of an older and ailing husband (a sad-eyed John Lithgow, his character here battling neuropathy), who is knocked sideways by the revelation of a "Hollywood sex scandal" involving his wife. Quite why the personal travails of this New York-based Englishwoman – revealed to be a Dame no less, a title Katherine true to form is heard to deride – classify as "Hollywood" gives room for pause. Similarly, you have to wonder near the end why the clearly trim, fit Katherine seems all but knocked out physically by having to climb the stairs – gasp! – to Molly's Coney Island flat in order to bring her back into the fold. Wouldn't her (unseen) personal trainer have made Katherine match fit and then some? (Perhaps her tony Gramercy Park townhouse has a lift.)
The final reel finds everyone making nice as is the expectedly sentimental way of such things. Katherine gains a renewed popularity by discovering her own authentic, politically and personally more candid voice: That, in fact, would make for a welcome and interesting scenario for a movie, but Late Night grabs at it fleetingly only to come to an abrupt end.