Anna Bolena, Longborough Festival Opera review - Henry VIII's court becomes a sexualised death cult |

reviews, news & interviews
Anna Bolena, Longborough Festival Opera review - Henry VIII's court becomes a sexualised death cult
Anna Bolena, Longborough Festival Opera review - Henry VIII's court becomes a sexualised death cult
The Gloucestershire Bayreuth delivers a bel canto thriller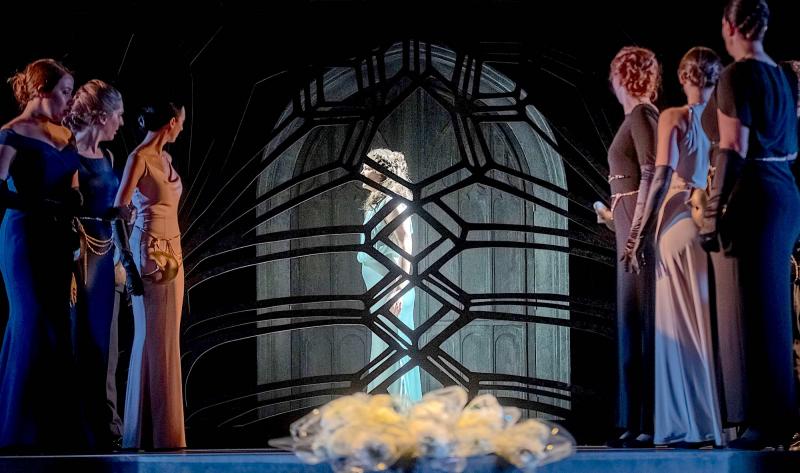 Next for the chop: Linda Richardson in LFO's Anna Bolena
Divorced, beheaded, died; divorced, beheaded, survived. Anne Boleyn is number two on the list, so anyone who can remember even that much Tudor history can guess that Donizetti's Anna Bolena is not going to end well.
The overture has hardly ended before we're told that Anne's star is falling, and it's not exactly a spoiler to reveal that our social climbing heroine is destined (in the words of a better librettist than Donizetti's collaborator Felice Romani) for a short sharp shock from a cheap and chippy chopper on a big black block. We already know where we're going. The success of the opera depends upon how much suspense a director can generate while getting there.
By that measure, Jenny Miller's new production for Longborough Festival Opera scores handsomely. The atmosphere is sinister, and spotlights roam the stage as the overture plays. Nate Gibson's set design is dominated by a fretwork screen whose swirls and curves echo a Tudor decorative ceiling: the bars of a seductively beautiful cage. The inhabitants of this world wear contemporary formal wear, and Anne Boleyn (Linda Richardson, pictured below) is every bit as soignée in her emerald silk number as Jane Seymour (Caryl Hughes) in her bright red gown and evening gloves – at first, anyway. As they strut and strike poses, they're far too impressed with themselves to realise that they're trapped, and Miller deftly helps the audience stay one step ahead of the characters.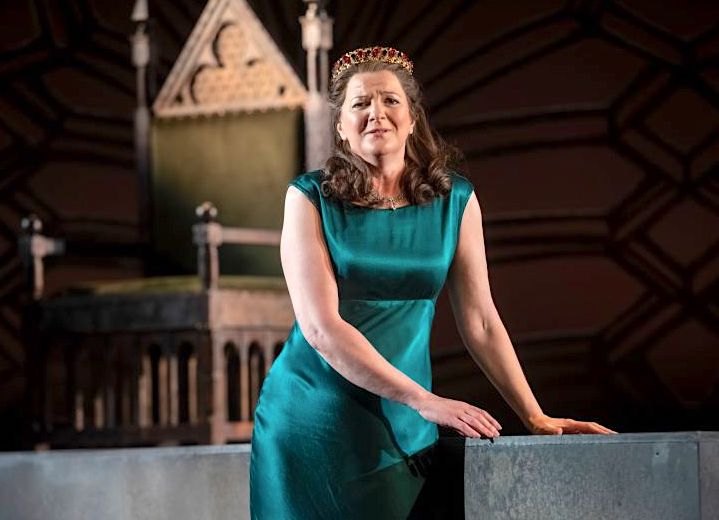 So a dancer with the head of a doe is trapped and killed by a crowd of hunters while, in the foreground, Lukas Jakobski's strapping (vocally as well as physically) Henry VIII toys with his human prey. At the end of the first scene, Jakobski (pictured below with Hughes) carries the petite Hughes offstage: a big bully with his latest human toy. And the chorus wear gold carnival masks, because…well, entering the theatre, we were each handed a copy of WB Yeats's poem The Mask: "It was the mask engaged your mind / And after set your heart to beat / Not what's behind". Directorial crib sheets feel a bit like cheating, but the masks, combined with the nocturnal lighting, certainly helped generate that Eyes Wide Shut sensation of being locked into in a sexualised death cult: not a bad description of the court of Donizetti's psychopathic, all powerful Henry.
Jakobski played him with chilling detachment – face twisting with curdled entitlement as he sees his will thwarted, then nervously buttoning up his blazer as his morality is challenged. His voice, soft-grained at first, grew throughout the performance into a force of quiet terror, rising to a black toned roar. Hughes, as Jane, was initially almost a match for him, prising away at his resolve with a tight, springy, slightly plangent soprano; a sound, coupled to an insinuating performance, which would later make a nicely revealing contrast with Richardson's altogether warmer Anne. But then, everyone came off most vividly when paired with Richardson: whether Carolyn Dobbin's ardent Smeaton, or Jung Soo Yun's raw but agile tenor as Percy – never more persuasive than when blending with Richardson, or powering through an ensemble on lacerating full-beam.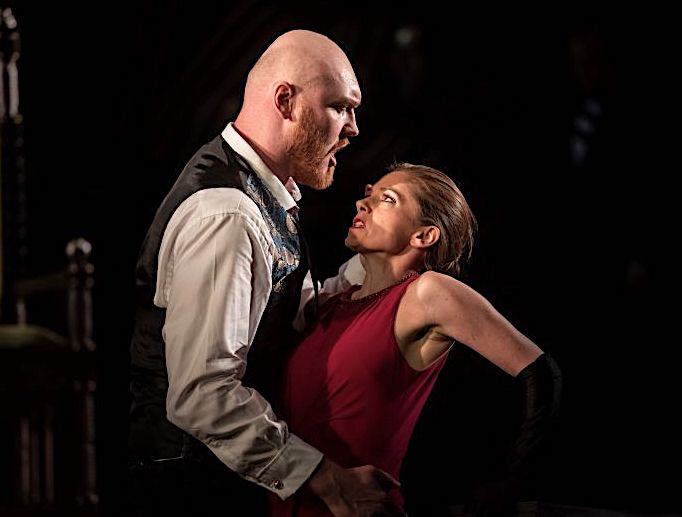 But it says Anna Bolena on the tin, and boy, Anne Boleyn was what we got. Richardson delivered a central performance of compelling subtlety and emotional realism. As her character's arrogance turned to disbelief, defiance and finally delusion, Richardson's voice shaded almost by the phrase from fragility to steely strength. Defiant snarls uncoiled into glowing richness, and sudden, magnesium flashes of coloratura threw whole ensembles into bold profile. The orchestra, under Jeremy Silver, found colours to match; piccolo highlighting the unfolding horror in fluorescent marker while glowing horns and smoky oboes offered the illusion of consolation. Silver knows how to generate the authentic, accelerating thrill of a Donizetti cabaletta too.
Not so much at the outset, perhaps, where the orchestra sounded reluctant to snap into the Italianate style (to be fair, they've just come straight out of the soul shaking experience of Anthony Negus's Rheingold). But by the end of Act One, everything was boiling up nicely. Act Two's central Council scene had the pace and muscular tension of a courtroom thriller, and if a couple of Miller's visual metaphors didn't exactly come off – there was a curious business with the chorus pointing mirrors at Henry, to no perceptible effect, and the timing of the executioner's sword needed tightening up – the musical performances were by now wholly inside the drama's nightmare world.
Henry and Jane's wedding march was a raucous leer of hollow triumph. And Richardson found yet another new vocal colour before the final chop: a haunting, veiled sound, glowing from within, as the unhappy Anne escapes into delusion. Even at this stage, some part of me was still holding out for a happy ending – which, as far as this opera is concerned, means job done.
The Council scene had the pace and muscular tension of a courtroom thriller
rating
Explore topics
Share this article