Gentleman Jack, BBC One, series finale review - Anne Lister weds with pride |

reviews, news & interviews
Gentleman Jack, BBC One, series finale review - Anne Lister weds with pride
Gentleman Jack, BBC One, series finale review - Anne Lister weds with pride
Sally Wainwright's triumphant homage to a lesbian pioneer reaches a romantic climax. CONTAINS SPOILERS
Women in white: Suranne Jones as Anne Lister in 'Gentleman Jack' with Stephanie Hyam
Not too long ago it would have been unthinkable for a BBC One Sunday-night period drama series to tell of one woman's love for another. Whatever anyone thought of it – and not everyone bade it the hearty welcome it merited – Gentleman Jack has shifted the dial.
Was it a coincidence that it completed its run the day after a reported one and a half million people in London turned out to celebrate the freedom to love whoever you choose? (And the day the mauve-maned Megan Rapinoe completed her apotheosis as a gay icon in the final of the Women's World Cup?) Anne Lister, so cussed and crotchety in the fiery guise of Suranne Jones, might have given a wide berth to the rainbow parade of London Pride. Black, she told the progressive queen of Denmark (an amusing cameo from Sofie Gråbøl), had been her colour of choice ever since her heart had been broken.
The goal of the drama was to fix that battered organ. It duly happened in a moving clifftop rapprochement with Ann Walker, in which Anne touchingly confessed to being not as teak-tough as she looked. Whenever it kept its eye on that destination, Gentleman Jack had all the trappings of an old-fashioned romance, with a damsel in distress and a wicked relative plotting to marry her off for money. It was as if Sally Wainwright had plugged herself into The Woman in White.
It didn't exactly pan out that way. Ann, upon discovering that Anne was thinking of her after all, accessed her steely inner core and bolshily made her exit, not bothering to hide her contempt for her rescuers. Her narrative arc has, at least in part, been a hot-button story about mental health, even if in the end all she needed to snap out of it was the love of a good woman. Sophie Rundle (pictured below) was every bit as compelling as the magnificent Jones.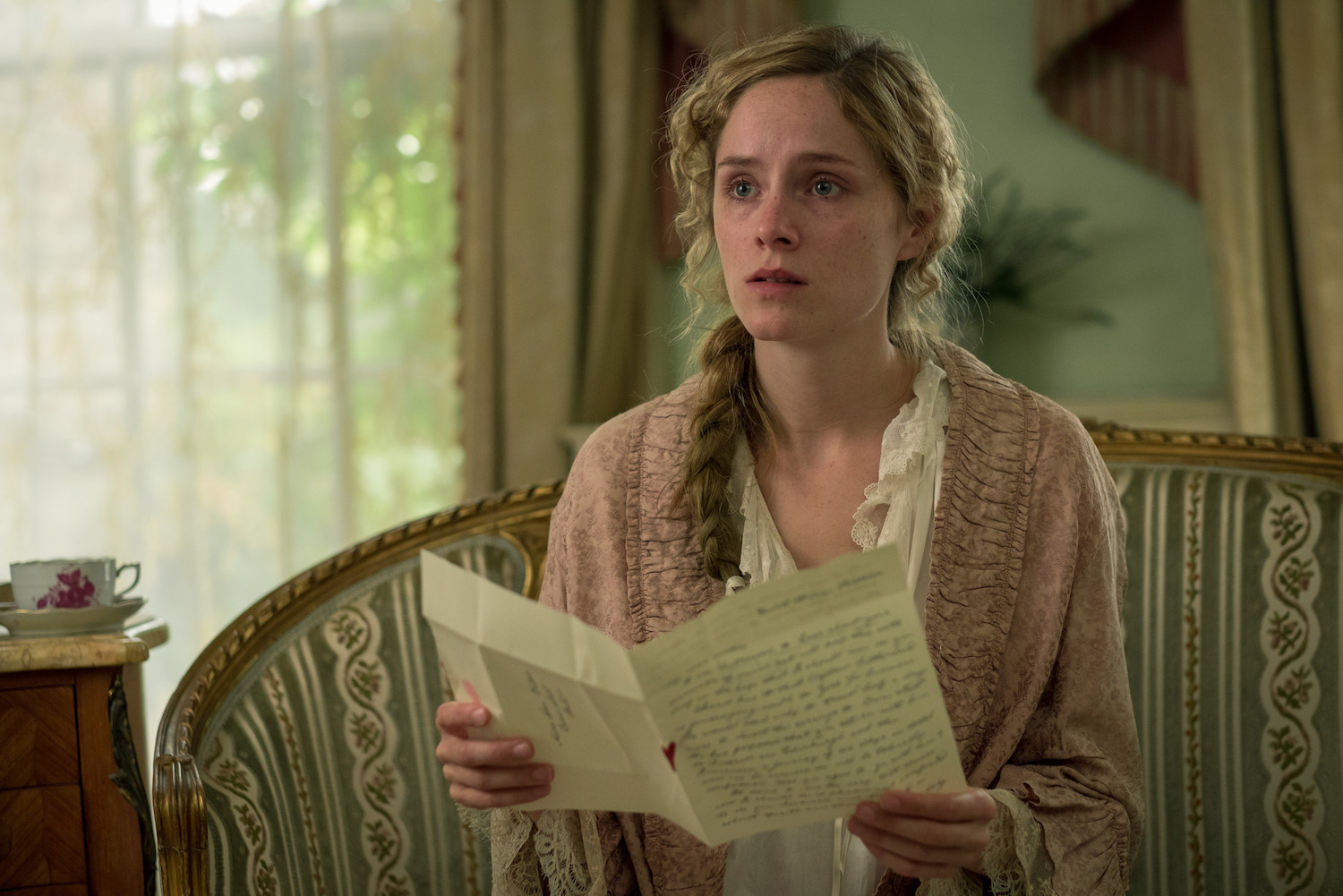 Sally Wainwright's script grappled with the usual problems imposed when turning a factual source into an entertainment. Life won't always be wrestled into dramatic shape. There was much time devoted to the story of Anne's other life as an industrialist, and her quest to sink her own coalmine and thwart her rival Christopher Rawson (the ever splendid Vincent Franklin). The Rawson story simply fizzled out: he was never brought to book for the reckless driving which opened the whole series, his theft of Anne's coal was not proved and, while she called him out in the penultimate episode, there was no satisfying comeuppance. Perhaps all this beckons in the second series which has been commissioned, though Wainwright can't have been certain of that opportunity when she was writing.
The same went for other plotlines, with almost every other part of the drama left to dangle: the sisterly rancour and marital hopes of Marion (Gemma Whelan), the French maid's love life, the latent homophobia of Halifax society. Nor did Anne's roustabouting in Denmark really serve much function other than to get agony aunt advice from a queen, give her an annoying companion (Stephanie Hyam) who asked implausibly searching questions, and the chance to watch Anne hilariously dance with a woman, in white. It also bestowed an opportunity to show just how much of a pain it was to get about before the invention of the internal combustion engine.
The only other story which did have an ending felt like a pragmatic fiction: the discovery by Samuel Washington (Joe Armstrong) that his new son-in-law was nursing a dark secret. It was hard to over-invest in the subplot of the Sowden family but it did enable the series to end with twin weddings, one public, the other hiding in plain sight. No sooner had they made their vows than the newlywed heroines had started bickering. This bliss is what normality looks like.
It's been a blast, just traditional enough while brusquely stomping along its own path, soundtracked by the earthy music of O'Hooley and Tidow. It looked wonderful, and Wainwright regulars such as Amelia Bullmore and Katherine Kelly, touching as Ann's sister (both pictured above), were joined by the likes of Gemma Jones, Rosie Cavaliero and Timothy West, all of them outstanding. Can a follow-up series possibly top the tension of Anne's anguished journey to the altar? Surely not. But if anyone can find new seams to mine, it's Wainwright.