Prom 3, CBeebies: A Musical Trip to the Moon review - a celebration of the Apollo 11 landing |

reviews, news & interviews
Prom 3, CBeebies: A Musical Trip to the Moon review - a celebration of the Apollo 11 landing
Prom 3, CBeebies: A Musical Trip to the Moon review - a celebration of the Apollo 11 landing
Little education value, but this slick, high-energy show was a hit with the young audience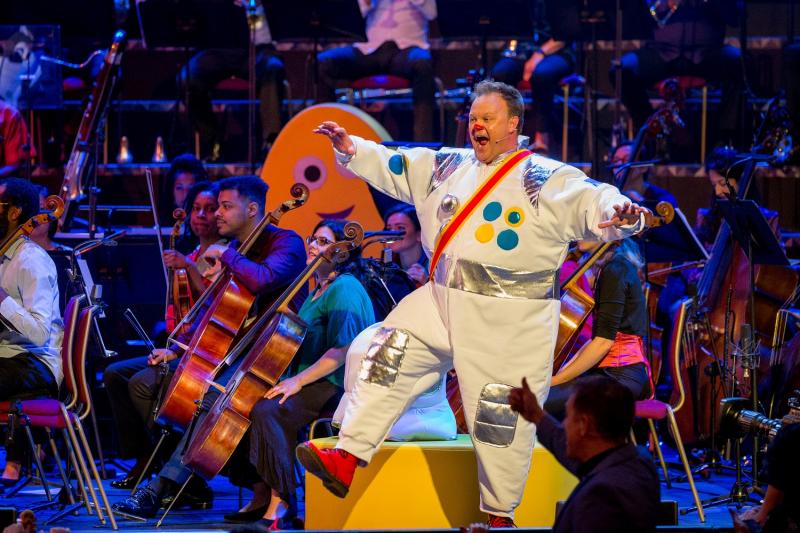 Justin's Mr Tumble routine
This year's Proms for children were entitled "Off to the Moon", and audiences were invited on a musical space voyage to mark the 50th anniversary of Apollo 11. The format was a mix of orchestral music, kids' programmes on big screens and CBeebies presenters keeping the show rolling.
Grumpy adult pedants in the audience would have found plenty to complain about, the orchestra was amplified, and the music was barely mentioned, but the young audience was attentive throughout and clearly enjoyed every minute.
Top billing among the CBeebies stars went to Justin (everything was on first name terms). His Mr Tumble routine (pictured above) was ideal – we could happily have just watched him falling over the furniture for 80 minutes in his comedy spacesuit. But we also heard YolanDa play the sax and Chris tell us about space, while Maddie, Cat and Nigel led the audience in song and dance routines. Music was provided by the Chineke! Orchestra, conducted by the versatile Kwamé Ryan, and the huge CBeebies Prom Children's Choir, assembled for the occasion.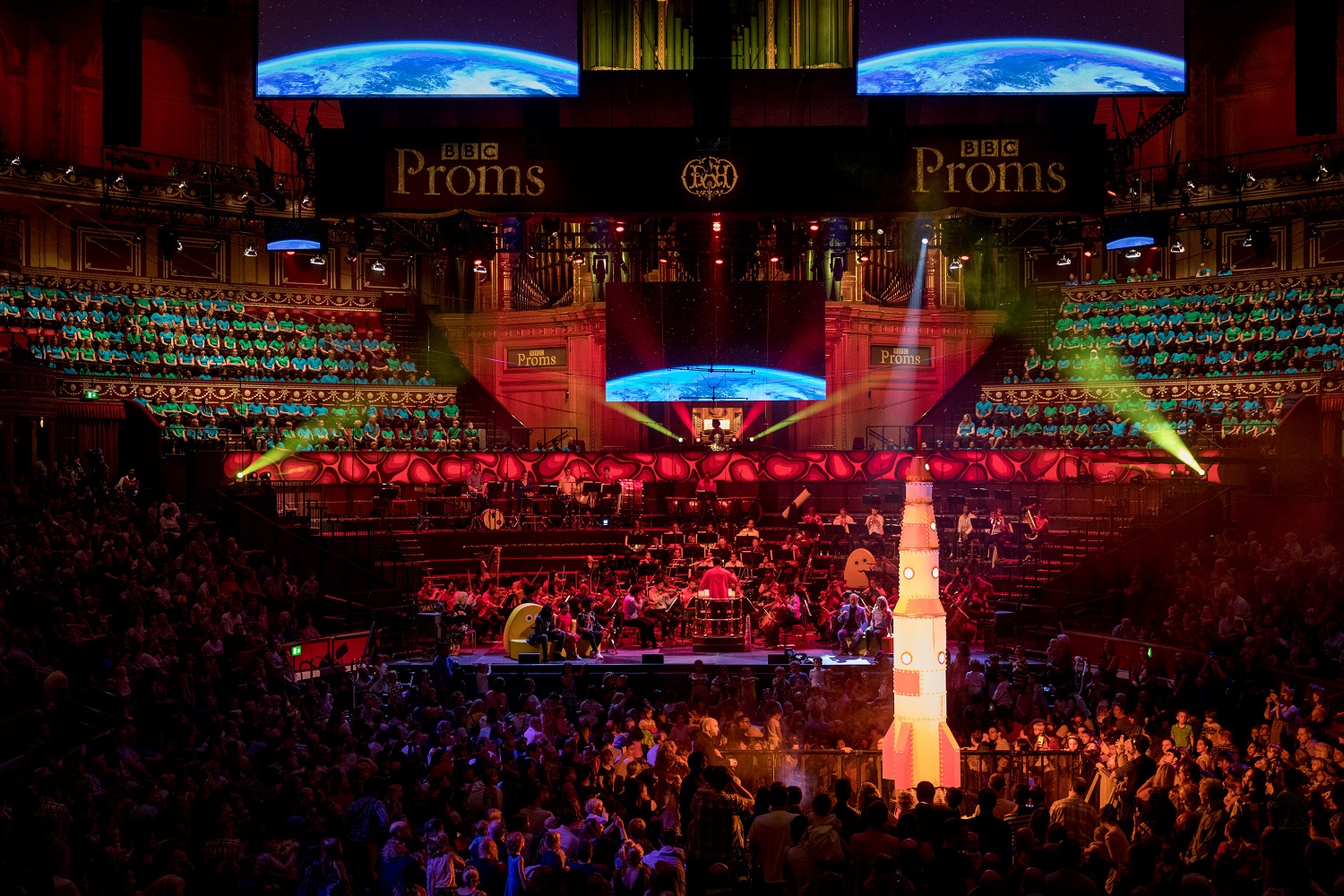 There were some surprising omissions from the music line-up, no Clair de Lune and nothing from Holst. The BBC was perhaps concerned that quiet music would not be heard over the sound of restive children. They needn't have worried, but the up-beat and high-energy musical contributions worked best. John Adams's Short Ride in a Fast Machine was slick and focussed, and Copland's Fanfare for the Common Man showcased impressive brass and percussion. Iain Farrington's singalong number, Off to the Moon, didn't spark much enthusiasm from the audience. Much better was his Medley of CBeebies Favourites, a compilation of TV theme tunes, orchestrated on a grand scale and played to clips from the shows.
The young singers joined for Puccini's "Humming Chorus" from Madam Butterfly, and also for a new piece, Earth by Hans Zimmer. This was the highlight of the concert, a lush, expansive orchestral canvas supporting the wordless choir with adventurous harmonies, while the screens showed us seas and desertscapes. The amplification was turned up, to a gratuitous level, but the result was immersive and compelling.
All round, an entertaining morning at the Albert Hall. The education value was vanishingly thin, Mr Tumble taught us some Makaton sign language and Chris pointed out some constellations on the big screen. And nobody learned anything about the music at all. But it didn't matter, everybody had a good time, even this grumpy old pedant dad.
We could happily have just watched Mr Tumble falling over the furniture in his comedy spacesuit
rating
Explore topics
Share this article