Reissue CDs Weekly: Come On Let's Go! |

reviews, news & interviews
Reissue CDs Weekly: Come On Let's Go!
Reissue CDs Weekly: Come On Let's Go!
Thrill-packed compendium of 'Power Pop Gems From the 70s & 80s'
The Rubinoos flaunt their pop credentials
The core paradox with powerpop is that most of those who sought to create the perfect guitar driven, hook-laden pop song failed to score hits. Come On Let's Go! – Power Pop Gems From the 70s & 80s is stuffed with the classy and memorable, but under a third of its 24 participants had any sort of chart profile. And, for 20/20 and Wire Train, it was fleeting and ultimately inconspicuous.
Focussing on America, Come On Let's Go! covers the period 1972 to 1987 with one outlier from 1995 (The Rooks' archly titled "Glitter Best"). The earliest track is The Raspberries' hit "I Wanna be With You". In sharp contrast in terms of visibility, Van Duren and Jody Stephens' "Andy, Please" is a 1975 demo first issued elsewhere earlier this year.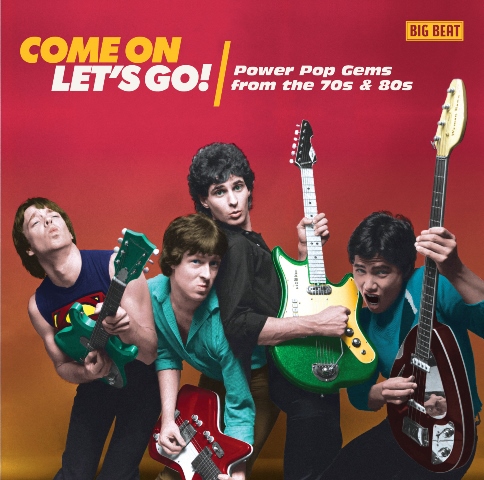 Despite Pete Townshend having used the term in 1967, powerpop got its first extensive published analysis/agenda in March 1978 when Greg Shaw wrote a four-page article for his magazine Bomp. He said "Any way you look at it, powerpop [one word, which will used here] began with The Who. Their approach to songwriting was solidly pop – every song was short, catchy, hook filled, built on bright, uplifting major chords, and they never shied away from those all-important 'la la la's'." What he said holds true for everything on Come On Let's Go! The Raspberries topped Shaw's list of the All-Time Top Powerpop Records.
One track collected is one of the greatest pop-rock recordings ever; a 12-out-of-10 masterpiece. The Flamin' Groovies ever-thrilling 1973 version of "Shake Some Action" was first issued as a bonus track on a British 12-inch single in 1978 (the liner notes say it was first released in 2002). It had been recorded in Los Angeles at Capitol Studios to interest potential record labels, but no one went for it and the tape was filed away for future disinterment.
Despite the snub to the Groovies, the pre-punk music business was interested in what would be bracketed as powerpop. Of two further classics also included, one was a big seller and the other a contemporaneous critic's favourite by a band which failed to shift units: The Raspberries' "I Wanna be With You" and Big Star's "September Gurls", a song whose stature grew after the band fell apart in 1975.
Big Star, The Flamin' Groovies and The Raspberries were most likely not thinking of what they were doing as "powerpop". However, the fourth more-than-10 track on Come On Let's Go! was recorded by a band who knew the context in which they operated. The extraordinary "The Trains" by the San Francisco-based Nashville Ramblers (pictured above left) was issued on an obscure British compilation album in 1986, a year after the band formed. This spine-tingling performance was, back then, lost between the cracks.
As this quartet confirms, Come On Let's Go! seeks to be definitive. Many of the expected are here. The aforementioned four are accompanied by Bill Lloyd, The Romantics ("What I Like About You"), cover stars The Rubinoos, Shoes, The Spongetones, the Dwight Twilley Band ("Looking For the Magic") and Todd Rundgren's Utopia. The lesser-knowns include The Boys (not the UK band), The Secrets*, The Shivers and The Toms. New wavey art-rockers Wire Train are a marginal inclusion.
It's arguable whether some of the bands would have been included without their previously low profiles having been raised by the American label Numero's similarly themed releases, but in balancing the canonical with the obscure Come On Let's Go! adroitly paints a unified sound picture of a consistent desire to draw from and recast archetypes. Those doing so were mostly male: the only female present is The Shivvers' (pictured right) prime mover Jill Kossoris. In addition to the gender bias there is also the genre's inherent trickiness of grown men singing about teenage romance, a theme Shaw had noted in his article
A second volume would be great. Go-Go's – whose 1994 single "The Whole World Lost its Head" is a winner – and Bangles fit the bill. So do key US practitioners Cheap Trick, Tommy Keene, The Knack, The Nerves and their associated outfits (The Breakaways, Paul Collins' Beat, The Plimsouls and the solo Jack Lee, whose "Crime Doesn't Pay" is a high-octane treat) and The Quick. The Slickee Boys' "Gotta Tell me Why" could be a wonderful selection.
Of course, Come On Let's Go! – Power Pop Gems From The 70s & 80s is not presented or intended as a socio-musicological talking point. However, and inevitably, it is. For the music alone though, it's a blast.
Next week: Roxy Music man Phil Manzanera's fascinating 1975 solo album Diamond Head

'Come On Let's Go!' collects one of the greatest pop-rock recordings ever: The Flamin' Groovies 1973 version of 'Shake Some Action'
Share this article
Subscribe to theartsdesk.com
Thank you for continuing to read our work on theartsdesk.com. For unlimited access to every article in its entirety, including our archive of more than 10,000 pieces, we're asking for £3.95 per month or £30 per year. We feel it's a very good deal, and hope you do too.
To take an annual subscription now simply click here.
And if you're looking for that extra gift for a friend or family member, why not treat them to a theartsdesk.com gift subscription?