Eels, Hammersmith Apollo review – dark, swampy and endlessly entertertaining |

reviews, news & interviews
Eels, Hammersmith Apollo review – dark, swampy and endlessly entertertaining
Eels, Hammersmith Apollo review – dark, swampy and endlessly entertertaining
Mark Oliver Everett thrills with eclectic covers and rich pickings from his back catalogue
Everett and his fellow Eels get to work
"Would you mind if I jammed on my new... castanets?" We're halfway through Eels' triumphant set at Hammersmith's Eventim Apollo and this is the kind of question we've come to expect from frontman Mark Oliver Everett, AKA "E".
Expect the unexpected, it appears, is the theme of the evening, which began with an entertaining set from the hilarious and hungover Robert Ellis, a deadpan Texan in white hat and tails who boasted a fine line in self-deprecation, heartbreak and comedy (remind you of anyone?).

Ellis warns the fully seated audience that Eels are going to shake the grand old Apollo up quite a bit, declaring that "you guys are gonna ditch these fuckin' seats") – and he's not wrong. A double-denim sporting be-hatted Everett and his phenomenal band, all wearing shades and clearly here to rock, bound on to the stage to the Rocky soundtrack and immediately get the stalls standing with The Who's "Out in the Street", Bobby Gentry's "Mississippi Delta" and Prince's "Raspberry Beret" - and that's just for starters.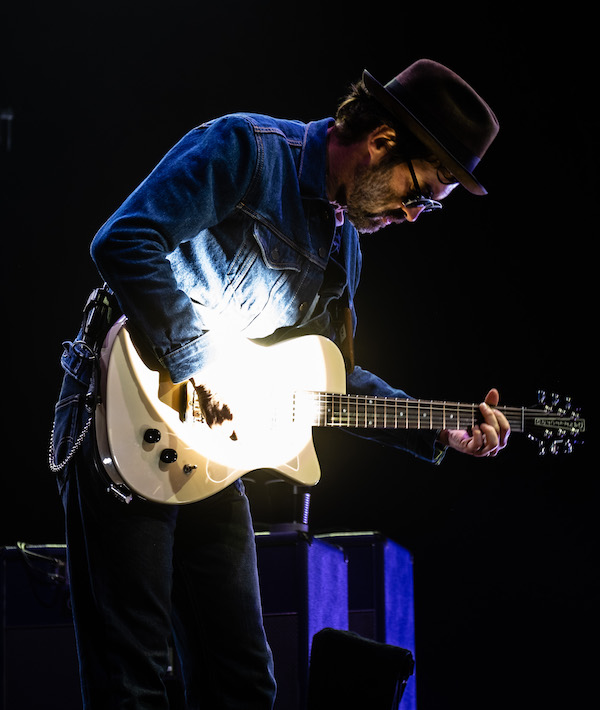 The irresistible chugging, twangy groove-fest "Bone Dry", from ace current album The Desconstruction, is followed by a couple of oldies in 2000's "Flyswatter" and 2001's Cramps-esque tragicomic tale "Dog Faced Boy". "That was a lot of consecutive rock for a man my age," says Everett, announcing he's going to slow things down a bit and playing "I Need Some Sleep" (from the Shrek 2 soundtrack, brilliantly). Everett is a consummate showman: witty, dry and mesmerising all at once, and the audience is in the palm of his hand. He brings the pace up again with the barroom stomp of "Prizefighter", from 2009's Hombre Lobo, and yells: "Aw, man! If this is dad rock, I'm all in!"

Eels' back catalogue is a vast, sprawling thing – 12 albums (including a live recording from London's Royal Albert Hall) so there's a lot to choose from – and, while there are some surprises, Everett doesn't shy away from the songs that made him famous. "Novocaine for the Soul", from the band's 1996 debut Beautiful Freak gets an airing, and while it doesn't quite reach latter-day Bob Dylan levels of reworking it does take a dark, fuzzy new direction that works wonderfully. "Mr E's Beautiful Blues", meanwhile, is given a pleasing 50s rock 'n' roll twist that fits with the general theme of the evening.

The only bum note is the slightly muddy vocals, but Everett's raspy voice, richer with age, manages to rise above it as the night goes on. The packed show – 27 songs – also features also one of the best band-intro segments ever, which includes a story about the guitarist's failed modelling career and a song sung by newbie drummer all about himself, and a cheeky double-bluff encore that includes a dark, thrilling "Fresh Blood" and a gorgeous, impassioned cover of Brian Wilson's "Love and Mercy" which morphs into Eels' own "Blinking Lights" and "Wonderful, Glorious". It's a fine end to a freewheeling, wondrously entertaining show that even featured a bit of cowbell, for goodness' sake – and impressively, after two hours, Everett still leaves us wanting more.
There are some surprises, but Everett doesn't shy away from the songs that made him famous
rating
Share this article