Edinburgh International Festival 2019: Breaking the Waves, Scottish Opera/Opera Ventures review - great film makes a dodgy opera |

reviews, news & interviews
Edinburgh International Festival 2019: Breaking the Waves, Scottish Opera/Opera Ventures review - great film makes a dodgy opera
Edinburgh International Festival 2019: Breaking the Waves, Scottish Opera/Opera Ventures review - great film makes a dodgy opera
Lars von Trier's terrifying Passion is reduced to another sacrificial-woman opera
Sydney Mancasola as Bess, crushed by the Hebridean patriarchy (Freddie Tong centre as Councilman)
Love him or hate him, Lars von Trier has time and again made the unpalatable and the improbable real and shatteringly moving in a succession of great films. Breaking the Waves set an audacious precedent. Baldly told, it's a story of a mentally ill, deeply loving woman at odds with her Hebridean community who thinks she can save her paralysed husband by having sex with strangers and describing the acts to him.
The numinous outcome requires suspension of disbelief, and in one way
opera
is equipped to do that. But the art-form is littered with problem plots about sacrificial women, albeit so often set to glorious music, so it was going to take a genius on von Trier's level to reach the essence in a different way. Premiered in Philadelphia in 2016, Missy Mazzoli's attempt, for all her fitful skill in operatic story-telling, doesn't come close.
The chamber orchestra – excellent Scottish Opera players under Stuart Stratford, managing to glow at close King's Theatre quarters – has plenty of variegated colours to negotiate, most strikingly the high violin lines for doomed heroine Bess's ecstatic-troubled conversations with God and the ghosts of some potentially memorable woodwind solos in the second act. But Mazzoli relies too much on scales, major and minor triads – sometimes ground together – and "eerie" glissandi. The interior quality of von Trier's mysterious take on a religious Passion doesn't take hold often enough.
Part of the problem are the structure of very short scenes in the first act, made to seem all the more fragmentary by director Tom Morris's over-busy use of Soutra Gilmour's revolve with its obstacle course of changingly-projected monoliths, and the unwieldy length when the one-to-ones do at last have time to develop; at least a quarter of an hour could be shed from the later stages. Too much is shown when it could be suggested. Royce Vavrek's libretto tries to be direct rather than poetic but slips into the banal too often, especially when the other characters try to articulate their feelings that Bess is too good for this world.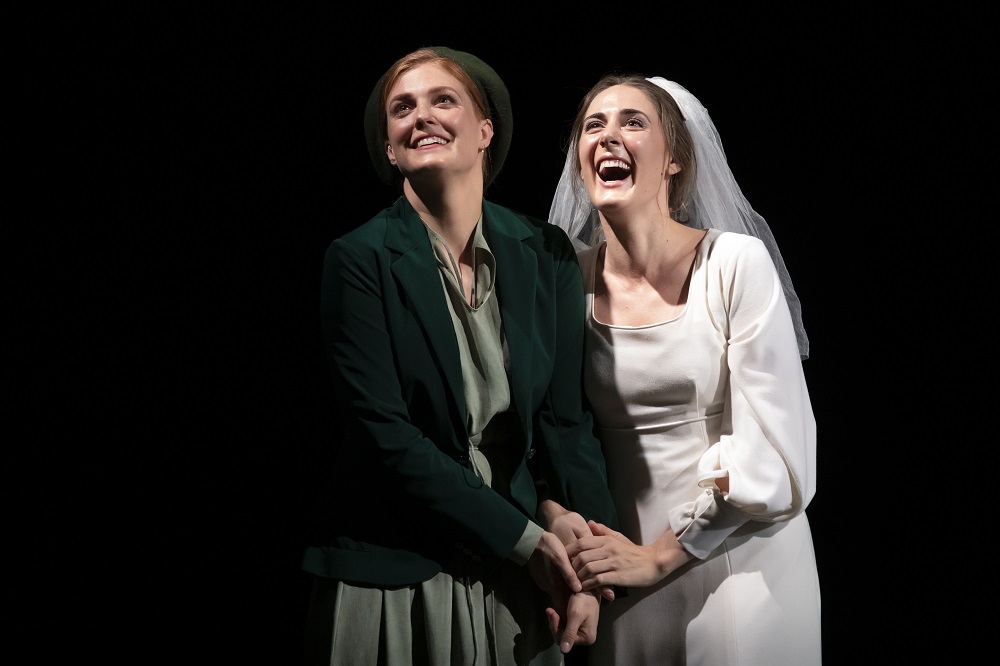 Scottish Opera and Opera Ventures have assembled an impressive cast. Even if the secondary roles aren't sufficiently fleshed out, mezzo Wallis Giunta as Bess's loving sister-in-law Dodo (pictured above on the left with Sydney Mancasola's Bess) owns the stage both vocally and dramatically – one day, hopefully, someone will write a central role for her like Bess's – and there's some extraordinarily fine singing from Elgan Llŷr Thomas as the sympathetic doctor, who for some reason breaks out from time to time into the melismatic strangeness of Britten's Peter Quint in The Turn of the Screw.
Susan Bullock nails the accent and the character of Bess's convention-bound mother while having even less to work on; Duncan Rock does what he can with the cipherish role of Beth's oil-rig-man from Norway Jan (pictured below), but it's too much to give him a maudlin monologue over the body of Beth just before the end – Rigoletto keening over Gilda out of the sack this is not. The voices in Bess's head are well embodied by the male voices of what we can no longer call the Scottish Opera Chorus - it was shamefully disbanded years ago - but their returning presence yields diminishing returns.
Above all an extraordinary amount of pressure is on Sydney Mancasola as the character hauntingly embodied in the film by Emily Watson, the first of von Trier's transformative leading ladies. Mancasola hits the stratosphere again and again with tireless accuracy, but only a great actor can make Bess's permanent on-the-edge-ness believable, and in this there's a shortfall. What works on screen becomes dodgy in operatic terms; for all of Vavrek's and Mazzoli's claims that they want to "empower" their protagonist – remember how much verbiage there was about that in ENO's deeply dodgy Jack the Ripper: The Women of Whitechapel? - it's just another music-drama about a woman's degradation. And the more horrible the story becomes, the more inadequate the music starts to seem. The miracle? Von Trier made us believe, if only for the duration of the film; the end here is a cop-out. And so to another woman who dies for love, Puccini's Manon Lescaut, at the festival tonight.
The more horrible the story becomes, the more inadequate the music starts to seem
rating
Explore topics
Share this article