Anahera, Finborough Theatre review - blistering family drama from New Zealand |

reviews, news & interviews
Anahera, Finborough Theatre review - blistering family drama from New Zealand
Anahera, Finborough Theatre review - blistering family drama from New Zealand
A runaway child precipitates a cascade of questions with unintended consequences
Saturday, 07 September 2019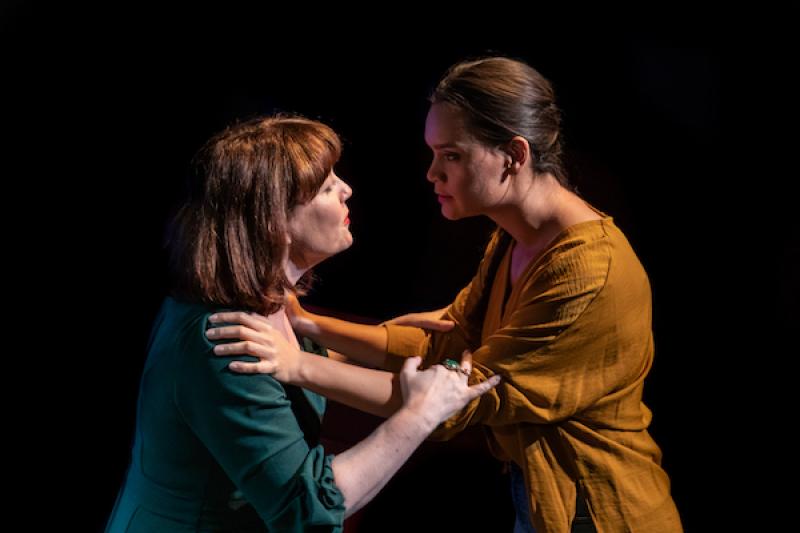 Caroline Faber and Acushla-Tara Kupe
With power comes responsibility. One without the other is sickening -- and both iterations are on show in Emma Kinane's searing new play about a child runaway in New Zealand.
Social worker Anahera (played by Acushla-Tara Kupe, pictured above right) is at the house Liz and Peter (played by Caroline Faber pictured above left and Rupert Wickman), the parents of seven year-old Imogen and eleven year-old run-away Harry, while social services attempt to find him. In Emily Bestow's canny design it's a clean, formal house. A square marble table occupies a washed rug. An orchid sits sculptural and sepulchral on its top. Small white cubes encase chandelier lights. It's anodyne, characterless, cold.
At the play's opening, everyone seems powerless. Anahera reads from her case notes, Liz fiddles with her rings and phone, Peter paces, bracing himself against his arms. None of them seem able to control the situation, all three are waiting. But the way the situation has spiralled out of control is someone's responsibility and the play is dedicated not to the cheap thrill of whether Harry comes back home, but rather to the knotty, noxious question of what caused him to run away in the first place.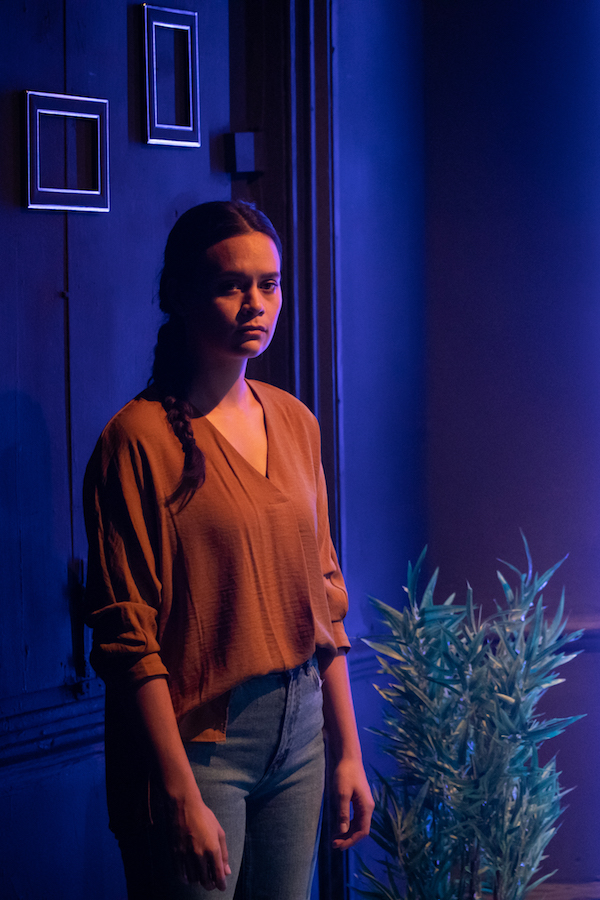 In the course of this part of the play - a three-hander - weaknesses are ruthlessly exploited. It is part of Anahera's job to be both an emotional support and a witness. As a junior social worker she can probe both deftly and ineptly: she is wise beyond her years and sometimes touchingly naive. Kupe's flatly patient eyes at the first mention of her Maori heritage belie nothing, but refrain too from passing judgment. Peter's outbursts of rage and vicious examination of the areas of life in which she is least secure displays a heavy-handedness that may well be born of suppressed guilt. Liz's morbid attention to her inbox and the dust the house has accrued is only the brittlest line from betraying her working-class background and bursting into fully-fledged sociopathy.
The other part of the action takes place decades later. Imogen (played by Jessica O'Toole) is pregnant, Harry (played by Paul Waggott) is a father, and Liz has had a stroke. For the sake of her child (or, it transpires, maybe herself) Imogen sets up a booze-fuelled family reconciliation meeting, jokingly named Apocalypse. It seems - quite rightly - that it's impossible to re-create a world without "echoes". To exorcise the past means to revisit it, give it new life - a new type of old trauma. Her approach bears disconcerting similarities with the kind of perfectionist mores so debilitatingly espoused by her mother, Liz. On the other hand, maybe it's Harry who has taken his mother's line. Both drink heavily, he's suggested to be physically a bit of a brute, and the soft tenderness of his children frightens him. Anahera's assertion that trauma carries down family lines is demonstrated as true, but also sometimes complex, inscrutable. Though responsibility must be attributed, those who are both victim and tormentor complicate matters.
Some parts of the play stretch credulity. Quite a number of Harry's lines are forcibly written, overly-expositional. Some of the jumps between time periods are hard to explain or happen too fast for the emotions from each scene to settle. And where Imogen is throughout the time that Harry is a young runaway remains a puzzle (it might be a disturbing detail, but nothing is made of it meaning it seems an omission). Small criticisms aside, this is a gruelling, brilliantly acted, engrossing play. See it intimately before it gets a bigger stage.
Anahera is at the Finborough Theatre 3 - 28 September 2019
This is a gruelling, brilliantly acted, engrossing play
rating
Share this article