Eddie Izzard, Brighton Dome review - splendidly surreal storytelling |

reviews, news & interviews
Eddie Izzard, Brighton Dome review - splendidly surreal storytelling
Eddie Izzard, Brighton Dome review - splendidly surreal storytelling
Farewell tour hits the heights
Monday, 30 September 2019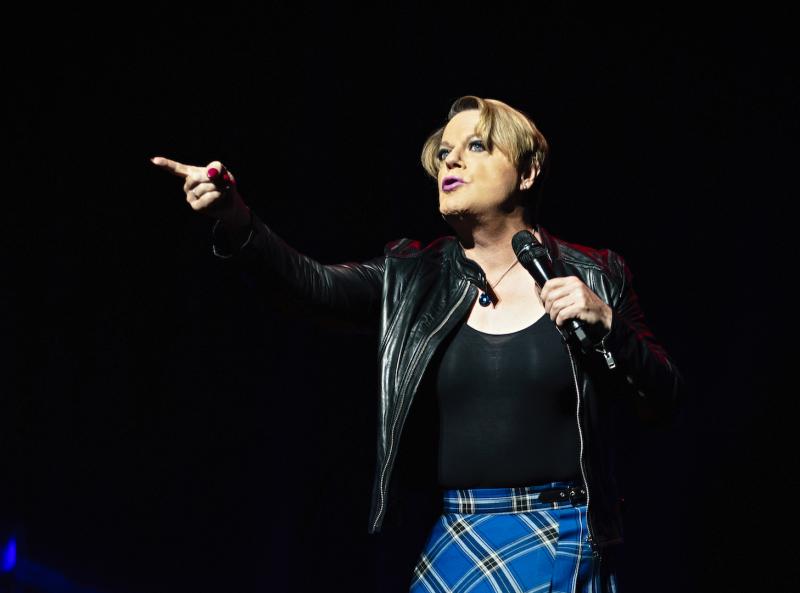 Eddie Izzard delves into the history of humanity and comes up with some surprising conclusions
Eddie Izzard is dressed in a killer outfit of black leather jacket, tartan mini-kilt, thigh-length stiletto boots – and false boobs. "I got them at IKEA," he deadpans. He's in jovial form for Wunderbar, his farewell tour before he hopes to enter politics.
Izzard starts with some light political chat as he explains his ambition; he has always been an outsider, so knows how being an underdog feels. He wants to address some big issues such as our current political leaders on both sides of the Atlantic trying on 1930s rhetoric for size, trans rights and equality, to name a few. But mostly Wunderbar is his assessment of the history of humanity from "the Big Bang to last Tuesday". His big idea is that what sets humans apart from the rest of the animal world is "talking and imagination". Izzard never stops the former, and has oodles of the latter.
The sheer breadth of his material is astonishing as he makes magical and silly connections between seemingly disparate subjects; vaping and film noir, Lord of the Rings and semantics, cathedrals and coffee orders. The set pieces, about tigers praying before they stalk their prey (in a section designed to prove the non-existence of God), what dogs are really saying when they bark at strangers, or how to identify a suspicious seagull, are given great physicality as he strides across the stage or has an animated two-way conversation with himself.
The gag count is high, even if some jokes are lost as Izzard occasionally swallows a line, or throws away a punchline as the seemingly endless multitude of ideas and themes bounce around, or a point is pedantically rammed home. To the uninitiated, his act may seem scattershot, but don't be fooled; this is the product not just of an unfettered imagination, but a forensic intellect, and is driven by an internal logic (albeit one that is almost hallucinogenic at times in its surreal leaps).
Like any good storyteller, Izzard weaves fact and fiction together so well that we can't guess which is which. Is that the precise gene related to speech he names, is that obscure biblical reference correct, and did William the Conqueror really explode? (Spoiler: yes, yes and yes.)
The first act is overlong, but (after a costume change to a glamorous all-black ensemble including hotpants and high heels) in the second half of the show Izzard delves into more personal territory.
He talks about his late parents, his childhood (his story about the years his family spent in Northern Ireland is particularly good), his multiple marathons and being accosted by jellyfish when swimming in the sea: "The Nazis of the sea world. They have no moral compass; they have no geographical compass."
Whether Izzard makes it to Westminster – or possibly Brussels – we'll wait and see. But he's on superb form, and politics' gain will be comedy's loss.
Eddie Izzard is touring until 16 November
Like any good storyteller, Izzard weaves fact and fiction together
rating
Explore topics
Share this article