By the Grace of God review - a dark, meticulous drama from François Ozon |

reviews, news & interviews
By the Grace of God review - a dark, meticulous drama from François Ozon
By the Grace of God review - a dark, meticulous drama from François Ozon
Documentary-influenced investigation of paedophilia in the French Church is resonant and true
Saturday, 26 October 2019
Between God and man: right, Melvil Poupaud as Alexandre
The prolific French
director
has established himself as a master of ludic style in past dramas played out by predominantly female casts, the exceptions, among them his sad black-and-white period romance
Frantz
from two years ago, largely proving the rule. In
By the Grace of God
– its French title,
Grâce à Dieu
, is drawn directly from the story and freighted with a macabre irony revealed in a late scene – he achieves something very different: male roles dominate in a film that follows
documentary
lines in its investigation of a real-life scandal of paedophilia within the Catholic Church in Lyon. Ozon encountered the story through the website set up by the survivors in their quest for justice, initially thinking of it as a stage play, then a documentary, before settling on what the opening titles announce as a "work of fiction based on known facts".
The thematic similarities with Tom McCarthy's 2015 Oscar-winner Spotlight, which investigated a similar story within the Boston episcopacy, are even mentioned by Ozon's characters. The principle difference, however, is that Ozon follows the experiences of his protagonists directly rather than through the prism of a journalistic investigation, and that undiluted exposure to their situation makes By the Grace of God a far more resonant and complex drama. Obviously the fruit of close collaboration with the film's subjects, Ozon's screenplay achieves a satisfying structural balance in its development of its three lead characters, notably different as they are in both character and situation, as well as in their (changing) motivations for returning to the traumatic episodes of their childhood.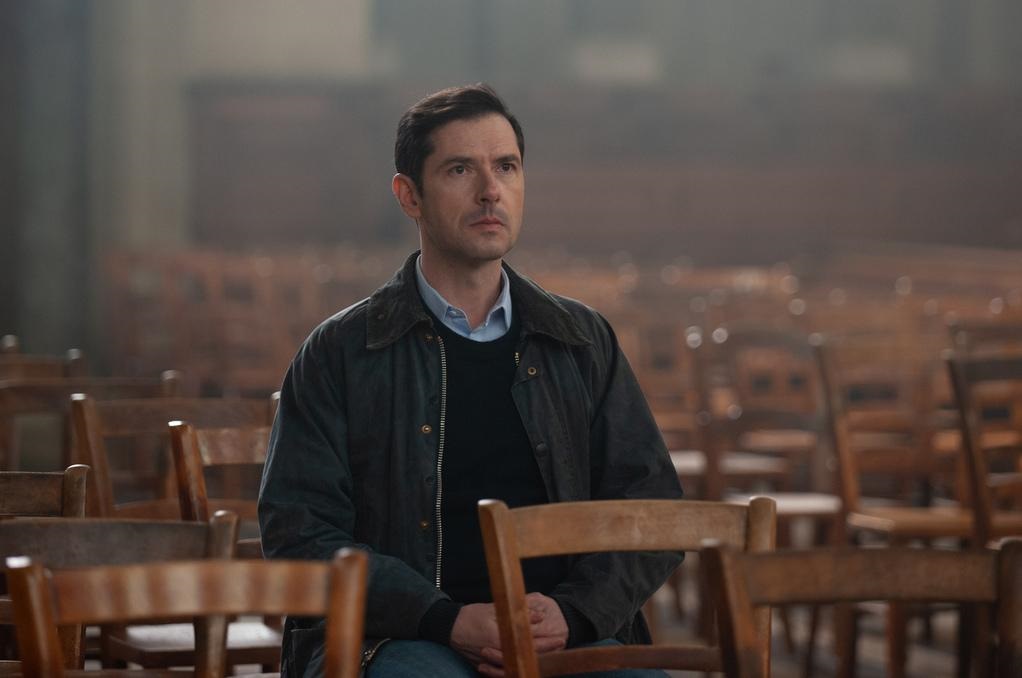 The first we encounter is Alexandre (Melvil Poupaud, pictured left), a devout Catholic who, as his elder sons prepare for confirmation, becomes aware that the priest who had abused him in childhood, Father Preynat, is still, some three decades later, involved with children in the course of his pastoral duties. His immediate recourse is to the Archbishop of Lyon, Cardinal Barbarin (François Marthouret), to establish just what the Church had known and when; the conflict throughout the film is as much with the organisation, the structure that considers itself above the law as with the individual concerned. The diocese's response, effected by their psychologist, is to bring Preynat (he's played by Eric Rohmer veteran Bernard Verley), together with his accuser in a highly poised scene; we sense how the balance of power remains firmly skewed in favour of the establishment in details such as Alexandre addressing the priest as mon père. Not only does Preynat not apologise (which the Church hierarchy appears to have expected might resolve the issue), but he reveals how he had been open with his superiors when the first such accusations had surfaced in the early 1980s (he even describes his actions as a "blot on my life", painfully oblivious to their actual consequences).
Ozon almost consciously avoids giving this opening reel an overtly dramatic quality, not least given that much of it is related through voice-over reprise of Alexandre's original messages, in email form, and the responses they elicited: while obviously respecting his subject's story deeply, it nevertheless comes close to feeling rather distant. Given that Alexandre himself cannot pursue legal recourse against Preynat – there is a 20-year statute of limitations for the crimes (it was lengthened to 30 years in the wake of the investigation behind the film) – he makes his story public, and the circle of those involved widens. Among the first he finds as he pursues his investigation is François: played with bluff, bearish energy by Denis Ménochet (pictured below, left), he's as fiercely unbelieving as Alexandre is devout, expressing his anger at having this incident from the past brought back to light by bashing at his rock drums.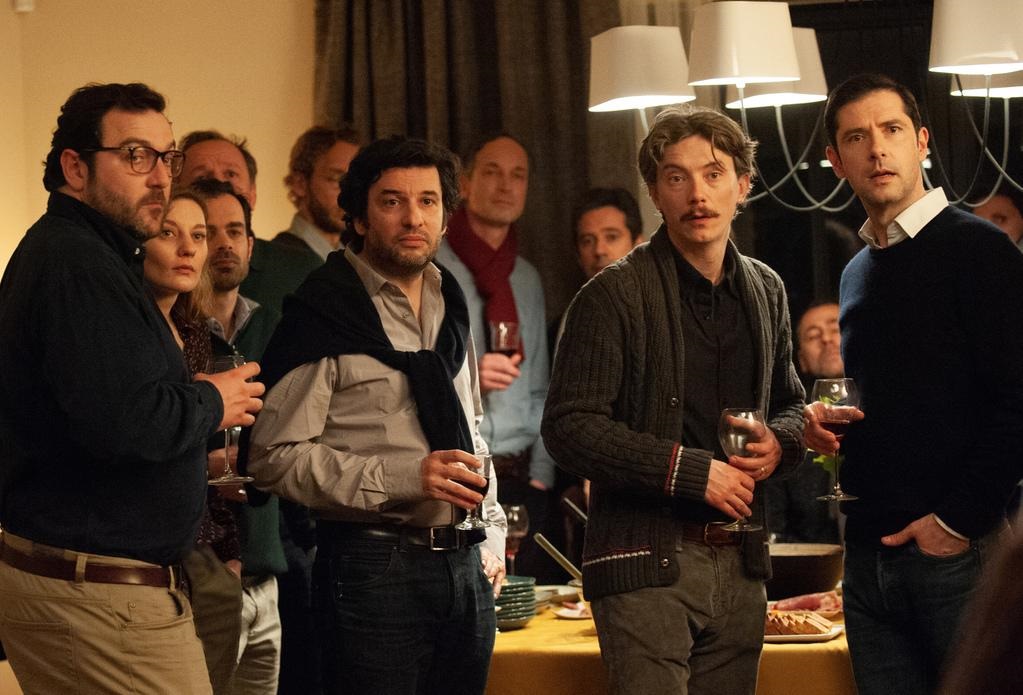 As their action proceeds, and the website that they establish, La Parole Libérée (translated here as "Lift the Burden of Silence"), grows, we sense the dynamics of the wider movement developing, its tendencies towards factional differences as well as a sense, which Ozon catches subtly, of the different backgrounds and social classes from which the men come. It's revealed particularly in the reactions of some of the relations concerned, not least the parents, those who had been initially aware of what was happening and feel different degrees of self-reproach (or not: Alexandre's bourgeois father can only accuse his son of "stirring up shit").
A rather more formulaic element, closer to a thriller-like plot development, emerges (it's there in the musical score), but the director is always questioning the motives of his characters rather than simply endorsing the story's trajectory. There's one occasion when Alexandre intercedes more forcefully than he perhaps should with the brother of another Preynat victim who had gone on to kill himself. We understand how, unlike the journalists of Spotlight, they are making their mistakes along their way, as well as the ambiguities behind their determination.
The introduction of the story's third protagonist, Emmanuel (Swann Arlaud, achingly powerful), brings that home all the more strongly, blurring any sense of easy conclusion. Unlike the other two, Emmanuel's life has gone wrong badly following his childhood abuse, with plenty of other associated damage accumulated in his life: finding a sense of company, of shared purpose somehow fills a void for him, something shared by the total support of his mother (Josiane Balasko, though she doesn't feature much on screen, is superb; pictured above right, with Swann Arlaud).
By the Grace of God won the Silver Bear at Berlinale in February. Its release in France shortly after that was almost interrupted by ongoing associated legal action, arguably a sign of how raw the issues that it raised remain in French society. Its subsequent box-office success there speaks much, though that sort of impact surely wasn't among Ozon's immediate priorities. He's somehow given the story its own autonomy, to the extent even of a 137-minute runnig time that isn't exactly to the film's dramatic advantage. Real plaudits for the absolute seriousness with which he has approached so difficult a subject, for the documentary-drama melange that avoids any hint of the false, the sensational. It's a powerful new direction.
Watch the trailer for By the Grace of God