Concerto/Enigma Variations/Raymonda Act III, Royal Ballet review - time to cheer the corps de ballet |

reviews, news & interviews
Concerto/Enigma Variations/Raymonda Act III, Royal Ballet review - time to cheer the corps de ballet
Concerto/Enigma Variations/Raymonda Act III, Royal Ballet review - time to cheer the corps de ballet
Three revivals from the mid-Sixties allow the rank and file to shine
Wednesday, 23 October 2019
Clockwork orange: Reece Clarke and Lauren Cuthbertson in Kenneth MacMillan's 'Concerto'
As a mood-lifter, it's hard to beat the opening of Concerto. Against a primrose sky, figures in daffodil, tangerine and brick form lozenges of fizzing colour, foregrounded by a leading couple so buoyant their heels barely ever touch down.
Kenneth MacMillan
's response to
Shostakovich
's sunny Second Piano Concerto makes a brilliant start to the first mixed bill of the new
Royal Ballet
season, a bill that unites three productions first seen at Covent Garden in the mid-1960s, although from their wildly contrasting styles you would never guess.
In its outer movements Concerto gives the whole company a good airing, and the corps its share of challenging steps at speed. It's almost a relief, prompting laughter, when in the final movement, as pianist Kate Shipway commands the keyboard like a battleground, the massed dancers cease their constant leaping to march on pointe. All that vivid energy makes the central movement, a pas de deux, the more serene. Lauren Cuthbertson is magnificently pliant and focused here, employing the stoic Reece Clark's forearm as a ballet barre. Anna Rose O'Sullivan deserves mention too for her grace at speed in the outer movements, chaperoned by Marcelino Sambé, a dancer who could out-bounce Tigger.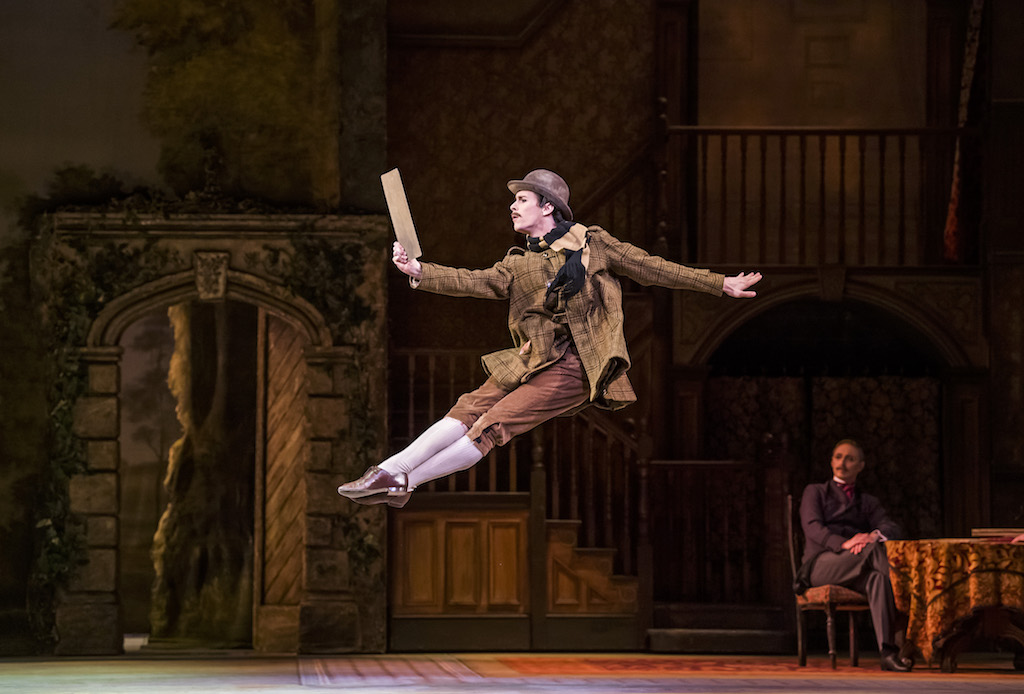 Enigma Variations, Frederick Ashton's portraits of the friends and relations that inspired Edward Elgar's composite work, has aged less well – which is curious, given that the piece was deliberately old-fashioned when he made it. Perhaps it's the lowering effect of all that brown: brown furniture, brown panelling, tweed jackets and tobacco pipes. Perhaps – perish the thought – its glorifying of provincial Englishness has picked up the taint of Brexit. As ever, though, when this company revives this piece of beloved Ashtonia (pictured above), the performances are impeccable. Laura Morera is subtly heartbreaking as Elgar's wife, despite the fact that all she is given to do is sympathise. Francesca Hayward is fresh and lovely as young Dora Penney, cutting through the too-easy winsomeness. And as AJ Jaeger, Elgar's closest friend, Bennet Gartside – in the sudden hush of the "Nimrod" variation – adjusts his spectacles and looks at his feet, unmanned by, well, what? His reluctance to advise his as-yet-unpublished composer friend to give up the struggle? So elliptical is this work that we never quite know, and that enigma is part of its charm.
Rudolf Nureyev's version of the final act of Raymonda – one of the late, great, Imperial ballets rarely seen complete – caps the evening with a dose of all-out grandeur. Under the gilded byzantine domes of Barry Kay's set the corps again come to the fore, this time as kid-booted, egret-feather-hatted Hungarians celebrating a aristocratic wedding. The folk-dance imbued choreography, all clicked heels and hands on waists, is recognisably Marius Petipa's from 1898. The medieval scenario is pure hokey, but thankfully there is no plot to bother us by the time the ballet reaches Act III. Sarah Lamb (pictured right) glitters nicely in the title role, although her little handclaps in the famous solo are oddly underpowered. Couldn't someone persuade Sylvie Guillem, memorable in this role, to do a spot of coaching in imperiousness? Perhaps not. It was left to Vadim Muntagirov as returning Crusader Jean de Brienne to show us how high classicism is done. Expansive and plush as an oligarch's bank account, his jumps are magnificent, and when he attends to his ballerina, it's royal treatment, nothing less.
From their wildly contrasting styles you'd never guess all three productions date from the mid-Sixties
rating
Explore topics
Share this article