Black and Blue review - police thriller aims high and misses |

reviews, news & interviews
Black and Blue review - police thriller aims high and misses
Black and Blue review - police thriller aims high and misses
Big issues blot out character and plot in lacklustre bad-cop drama
Thursday, 24 October 2019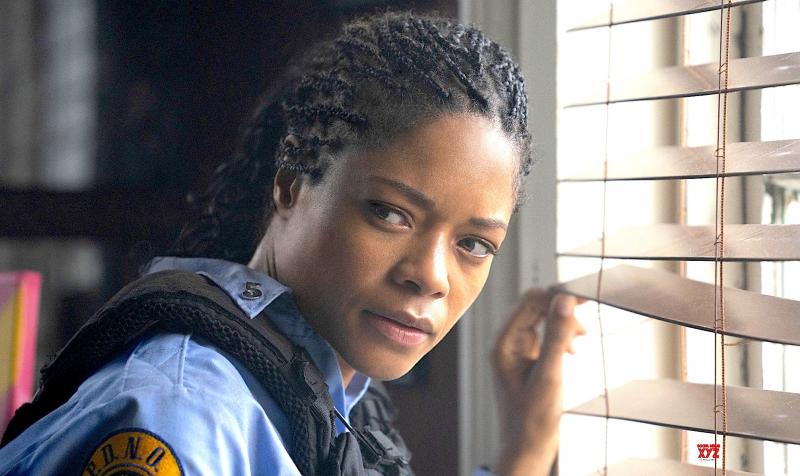 Battling the odds: Naomie Harris as Alicia West
Police corruption has fuelled many a Hollywood thriller, but sadly Black and Blue is no Training Day or The Departed.
Naomie Harris plays
US
Army veteran turned rookie cop Alicia West, just three weeks into a career with the New Orleans police department, who to her horror stumbles across a murderous conspiracy among her fellow officers. The plot is basically her race against the odds to expose the bad guys before they bump her off.
Harris's character is difficult to take seriously, since despite her apparently gruelling military experiences in Kandahar, she's astonishingly naive about life on the streets or the probable nature of inner-city policing (not least in a city which has still never fully recovered from Hurricane Katrina). She might be new on the job, but let's face it, it is her home town. Besides, for all their faults, the American police surely give their recruits a modicum of training?
The local cops are male, macho, mean and mostly white, and regard the petite Alicia with a kind of scornful incredulity. The exception is her regular patrol partner Kevin (Reid Scott), who's a laid-back guy with the personality of wilted lettuce. Especially toxic are the narcotics squad, headed by Terry Malone (Frank Grillo), the kind of cop who runs his own private vice network and who has become a commonplace of movies and TV drama (think Vic Mackey in The Shield). It's when Alicia is temporarily assigned to patrol with officer Deacon that she gets sucked into Malone's maelstrom of dark and nasty stuff.
Director Deon Taylor and screenwriter Peter A Dowling want to make some points about ingrained police racism and social breakdown (the cops won't even respond to callouts from run-down estates where poor black families live), but this is clumsily done. They get some mileage out of the way Alicia has broken away from her roots in the black community and is now regarded with hatred and suspicion by her former friends – it's drummed into her that when you join the cops and become "blue", you're no longer black – but the characters are more like placards saying "alienation" or "fuck the police" than actual people with lives and personalities. The film gives the impression that the entire African American population of New Orleans (except for Tyrese Gibson's stoical and selfless Mouse, pictured below) are tooled-up gang members always locking and loading for the next firefight.
Among this parade of caricatures, Mike Colter's pantomime ghetto kingpin, Darius (pictured above), stands proudly and absurdly above the rest (compare and contrast with Colter's smoothly nuanced performance as the suave drug overlord Lemond Bishop in The Good Wife). As for the police, they're presented as a drone-like army of subhuman thugs, the Borg of urban dystopia, with Alicia's saintly integrity their only hope of redemption. We shall eschew spoilers, but the narrative develops exactly as you'd expect, assisted by a few implausible coincidences.