Hubro 10th-Anniversary Concert, The Spice of Life review - boundary pushing Norwegian label marks its birthday |

reviews, news & interviews
Hubro 10th-Anniversary Concert, The Spice of Life review - boundary pushing Norwegian label marks its birthday
Hubro 10th-Anniversary Concert, The Spice of Life review - boundary pushing Norwegian label marks its birthday
Building Instrument, Bushman's Revenge and the Erlend Apneseth Trio celebrate their imprint's first decade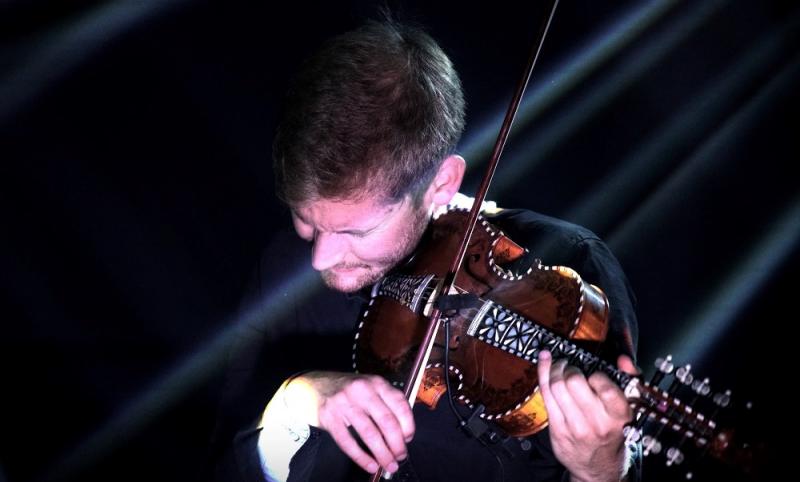 Erlend Apneseth gets to grips with the Hardanger Fiddle
A fiddle projects upwards from between Erlend Apneseth's knees. Seated, he holds another in his right hand facing-off the instruments against each other. He's plucking both, the pizzicato pitter-patter suggesting water drops on a bell or a koto. On the other side of the stage, guitarist Stephan Meidell is looping the sound, treating it to form a wash akin to that of a waterfall.
In between, percussionist Øyvind Hegg-Lunde is behind a drum kit rattling and scraping what looks like a cheese grater attached to some allen keys.
The moment passes and the Erlend Apneseth Trio settle back into the main flow of a 13-minute piece also taking in New Age-like ambience – in the Laraaji way – climaxing in a freak-out crescendo which Pink Floyd could have incorporated into "Atom Heart Mother". Yet throughout, the music is recognisably rooted in folk.
Apneseth's instrument is the Hardanger Fiddle, a form of violin first used in 17th-century Norway. Its crucial component – shared with the viola d'amore – is a set of strings resonating beneath those fingered on the neck. What's played is accompanied by a sympathetic drone. Usually it's employed for traditional music, where Apneseth is a prize-winning virtuoso. With the Erlend Apneseth Trio, he creates an analogue to Jon Hassell's Fourth World Music by merging the traditional with the experimental.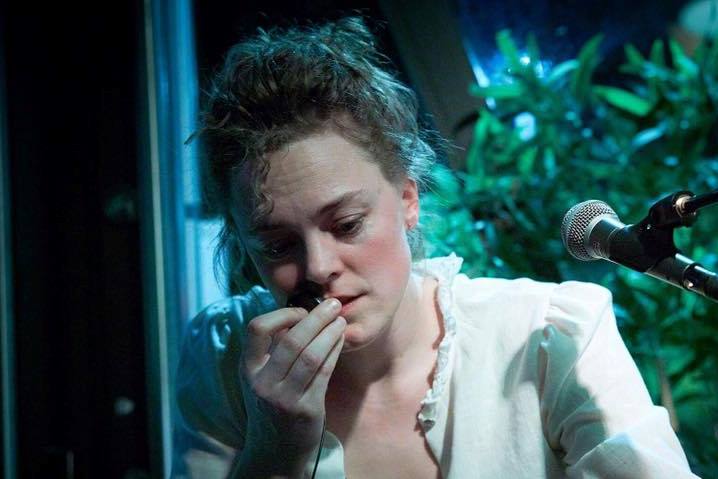 This encapsulates the boundary pushing essence of Norway's Hubro label, the imprint Apneseth and co record for. Experiencing this in the basement of The Spice of Life, the Cambridge Circus pub adjacent to the Palace Theatre – home of Harry Potter and the Cursed Child – feels odd, but it's in keeping with Hubro's characteristic nonconformity. (pictured right, Building Instrument's Mari Kvien Brunvoll. Photo: Ruben Olsen Laerk).
Hubro is celebrating its 10th year with a four-city tour showcasing three representatives of its diverse roster. Also on the bill are Building Instrument and Bushman's Revenge, the latter of whom previously recorded for the more venerable but similarly wayward Norwegian label Rune Grammofon (it reached 20 years in action in 2018). All three acts are trios but beyond the numerological equivalence, being with the same imprint and sharing some members, they are unalike.
After the Erlend Apneseth Trio, Building Instrument are on. Hegg-Lunde is back, and joined by Mari Kvien Brunvoll (vocals, electronics, omnichord and zither: her sister is Ane Brun) and Åsmund Weltzien (keyboards and more electronics).
Despite the shimmering zither, Building Instrument don't have identifiable roots in folk. Or much else. Weltzien's sepulchral keyboard playing nods towards the harmonium and in this context Hegg-Lunde is more straightforward. Brunvoll's voice is the defining element. There's a drop of Dagmar Krause in there, but more melodic and pitched higher. This is singing from a cloud and, overall, the Building Instrument experience is a shiversome dispatch from the ether. As they end with "Sangen Min" ("My Song"), the only counterpart coming to mind is Popul Vuh at their most pastoral. Extraordinary.
On last are Bushman's Revenge. Easier to get a handle on, they feature drummer/percussionist Gard Nilssen (also drummer for Susanne Sundfør and leader of Gard Nilssen's Acoustic Unity) and guitarist Even Helte Hermansen. Their usual bass player had broken his arm so Stephan Meidell stepped up. (Pictured left, Bushman's Revenge's Gard Nilssen. Photo: Petra Cvelbar)
After beginning with a spaciousness implying an intention to set the controls for the heart of the sun, Bushman's Revenge soon begin building. They build further, moving forward at full force. Neither metal nor jazz, what's delivered is a compellingly heavy stew bedded by Nilssen gradually setting fills aside in favour of hammering his drums into the floor. As they end, Meidell plays a two-note riff echoing that of The MC5's "Looking at You".
All three bands know their musical onions. Apneseth studied traditional Norwegian music at Bergen's Ole Bull Academy, Brunvoll and Hegg-Lunde went to Bergen's Grieg Academy, Meidell attended the Conservatorium van Amsterdam, Nilssen was at the Trondheim Music Conservatory and Hermansen studied at the Norwegian Academy of Music. Yet none have taken the predictable path.
The same applies to Hubro. Styling itself as "dedicated to releasing music from the vital Norwegian jazz and improvised music scene," the label doesn't acknowledge trends or smooth-off the edges of its roster. Hopefully, it will continue to set its own agenda for at least another 10 years. Based on this evidence, the next few are in the bag.
The Building Instrument experience is a dispatch from the ether
rating
Explore topics
Share this article