The Crown, Series 3, Netflix review - if you want binge TV, there's none finer |

reviews, news & interviews
The Crown, Series 3, Netflix review - if you want binge TV, there's none finer
The Crown, Series 3, Netflix review - if you want binge TV, there's none finer
Peter Morgan's royal saga has a new cast as the Windsors negotiate the turbulent 1960s
Dynasty: Olivia Colman as the Queen with Tobias Menzies as Philip
Although it conforms to a realistic chronology of events, this third season of Peter Morgan's remarkable voyage around the House of Windsor (on Netflix) has the feel of a sequence of standalone dramas, linked together by its interrelated characters and their shared history.
The action commences in the mid-
Sixties
, and there's been a changing of the guard among the cast. Because the bar has been set so high, all the new players act their socks off, and among a raft of brilliant performances, Tobias Menzies as the Duke of Edinburgh, Helena Bonham Carter as Princess Margaret
(pictured below)
and Jason Watkins as Prime Minister Harold Wilson would all be deserving finalists in
The Great British Act Off
.
But the moment you've all been waiting for is the unveiling of Olivia Colman as the Queen, and she fails to disappoint. I didn't find it easy to picture her in the role, but now she's here, you suddenly forget about all other incarnations of the much-impersonated monarch. There's a cheeky touch in episode one (Olding) where Queen Liz is comparing images of herself to be used on postage stamps – on the left there's previous incumbent Claire Foy, and on the right Colman. The sovereign has to accept that she now looks older, and she's not happy about it.
What Colman does particularly well is to catch that thing the Queen does when she raps out a phrase in a voice like ice, and you can't tell whether it's supposed to be a joke or not. There's a fine example in episode two, Margaretology, were the maverick Princess Margaret has "charmed" US President Lyndon Johnson into bailing out the collapsing British economy with a £100m loan (this was in 1965). Margaret's weapons were booze, an outrageous slagging off of John F Kennedy (to whom Johnson was a disgruntled Number Two), and the recital of obscene limericks ("there was a young lady from Dallas / Who used a dynamite stick as a phallus"). Somehow, Margaret has pulled off a great triumph, and the Queen is invited to join the celebrations. "I'm a queen, not a saint," she retorts.
The tension between the royal sisters is a running theme, entwined with the notion that Margaret was really the one born to rule, while Elizabeth had that duty thrust upon her. In the fifth episode, Coup, the sovereign, in the midst of a globe-trotting expedition to study advances in horse-breeding, gives a heartfelt little soliloquy about "the unlived life". Here among the steeds with her nag-ologist friend Porchie (Lord Porchester), she feels as if she's found her true self – "how much happier it would have made me," she reflects. But a full-blown emergency breaks the spell, and she has to rush back to London to head off a potential coup d'etat to be led by Louis Mountbatten (Charles Dance).
Morgan's technique of taking a nugget of factual history and shaking it into a cocktail of speculation, possibility and "what if"-ness continues to work its devious magic. A very moving depiction of the Aberfan mine disaster of 1966 (Aberfan, episode three) combines gruelling documentary-like scenes with insights into how politicians and royalty are expected to react to such a calamity. Watkins's Harold Wilson (pictured below) is shrewdly alert to how disastrous the fallout could be ("everything is political"), while the queen has to face up to her perceived empathy-deficit by acting for the cameras. Wilson's confession to Her Maj, at one of their private meetings, of the ways in which he has constructed his public image as a down-to-earth champion of the working classes is a miniature masterpiece (for instance he prefers smoking cigars to his famous pipe, "but cigars are a symbol of capitalist privilege") .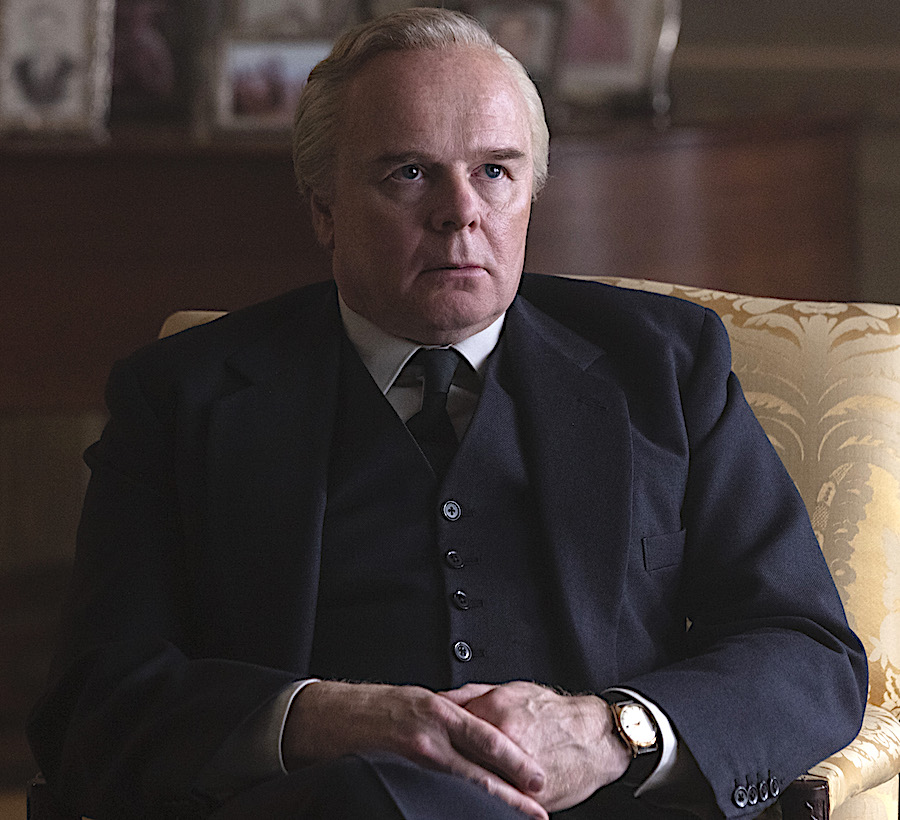 The first episode is built around the double life of Sir Anthony Blunt, the Surveyor of the Queen's Pictures who in 1964 confessed to having been a Soviet spy since the 1930s. The news was hushed up to save MI5's blushes. Sam West plays Blunt with a slimy blackmailer's cunning, and when the Duke of Edinburgh threatens him with exposure, Blunt responds by suggesting that he can reveal Philip's involvement in the Profumo affair. Who knows whether such a conversation ever took place.
In Episode 7, Moondust, Morgan uses the Apollo 11 moon landing as a device for probing Philip's unquiet soul. While everyone at Buck House is fascinated by NASA's achievement, Philip is obsessed by the astronauts' achievement, seeing it as the kind of history-shaping action he wishes he could have carried out himself. He demands a private meeting with the astronauts which he imagines will be a visionary encounter, only to find them deflatingly ordinary men (all suffering from colds) who are merely pleased to have carried out their mission according to plan. They're more fascinated by the British royals than by their lunar adventure. All this is skilfully knitted into broader reflections on the death of faith in an age of galloping technological advances, and how Philip became close friends with Robin Woods, the Dean of Windsor, who helped him through a psychological mid-life crisis.
If you want binge TV, it doesn't get any better than this. It slips down like a box of Belgian chocolates, but always leaves delayed-action issues of politics, class, history or personal relationships smouldering away, threatening to explode. From the acting to the production design, with its long gloomy rooms and their melancholy faded grandeur, to Martin Phipps's portentously grand theme music, it all just works.