DVD/Blu-ray: Buddies |

reviews, news & interviews
DVD/Blu-ray: Buddies
DVD/Blu-ray: Buddies
The first feature to address evolving AIDS pandemic retains real laconic power
Tuesday, 24 December 2019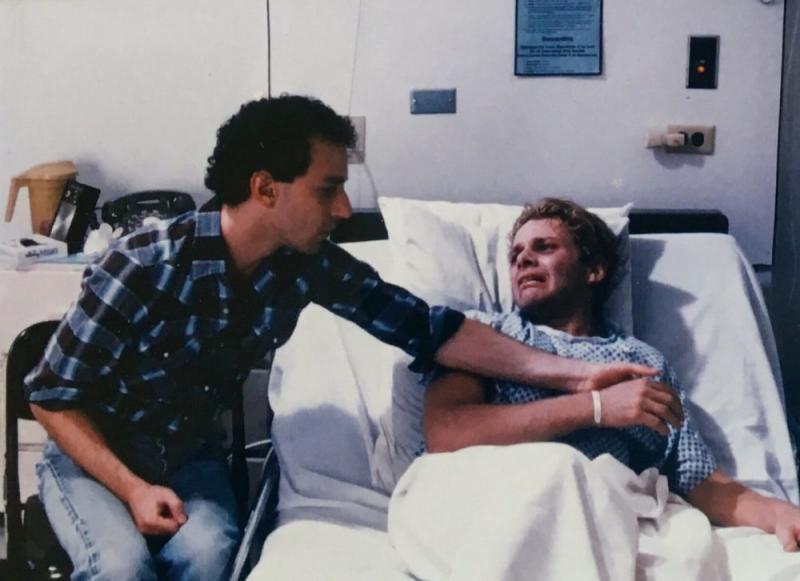 Hospital companions: David (David Schachter), left, 'buddy' to Robert (Geoff Edholm)
The acclaim of being the first to represent the mid-1980s AIDS pandemic in cultural form was a plaudit that none of those concerned would ever have wished for.
With
New York
as its epicentre, and almost nothing known about the disease that was hitting at the heart of the city's
gay
community, such early attempts were tentative, the boundaries between personal and political still rough. Strictly, theatre came first, with Larry Kramer's
The Normal Heart
premiering in 1985.
Dating from the same year, Arthur J Bressan Jr's Buddies was certainly the screen pioneer, a piece of urgently made independent cinema, shot on 16 mm on a shoestring budget, that now receives a much deserved restoration (the fact that it never even received a VHS release in its day makes its reappearance now the more significant). Actor David Schachter recalls in the generous and insightful interview that's the main extra on this Peccadillo release how the director – Artie to all who knew him – was aware of how pressing his project was, though he probably didn't know when commencing it that he would die from AIDS complications two years after the film's 1985 release (Schachter's co-star in the two-hander drama, Geoff Edholm, followed in 1989).
Bressan wasn't concerned about the film making money, Schachter remembers, nor especially about how it was received. Urgency was all, Bressan aiming for a rapid style that kept his cast on their toes. They had nine shooting days in May, he edited the film over the summer, and it was premiered in the Castro in September.
For such a schedule, Buddies impresses with the textured consideration of its script: it has a pronounced dramatic quality, the central scenes of interaction – and the only direct contact between Schachter's David, commencing his uncertain involvement as a "buddy" companion with Edholm's Robert – set in the latter's hospital isolation ward. The dynamic of their gradual bonding gains both nuance and narrative development from the way in which the former's introversion gradually gives way to greater involvement in Robert's more pronounced political agenda, as well as in the details of this life approaching its end that are elegiacally caught in a handful of photographs and grainy home movies. There's a sparseness of mood, as well as occasional unease of dialogue, that's on occasion almost Beckettian.
That said, the contemplative artistry of David's interior monologues may now seem quaintly innocent – hints of an almost Brief Encounter-style voice-over trope as he confides his thoughts to his journal over a clipped string quartet soundtrack (certain later scenes introduce a rather stormier classical score as background to scenes to which such quartets rarely come to provide accompaniment). Buddies is a story of scant human presence, in fact, its empty spaces of human habitation leading up to the film's quietly devastating closure, one which in turn amplifies the power of its coda, with its excursion into a public space.
The exception in this drama of difficult and limited human connection comes with the engaged telephone conversations between David and his mother, whose support and involvement in her son's life is total and supportive, a gentle variation in its way on traditional Jewish mother schtick. Today we may have to remind ourselves that such acceptance, for those like Robert with an AIDS diagnosis, was frequently the exception: a more usual reaction was rejection, whether by family, friends, even lovers, as well as society as a whole – hence the vehemence of Robert's campaigning for a public reaction that might precipitate essential research funding that was being withheld by the Reagan administration.
Was there something emblematic to that year, 1985? The date provided the title for another poignantly tender film, Yen Tang's 1985 (from last year), a work that caught with comparable economy the uncertainty and fear of an era when so little was known, and so little often felt beyond those directly affected, about a phenomenon that would change the gay community and all those associated with it almost beyond recognition. (The other extra on this release, an interview with film historian Thomas Waugh, gives valuable perspective on the era, as well as Bressan's place in the wider history of gay cinema.) Undoubtedly a trailblazer for its period, Buddies has not lost its power, its emotional depths resounding with a quietly laconic insistence that remains impressive today.
Watch the trailer for Buddies
There's a sparseness of mood, as well as occasional unease of dialogue
rating
Share this article