The Grudge review - non-stop shocks wear out their welcome |

reviews, news & interviews
The Grudge review - non-stop shocks wear out their welcome
The Grudge review - non-stop shocks wear out their welcome
Rebooted reboot of Japanese horror hit turns terror into tedium
Thursday, 23 January 2020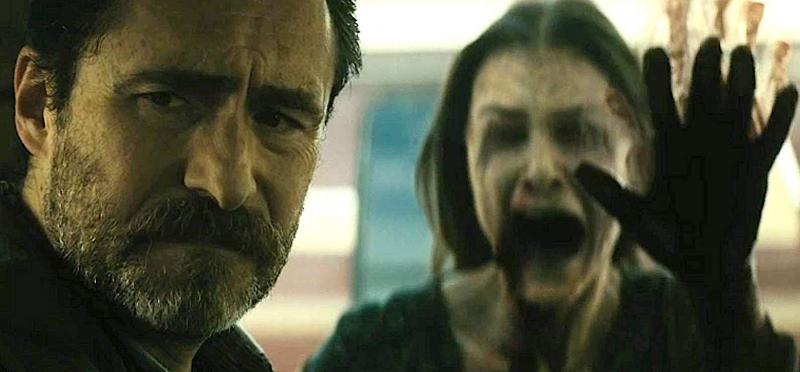 She's behind you! Demián Bechir and Tara Westwood
The 18-year-old Japanese horror hit Ju-On (The Grudge) was remade once before, as – yes – The Grudge (2004), with Sarah Michelle Gellar.
Now it's re-rebooted in this stylishly photographed but fatally crass incarnation directed by
Nicolas Pesce
, who is of the view that if something is scary once, keep repeating it ad nauseam.
It's the story of number 44 Reyburn Drive in Cross River, Pennsylvania, a house cursed with a spirit of murderous rage. This passes on to anyone who enters, having made its way to the USA from Tokyo by attaching itself to Fiona Landers (Tara Westwood), who, rather absurdly, we see being mauled by a demonic sack of Tokyo rubbish in the opening frames. In a jump-cutting time scheme, the hideous slaughter of the Landers family is followed by the blood-drenched slashing of the Mathesons.
It was a smart move, then, of investigating detective Goodman (Demián Bechir) to feel mightly spooked and refuse to enter the house. His partner Wilson (William Sadler) was not so prescient, and ended up maimed and deranged. But Wilson's replacement, recently widowed detective and single mom Muldoon (Andrea Riseborough), becomes fascinated by the Reyburn Drive story, and duly finds herself riding its escalator of terror.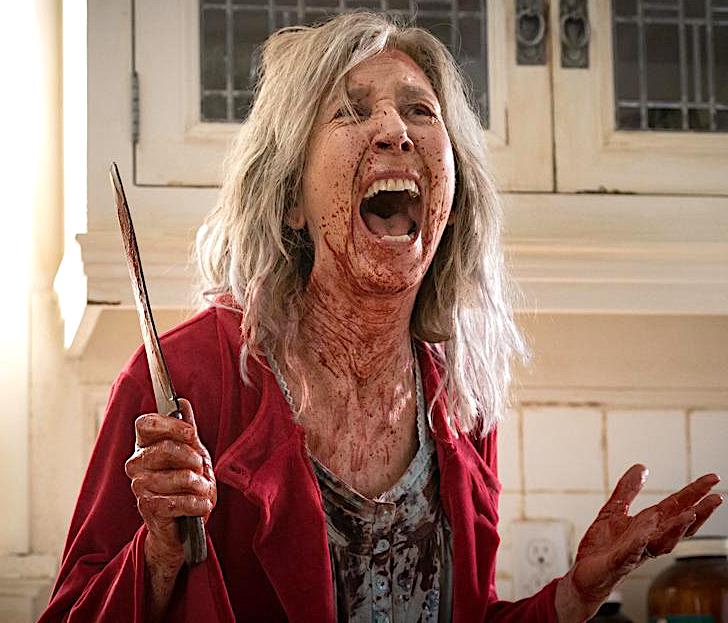 Pesce has manufactured some megawatt-shocker moments, with help from the Newton Brothers' gleefully menacing soundtrack, but shows his hand far too early. The catalogue of ghastliness starts immediately, and never allows any slackening or tightening of tension. Once you've seen one rotting head surrounded by buzzing flies, 10 more only soften the impact. Stare into the screaming face of a demonic black-haired woman too often and a certain ennui begins to set in. The satanic bath full of black water containing unknown monstrosities becomes merely comical.
There are occasional glimpses of a better film fighting to get out. Riseborough wastes far too much actorly nuance on conveying Muldoon's mounting dread as she begins to comprehend what she's dealing with, and Jacki Weaver adds a characterful turn as an assisted-suicide counsellor. Lin Shaye (pictured above) walks the jagged edge of cackling lunacy as finger-chopping senior citizen Faith Matheson. And spare a thought for stressed-out real-estate agents Peter and Nina (John Cho and Betty Gilpin), who have enough on their plate with Nina's pregnancy without having to find a buyer for number 44 as well. Yet none of it's enough to prevent this from turning into Carry On Screaming!