Shostakovich 24 Preludes and Fugues, Igor Levit, Barbican review - an eagle's-eye view |

reviews, news & interviews
Shostakovich 24 Preludes and Fugues, Igor Levit, Barbican review - an eagle's-eye view
Shostakovich 24 Preludes and Fugues, Igor Levit, Barbican review - an eagle's-eye view
Thought, colour and feeling in every phrase of this 20th century magnum opus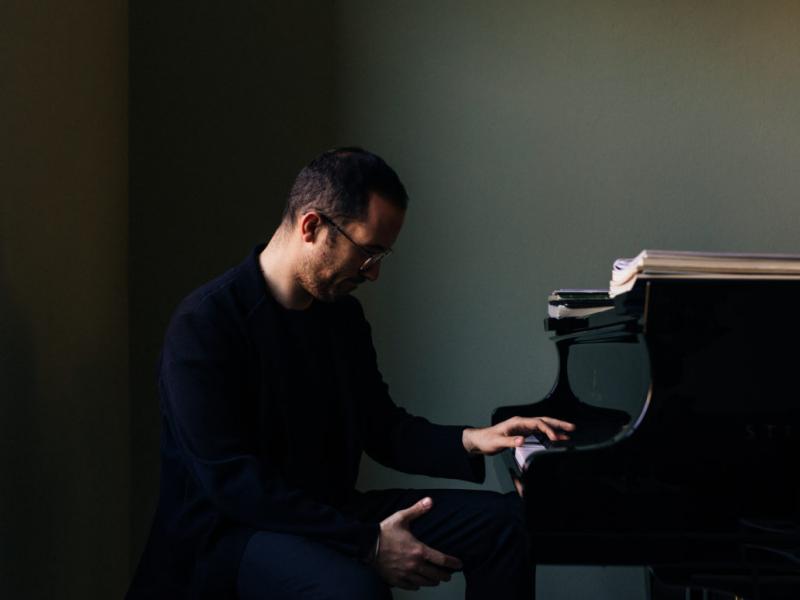 Igor Levit: rainbow palette
"Citizen. European. Pianist," declares Russian-born, Berlin-based Igor Levit on the front page of his website. One should add, since he wouldn't, Mensch and master of giants.
High-level human integrity seems a given when great pianists essay epics: certainly true of Elisabeth Leonskaja and Imogen Cooper tackling respective sonata trilogies by Beethoven and Schubert, or
András
Schiff in Bach's
Well-Tempered Klavier
. Last night was on that level. Questions may linger over the nature of
Shostakovich
's many-headed hydra of a homage to Bach, but none about Levit's expressive intent and execution in every phrase.
Tatyana Nikolayeva, Shostakovich's muse via her Bach playing, guarded the monument and was acclaimed here in the 1980s. Her interpretation was iron-cast but grey alongside Levit's rainbow palette. Barbican concertgoers who attended the Friday evening performance of the composer's shattering Eighth Symphony from idiosyncratic but rigorous Jukka-Pekka Saraste and the BBC Symphony Orchestra will have been gifted a special connection: the symphony ends in a luminous C major truce with the horrors that have knocked it down so often, and C major is also the start of the Preludes and Fugues composed - unbelievably in three and a half months - seven years later, Levit drawing his listeners in to another spell with hypnotic intimacy.
This adventure, though, is not of the same, unremitting intensity; it works by contrast, and there are times when Shostakovich, not a great singing melodist like Prokofiev, turns out an unmemorable prelude or fugue theme, interesting only in the way it's mined; in the middle of both groups of 12, there are stretches where you feel he's simply working out schoolroom fugues as wrist exercises, though they're still the wrist exercises of a genius (pictured right: the manuscript of the opening to the Fugue in E flat). Shostakovich is always more at home setting out the diatonic - what in C major would be only the white notes - only to undermine it. Not everything here sounds like Shostakovich - which can be a good thing - though there are passing reminders of works he'd put in the bottom drawer after the persecution of Soviet composers in 1948, such as the song-cycle From Jewish Folk Poetry (especially poignant on the eve of Holocaust Remembrance Day). Even so, the whole can be more impressive than some of its parts.
Nevertheless Levit let nothing escape his rigorous but always expressive focus. That made the relatively few outbursts of violence, above all in the whirlwind of the D flat major Fugue, and the cumulative fugues at the end of each set of 12 - Shostakovich clearly divides up his sequence, making a new pure beginning with the F sharp major Prelude and Fugue of No. 13 - all the more overwhelming. Any sense of technical bursting at the seams was reined in with the pianist's intense rhythmic sense, and very rarely did he resort to the sustaining pedal to help with welters of sound.
Levit can bring orchestral force to the bigger fugues, or he can seem to retreat into Shostakovich's own private world, sometimes at the end of a sequence that starts with a big statement. Especially remarkable was the improvisatory feel to the B flat minor Fugue, which seems like some late Beethoven to be going on in the composer's head as it sleepwalks on the moon. It was not Levit's fault at all if this was the one point at which an astonishingly attentive and intense audience began to shift and shuffle; this work is hugely demanding on the listener. Cellist Steven Isserlis recently wrote that the concentration of a Japanese audience is a given, whereas you have to win it in the west; last night's full house was ready for the rigours of nearly three hours of piano-playing from the start. Its instant standing ovation was not a knee-jerk reaction to the sheer feat of realising an epic; we all knew we had been present at something utterly remarkable.
The improvisatory approach to the B flat minor Fugue made it feel like sleepwalking on the moon
rating
Explore topics
Share this article