Stryper, O2 Academy Islington |

reviews, news & interviews
Stryper, O2 Academy Islington
Stryper, O2 Academy Islington
Christian rockers resume the yellow and black attack 25 years on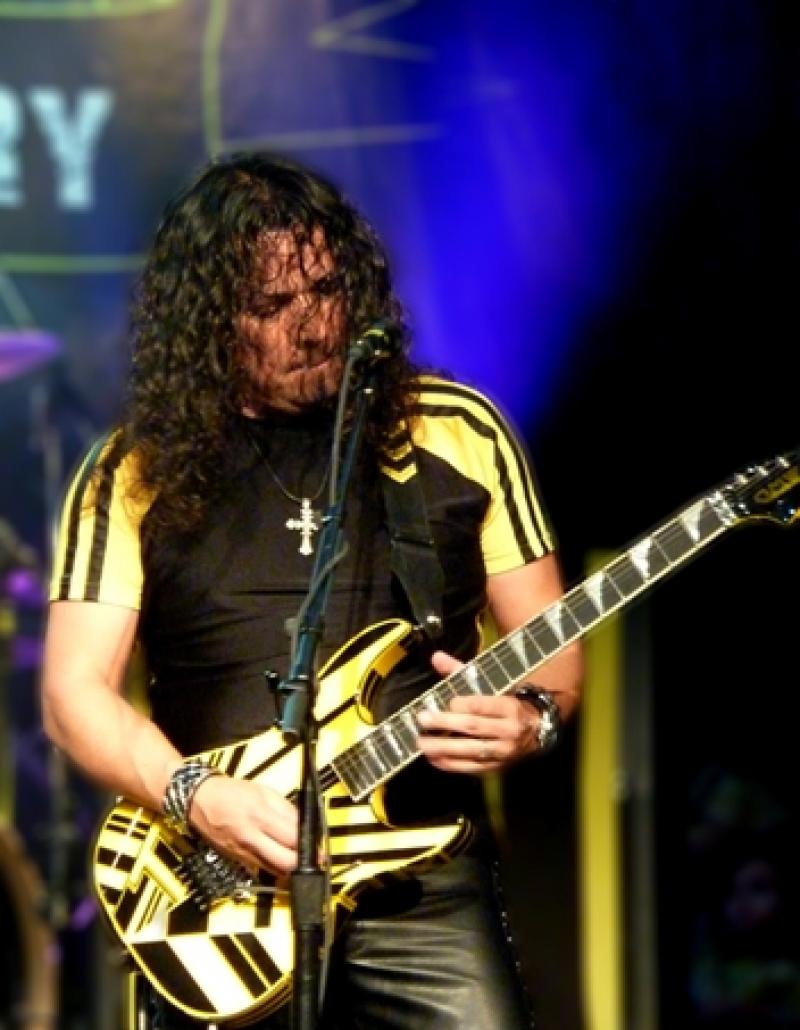 Oz Fox rocks: Stryper means glam metal rock with bulletproof riffs and God on their side
The prefix "Christian" can invite mockery. The suffix "rock" usually makes it worse. And a Christian Rock band celebrating 25 years in yellow and black Spandex? Surely that has to be a spoof. But I have news for you: Eighties Californian glam metal band Stryper are real, back, and tonight they rocked.
Stryper were formed in a world where the more macho a band the more they wore make-up, and where the intricacy of the guitar work was in direct proportion to the volume of hairspray. Stryper made no concessions to such conventions. Nor would they make any concessions to their religious beliefs. During the Eighties the world's fastest-growing band, crypto-Christians U2, could well have made it more acceptable to put God in mainstream lyrics. Bono, however, felt that he would prefer to play at being God instead. Stryper alone bore the standard of "God Rock", seeking to bring their message into a subculture linked to drugs and Satanism, armed only with bulletproof riffs and Michael Sweet's extraordinary tenor voice.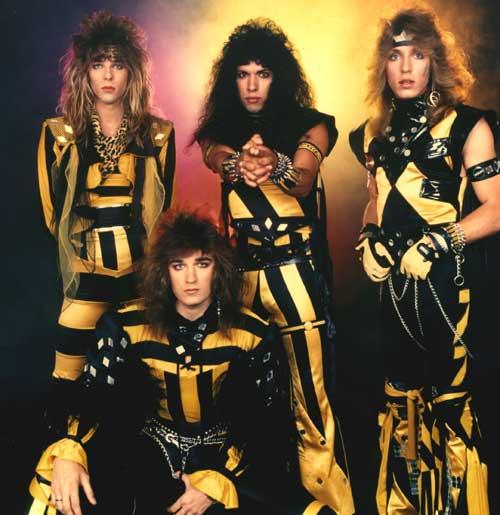 Everyone who listened to metal in the Eighties remembers Stryper. Being the world's only significant Christian metal act was part of it. And there was the imagery: the yellow and blackness branded on their costumes and albums. But the bottom line was, even for those nonplussed by the message, they kind of liked them. The riffs were tight, the melodies encased in super-slick harmonies, and the solos gave Van Halen a run for his money. On top of it, it was hard to come over too preachy dressed like that.
When grunge killed glam metal in the early Nineties the members of Stryper went off to pursue solo careers. Singer Michael Sweet's direction was more towards ballads, and guitarist Oz Fox produced metal acts, played in cover bands and found time to marry former prostitute Annie Lobert, founder of the Christian charity "Hookers for Jesus". There were short-lived reunions but it wasn't until the recent comebacks from AC/DC, Metallica and Guns 'N' Roses that Stryper got the backing for a new album. Murder by Pride was released last autumn, and stylistically plugged straight back into their glory days.
Given the technical demands of Stryper's music – the wailing multi-layered vocals and soaring guitar histrionics, you might expect the live version to be slightly rougher than the albums. Not so. Not only do they fully
reproduce the sound of the records, but they inject an added joyousness into the performance. Watching Oz Fox pulling guitar hero faces and Robert Sweet crashing on his drum kit like Animal from The Muppet Show is to delight in seeing middle-aged men as thrilled to be making music as they were a quarter of a century before.
The set mixing old and new, focussed on their heavier material – think Motley Crue, Guns'N'Roses, Poison or WASP ("We Are Sexual Perverts"). A cover of Boston's "Peace of Mind", and roof raising version of "Calling on You" were nods to their poppier side.
Stryper may serve the Lord but they also serve rock, and serve it wellYellow and black were still the dominant colours. The hair was still there, if less bouffant, and the clothes were still tight, just now allowing for a little more circulation. There's no doubt that Stryper are serious people, but thankfully they avoid the over-sincerity, or po-facedness that blights so many attempts to introduce a religious element to popular culture. Even drummer Robert Sweet getting out from behind his kit to throw bibles into the crowd, or the prayer that followed "To Hell with the Devil" just seemed as much an organic part of their act as the theatrics of Iron Maiden or Alice Cooper.
Stryper may serve the Lord but they also serve rock, and serve it well. Listening to them it's clear that in spite of the generally profane nature of metal, these guys grew up on and love heavy guitar music. It was with a real sense of thrill that they broke out a cover of Judas Priest's "Breaking the Law". And maybe that's why they've sold millions of records to, for want of a better expression, rock heathens.
It was difficult to know what percentage of the crowd were believers, or just rockers. Sure, there was a scramble for the bibles – what a subversion of rock norms that is – but the mosh pit was also hungry for guitar picks, autographs, or any part of the band they could get. The T-shirts told a story of young men who had discovered the joys of the heyday of the New Wave of British heavy metal, when along with Californian glam metal, it ruled hard rock. Looking around I saw almost everyone punching the air and singing along. It reminded me of a line in the song, "Walking in Memphis": "She asked 'Are you a Christian child?'/ And I replied, 'Man I am tonight'."
Explore topics
Share this article