Reissue CDs Weekly: Recording Is The Trip - The Karen Dalton Archives |

reviews, news & interviews
Reissue CDs Weekly: Recording Is The Trip - The Karen Dalton Archives
Reissue CDs Weekly: Recording Is The Trip - The Karen Dalton Archives
The Dylan-approved folk-inclined stylist's 1962 and 1963 recordings get another outing
Karen Dalton: no traditionalist
"My favorite in the place was Karen Dalton. She was a tall white blues singer and guitar player, funky, lanky and sultry. Karen had a voice like Billie Holiday's and played the guitar like Jimmy Reed and went all the way with it. I sang with her a couple of times."
Well Bob, that's how you remember it. Dylan was writing in his 2004 memoir Chronicles Volume One about encountering Dalton at the Fred Neil-compered Cafe Wha? in the first half of 1961. Part of what he says seems fair. On 1969's It's So Hard To Tell Who's Going To Love You, the first of her two albums, she melded Billie Holiday's vocal essence to her own cracked, original approach.
But on Recording Is The Trip - The Karen Dalton Archives, which collects unissued-at-the-time recordings from 1962 and 1963, she does not have the husky Holiday tone, and was unlikely to have had it in 1961 when Dylan was around her. It came later. There's no Jimmy Reed guitar either – stylistically and from a practical viewpoint. She played 12-string acoustic and banjo. Reed was an electric blues player. The point was made though. Dylan rates Dalton.
Maybe Dylan was conflating his experiences with what was on album. In 1969, after the release of It's So Hard To Tell…, The Village Voice's Annie Fisher said of Dalton "her voice is apt to put you in mind of Billie Holiday's after her's started to go, but any resemblance stops there. I suppose Karen Dalton has to be classified as folk singer, but her texture is the antithesis of [Joan] Baez's (boring) and [Judy] Collins's sweetness. Her style is a rare mix of familiar folk and blues influences...plaintive, earthy, insinuating, scarily real."
Dalton arrived in New York in autumn 1960. Dylan did so in early 1961. Both were on the scene. She was tight with Fred Neil and played with Tim Hardin. It took longer than those two for her to release an album. What was issued in 1969 suggested she was not a writer – the songs were covers, including Hardin and Neil material. Yet the publication of the book Songs, Poems, and Writings in 2012 revealed that she had her own songs. They were never recorded. An alcohol abuser, she – like Hardin and Neil – was a drug addict too. Karen Dalton died in 1993 from AIDs-related illness.
The publication of Chronicles helped foster her posthumous reputation. So did successive reissues of the poor-selling It's So Hard To Tell… in 1997, 1999 and 2009. Her second and final album, 1971's In My Own Time, was first reissued in 2006. She's been lauded by Nick Cave, Josephine Foster, Sharon Van Etten and more. Curiously, the country singer Lacy J. Dalton deliberately co-opted two-thirds of her name as a tribute – her inspiration was often credited as Karen J. Dalton.
Recording Is The Trip arrives within a wider context than it would have had a couple of decades ago. An important part of that context was set by 2007's Cotton Eyed Joe and 2008's Green Rocky Road, CDs collecting material unissued in her lifetime. Actually, this new triple-album release is a reissue of these. Cotton Eyed Joe is spread across two of the albums; Green Rocky Road occupies one. The box also contains a book and a code for download-only material. The weird title Recording Is The Trip comes from a biographic note Dalton wrote tying-in with It's So Hard To Tell…, where she says that finished studio recordings are utterly removed from live performances. Hence it being "a trip."
The Cotton Eyed Joe recordings were taped in October 1962 at Boulder, Colorado's Attic coffeehouse. The sound quality is good but as there's no microphone she tends to over-sing, straining to be heard. She is not-quite made for singing out. It takes a while to get going but by the time of Woody Guthrie's "Pasture of Plenty", she's in her stride. When picking up the banjo for the traditional song "One May Morning", she's wonderful. Fred Neil's "Red are the Flowers" edges towards blues, and Jimmy Cox's "Down and Out" is blues in a finger-picking, porch-step way. She is a great guitarist. A fascinating, often compelling, performance. "Katie Cruel" and the solo vocal version of "Old Hannah" are stunning.
The Green Rocky Road recordings are from 1963 and were taped on a two-track machine in a house near the ghost town of Copper Rock, Colorado. Again, "Katie Cruel" is superb, as is "Nottingham Town". A version of "Green Rocky Road", also in Hardin's repertoire, is less assured. The blues-edged and folkier, traditional material are more alive.
Overall, both tapes suggest Dalton was akin to – but not the same as – a less gravelly, livelier Dave Van Ronk (he recorded Holiday's songs) and along the lines of Judy Henske when she wasn't pumping out the showbiz stuff. There's also hints towards her having been a spikier Peggy Seeger or a more wayward Judy Roderick. In essence, what's heard places her as a prime folk revival, Greenwich Village type. Intriguingly, her penchant for and ease with British-originated material suggests an affinity with UK interpreters like Anne Briggs and Shirley Collins.
It's instructive to hear songs which later turned up on her albums. The "Katie Cruel" on In My Own Time lacked oomph and soul. Here, it is animated. "Blues on the Ceiling", "In the Evening", "It Hurts me too" and "Ribbon Bow" were on It's So Hard To Tell… Six to seven years earlier, all are more alive and benefit from not yet having the stylised Holiday-esque singing. This is a more natural Karen Dalton.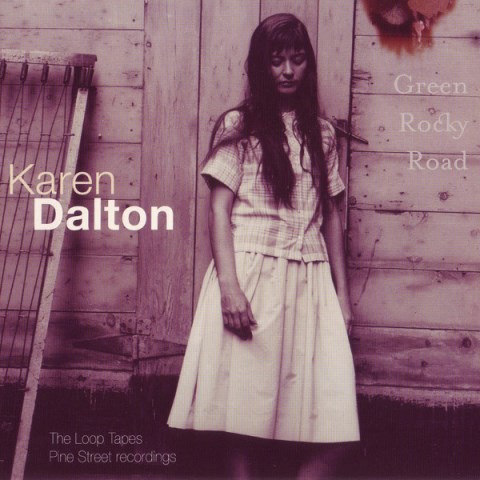 As well as what's on the three albums, the box also includes (mostly) previously unheard material which is only available as a download. Also taped at the two-track sessions, these 13 performances find Dalton with her partner Richard Tucker (saxophone, and on what sounds like a clarinet), Joe Loop (drums and percussion – he made the tapes) and Ray Chatfield (banjo).
Over 56 minutes, what unfolds rewrites how Dalton is perceived. This may be an ad hoc combo but by playing with such an unusual line-up she is confirmed as no traditionalist. The version of "Come on Down" has pots-and-pan percussion. There's a kazoo on "Euphoria", and the seeming clarinet on "Nancy" and "Trouble in Mind". "Blues Jumped on a Rabbit" – also covered by Judy Henske – has peculiar, snakey clarinet and arrhythmic drums. More routinely, a version of "Cocaine" probably nods to Dave Van Ronk as it was one of his trademark songs.
As this illuminating session has never before been heard in its entirety, it is mystifying why it is not on one of the albums. This is not the only frustration. The book has no captions making it unclear when or where many of the photos and illustrated written material may be from, or indeed what they are of. The text recycles much of what was included with Cotton Eyed Joe and Green Rocky Road. Knowledge of Dalton has moved on a lot since then and a new overarching essay would have been better. Recording Is The Trip - The Karen Dalton Archives includes some landmark music but it is disappointing to encounter these shortcomings.
Next week: Smashed Full Of Wonder – Eighties psychedelic indie band The Hangman's Beautiful Daughters re-emerge
Dalton's penchant for and ease with British-originated material suggests an affinity with the UK's Anne Briggs and Shirley Collins
Explore topics
Share this article