New Music Lockdown Livestream Special 1: Miley Cyrus, Metallica, Diplo and more |

reviews, news & interviews
New Music Lockdown Livestream Special 1: Miley Cyrus, Metallica, Diplo and more
New Music Lockdown Livestream Special 1: Miley Cyrus, Metallica, Diplo and more
First weekly round-up of Corona lockdown streams from music-land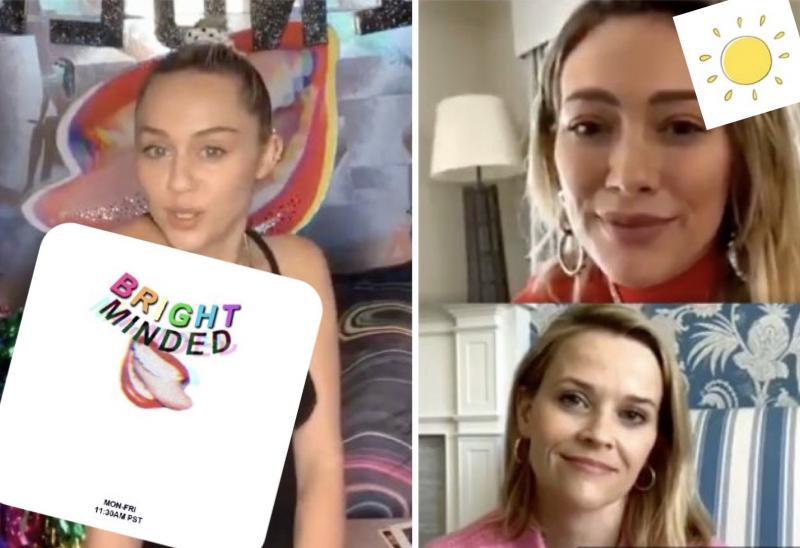 Miley Cyrus, gobby and upbeat, keeping her famous mates cheerful on her daily Bright Minded broadcast
Given the times, theartsdesk's New Music section is starting weekly round-ups of new streaming fare to liven the spirits and entertainingly pass the time during this lockdown. Here are our first five suggestions. Dive in!
Light In The Attic Showcase
The archival/reissue label Light In The Attic put together an impressive continent-hopping set of live-from-home performances, running the gamut from veteran Brazilian musician Marcos Valle to Alex Mass of Texan fuzz-rockers The Black Angels. Mostly cover versions, the biggest name is probably Jarvis Cocker who, psychedelically shadowed, offers a scuzzy, dark-synth run-though of Lee Hazlewood's "Cold Hard Times". A murky Gruff Rhys is somewhere in there too, silhouetted with his family around a piano. One highlight is Jim James of My Morning Jacket, jovial in a tattered straw hat, strumming through "Have You Been Good to Yourself", originally from Johnnie Frierson's lost late-Sixties gospel album of the same name (and typical of Light In The Attic's esoteric output). Best of all, perhaps, is Seattle singer Grant Olsen and his daughter Frankie, huddled in a fairy tent, the latter a born performer, veering between childish self-consciousness and total show-off in a most endearing fashion.
Below: Watch Light In The Attic Lockdown Showcase
Chvrches Forever (Separate But Together Version)
Glaswegian indie-tronic sorts Chvrches fired out a new version of a cut from their last album, 2018's Love is Dead. Aside from singer Lauren Maybury, filmed in a sunlit room with a very professional-looking mic set-up, it's hard to tell who's involved, especially as there are four musicians and Chvrches is a trio. Never mind that, though, this is a snappily cut-together revision, presented in cannily edited, ever-changing split-screen, possibly somewhat produced after the event. Featuring guitar, bass and a living room piano, even the drum machine which underpins it all has a guest appearance, with the whole adding up to a persuasive livener.
Below: Watch Chvrches Forever (Separate But Together Version)
Miley Cyrus: Bright Minded
This isn't a concert but a daily show that runs Monday-to-Friday 11.30 AM to 12.30 PM, Pacific Standard Time (so 7.30-8.30 PM in the UK). It then remains on YouTube. It's based around interviews with Miley Cyrus's celeb pals. Very open and American in spirit, each episode is like a dose of motivational therapy, as Cyrus, in what looks like a glittery dressing room, questions her guests about what they're experiencing and how they're coping. The theme tune is fun ("If you wanna be bright minded, there's just one place to go/When you're stuck at home and the time is ticking slow"), a kitsch spin on old-fashioned chat-show openings, and the guests are high profile. Dua Lipa, Elton John, Selena Gomez, actress Kerry Washington, and many more appear, but the heart of it, especially for those stuck at home alone and looking for a human emotional connection, is Cyrus's gushing, babbling, gobby, very Californian brand of honesty and positivity.
To watch: Search YouTube for "Miley Cyrus Bright Minded"
Diplo presents Coronight Fever - B2B with Dillon Francis
If you're sick and tired of watching Netflix shows you'd never have given five minutes a month ago, if you just want to crack a bottle and go nuts around the living room for a bit, you could do worse than check out US clubland uber-producer and Major Lazer main man Diplo's YouTube channel. He's been firing out mixes and this nigh-on-three-hour set, with fellow crossover DJ Dillon Francis, is a treat, veering between 4/4 bass bangers and global-tinted funky flavours. Initially amalgamating film snippets and pop videos alongside clubby graphics and quirky idents, it soon settles to the pair at the decks alongside quirky effects and eye-boggling green screen backdrops that occasionally overtake Diplo's clothing. Designed to be plugged into the home sound system and allow the occupants to let off steam.
Below: Watch/listen to Diplo presents Coronight Fever - B2B with Dillon Francis
Metallica Mondays
Every Monday metal behemoths Metallica launch a full filmed concert on YouTube. The latest is a two-hour-15-minute set from The Forum in Copenhagen from 2009. It features an intro from band leader Lars Ulrich, at home behind his drums, welcoming us to "the third Metallica streaming party". He tells us how fan club members filmed the Copenhagen shows during a 10 night stand. This set is, he thinks, the fifth night. His presentation is endearingly amateurish, breaking into giggles. Fans will enjoy rarely played cuts such "Holier Than Thou", "Damage Incorporated" and, especially, the percussive insanity of "Trapped Under Ice" . The previous concerts were from Ireland's Slane Castle in June 2019 and from Paris in September 2017. Only the latter has an Ulrich intro, but all three sets boast 100% heavy rock commitment and sweaty, sweaty energy.
To watch: Search YouTube for "Metallica Mondays"
If you just want to crack a bottle and go nuts around the living room for a bit, you could do worse than this one
Share this article