Miley Cyrus, O2 Arena
Miley Cyrus, O2 Arena
Come for the controversy, stay for little more than the controversy on the star's UK tour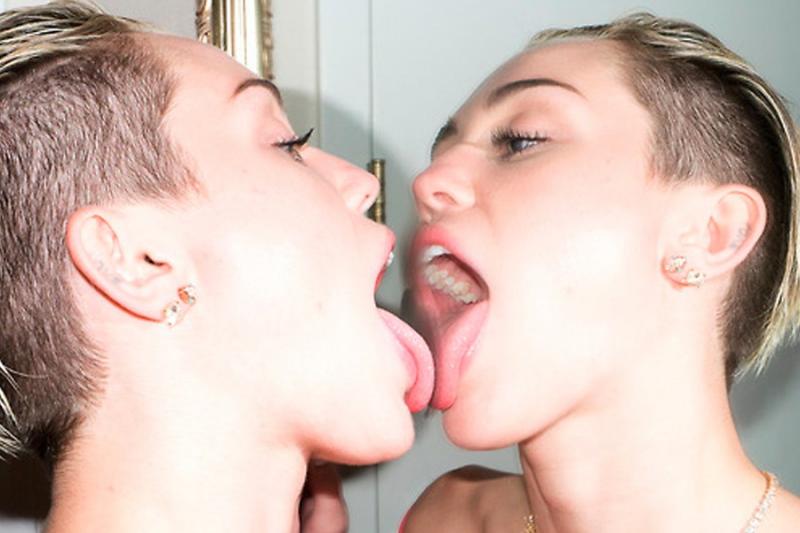 Obviously having loads of fun: Miley Cyrus
Sliding onto the stage of the O2 Arena in a leotard emblazoned with her own mouth and tongue, Miley Cyrus immediately starts bouncing around screaming, "I'm not going down without a fucking fight!"
Fighting spirit, aimed at nothing and everything, is the heart of Bangerz. It's Miley against the world - and that includes her audience, whom she repeatedly refers to as "you fuckers" and projectile-spits all over. She's a total brat from start to finish. This being her first show back on the road after a spell in hospital, she even turns her anti-authority backlash in the direction of medical staff who took care of her, complaining at length about the "bitch nurse" and the doctor who "tried to kill her" by giving her antibiotics.
Many of the audience, it seems worth mentioning, are children in attendance with their mums and dads
Meanwhile, she's surrounded by her own iconography, as demented visuals show her riding a jet ski being chased by an evil baby and dancing with vulgar cartoons, and dancers clad in pantomime costumes provide a cheeky offset to her booty-shaking. The reckless attitude which found her turning away from a squeaky clean reputation and grabbing hold of young adult life with both hands is there. But something - maybe in the long set and costume changes and the way in which Miley talks about her dead dog so many times that people actually start to groan - is off.
As the night unfolds, one thought is inescapable: Miley just doesn't seem to quite know what she's trying to do. Writhing on the hood of a golden car with her hand between her legs and surrounded by shirtless dancers, she's obviously having loads of fun, but the music never quite lives up to the abandon she's going for with her tiny-crotched stage outfits or speeches to the audience about how she hopes they've all been smoking up and popping pills before they came down here. The audience she's talking to have each spent around £40 on a ticket; it's a Tuesday night; we're in the O2 Arena, not exactly where you go in London if you want a messy night, plus many of the audience, it seems worth mentioning, are children in attendance with their mums and dads.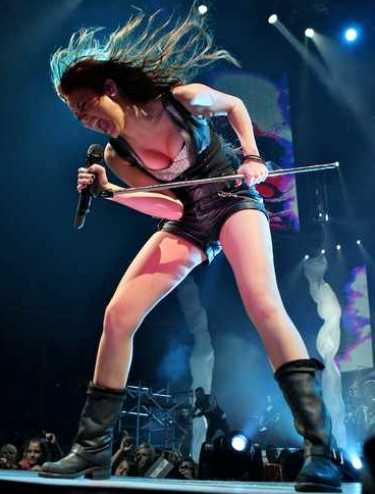 The section of the show that proves the most revealing sees Miley appear on a mini-stage in the middle of her audience, fronting a country band to sing the Bangerz ballad "Rooting for My Baby" and to cover the Arctic Monkeys, Dolly Parton and Bob Dylan. Her choices of covers alone reveal so much about the strangeness of her efforts to channel hip hop and punk in the rest of the show - the way she sings them even more so, as suddenly a velvety country vocal comes soaring from her mouth with practically no effort. But it's just that - effortless. She seems bored by the whole episode, almost mad at her audience, frequently pausing her singing to ask the crowd to get her a beer and shouting "You stupid cunt!" part-way through a cover of "Jolene".
With Bangerz, what it comes down to is whether you enjoy the controversy or not. If it's enough for you, then this tour is all you could hope for and more: it revels in the thrill of a child star reclaiming her identity in an explosion of sex and drugs and colour, and it doesn't fail to deliver imagination or shock. But the cohesion that's missing from Bangerz itself makes this show totally empty: with a two-hour slot the album, with all its turn-up-at-the-rodeo confusion, is stretched thin. Ballads and covers bring out the best in Miley's voice, massive stage props and skilled twerkers bring out the best in the show, but none of it ever quite happens together.