Reborn review - horror on the Hollywood skids |

reviews, news & interviews
Reborn review - horror on the Hollywood skids
Reborn review - horror on the Hollywood skids
No scares but decent ideas down in the B-movie basement
Twisted firestarter: Kayleigh Gilbert as Tess
The Frankenstein-style, electrical storm-sparked resurrection of a dead baby in a hospital morgue, and her theft by its creepy attendant, is followed by a homage to Stephen King's supernaturally potent teenagers, from Carrie to Firestarter, in a threadbare horror with consistent, curious ideas about its own B-movie realm.
British director Julian Richards' debut was the similarly meta and mediocre serial killer flick The Last Horror Movie. Here, as grown-up, corpse-grey, lightning-powered Tess discovers mum is a B-movie actress, Lena O'Neal (Barbara Crampton, pictured below), who's shakily seeking a comeback, this becomes a low-budget tribute to low-budget Hollywood.
Crampton is herself an ageing B-movie starlet best-known for Re-Animator. When Tess's lightning strikes anyone who crosses mum, Michael Paré turns up as a gentle-voiced bear of a detective, his brief 80s spell as a leading man (Eddie and the Cruisers, Streets of Fire) leaving a resemblance to a gone to seed Brad Pitt. There's a pathos to his performance, lent to Lena when he warmly recalls a role from her salad days. "You saw it," she melts. "That was years ago." Her hard-bitten agent Dory (Rae Dawn Chong) has a more withering assessment of her recent CV. "Oh," she says brightly, "theatre!" Despite being Lena's last friend, she switches her allegiance to an All About Eve-style, bitchy ingénue with amusing ease.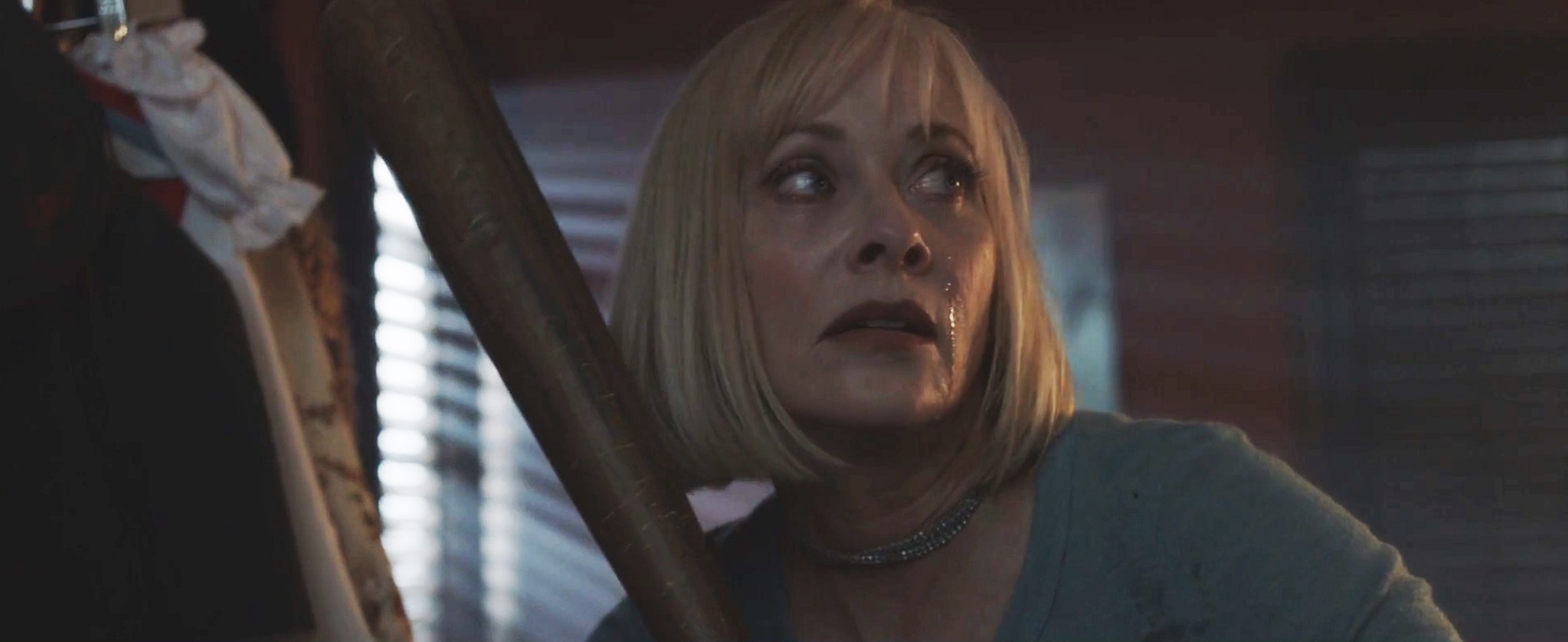 Tess herself meanwhile bonds with Lena by reading a suggestively autobiographical part with her in a parlour acting class, and peers at shop-window mannequins, imperfectly learning to play someone who's not a reanimated corpse. Her ambiguous opinion of her creator, who she'll kill if she can't love, deepens the Frankenstein vibes.
Lena is handed needless pills in a shadowy, wooden psychiatrist's office dressed like a Hollywood or charlatan's fantasy of a such a thing by crusty, patriarchal Dr. Hect (at least according to his business card – the credits have other ideas, adding to the sense that the cast are wandering through shabby B-movie back-lots, where details are rushed). It's a present-day in which a prized comeback can be achieved by auditioning for Peter Bogdanovich, status disproved by his cameo here. There are film posters on everyone's walls.
Richards' own career has meanwhile found its level, judging by the flatly directed, paceless trail of gory deaths Tess leaves in her wake. Despite peeled heads in the morgue and lift-shaft tumbles, scares and style are absent. But there is a scribbled feminist realism to Michael Mahin's script (from producer Jeannie McGinnis's story), steeped in Hollywood compromise. "I didn't want the scar," Lena recalls of the pregnancy decision that led to her losing Tess, as she fights contemptuous male doctors for the truth.
This is a horror movie about actors in which neither frights nor acting amount to much. But then Carrie's twist-ending is repurposed to slyly redouble the cynical satire of Hollywood's tatty edge. Reborn's cleverest moment can be read two ways. It most plainly suggests people really will do anything for a part.