Blu-ray: Carrie |

reviews, news & interviews
Blu-ray: Carrie
Blu-ray: Carrie
De Palma's classic horror still shines strongly, despite mediocre re-release
Tuesday, 19 December 2017
Poorly produced special features and a high price sour Arrow Video's Blu-ray edition
As we reach December, the year of Stephen King comes to a close with this 4K Blu-ray restoration of his very first film adaptation: Carrie.
It was the first major success for Brian De Palma, Sissy Spacek and John Travolta, but how does the original high school
horror
hold up in the 21
st
century?
Carrie is a strange beast – half satiric high school comedy, half intense psycho-horror. It shouldn't work; how can film jump from domestic abuse to Benny Hill-style tuxedo shopping? But under the visionary eye of De Palma, both halves form a coherent and fulfilling whole.
What dates the film most is the sometimes leering nature of the camera
The technicolour high school life feels melodramatic, with petty arguments and rolled eyes; it contrasts harshly with the dull and intimidating reality of Carrie's home life. Cruel, thoughtless actions bring that reality crashing into the prom, and you can't help but feel a pang of satisfaction as Carrie mows through the stereotypes. The horror movie gatecrashes the satire, offering a far more nuanced approach to a sometimes one-note genre.
Carrie is still one of the most visually interesting horrors ever made. Cameras are placed at odd angles, shots can go on for minutes, and the split-screen finale is a panic-inducing masterpiece. It may have been Brian De Palma's first major hit, but he'd already helmed 10 films by 1976; this is the work of a maestro, not a debutant.
What dates the film most is the sometimes leering nature of the camera. The titles roll over high school girls playfighting in the showers, nude and in slow-motion. De Palma claimed it was erotic; it's safe to say he's no authority on eroticism. Stories that Steven Spielberg was invited on set to hit on the women lend credence to the suggestion that 33-year-old De Palma took advantage of his position of authority.
The Special Features on this new Blu-ray are a mixed bag. Behind-the-scenes featurettes from the 2001 25th Anniversary Release offer a well-made retrospective from a variety of sources, including Spacek and De Palma. The newly recorded material from 2016 is extensive, but poorly produced and in need of heavy editing. Recent interviews repeat a lot of information from the earlier featurettes, and the sound quality can vary dramatically. Long interviews with various crew members, including writer Lawrence D Cohen and composer Pino Donaggio, are interesting but laborious and unimaginatively presented.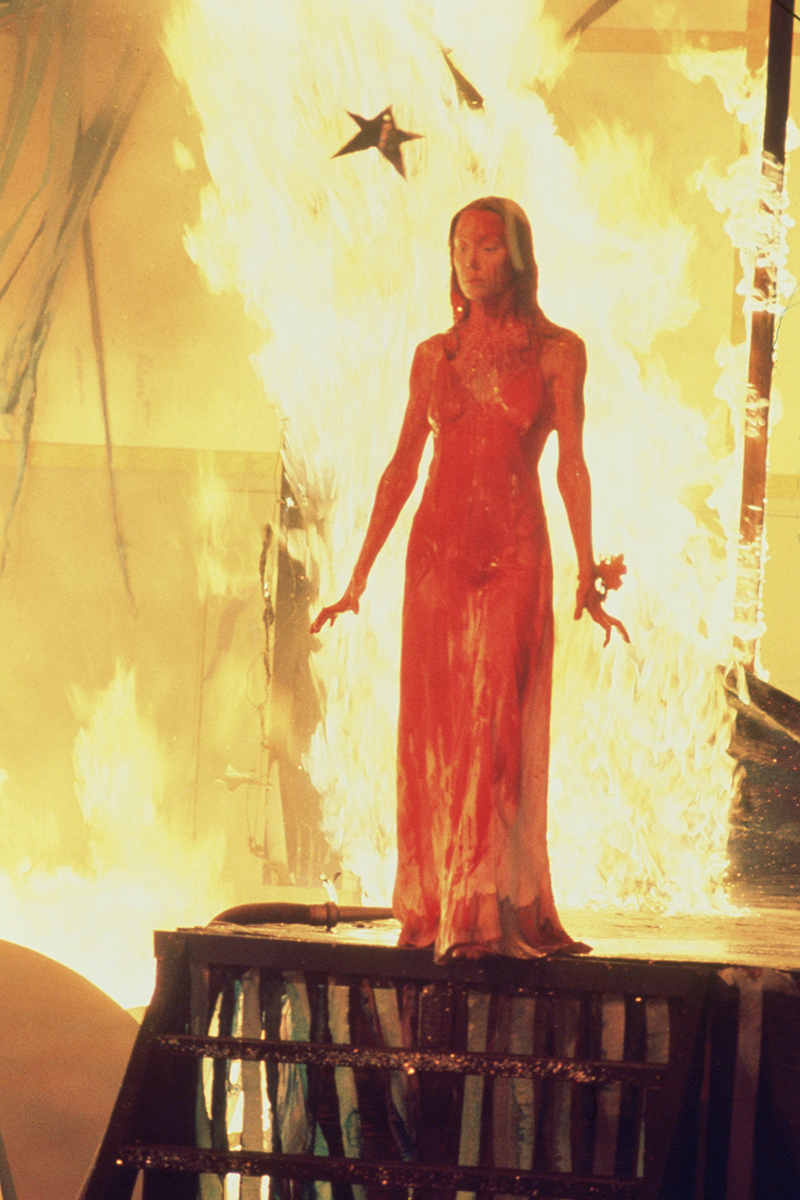 A special mention must go to Horror's Hallowed Grounds, by far the most mouth-gaping, cringe-enducing feature ever committed to disc. The concept – a 40-year-old Blink-182 fan points at filming locations. It's produced like an unwatched YouTube video, complete with an unbearably long opening credit sequence set to pop punk music. A quick Google search reveals the series has been running since 2006, a fact that would make even Carrie's mother question her faith.
Not all the new material is poor; the 60-page booklet is a nicely-presented collection of essays, articles and interviews, primarily looking at the film in the context of De Palma's career. Also included is an interesting visual essay, comparing the 1976 version with the 2002 television and 2013 theatrical releases.
Listed at a penny short of £30, this Blu-ray release of Carrie is a heavy price, considering the 2001 DVD release shares the best features and costs under £10. The picture quality is sharp, but suffers from a lot of noise in low lighting, so don't expect a clean HD experience either. This one is for the collectors, or those willing to pay a large sum to fill that Carrie hole in their shelf.
The newly recorded material from 2016 is extensive, but poorly produced and in need of heavy editing
rating
Share this article