Dragged Across Concrete review - Mel Gibson's hard-boiled high |

reviews, news & interviews
Dragged Across Concrete review - Mel Gibson's hard-boiled high
Dragged Across Concrete review - Mel Gibson's hard-boiled high
S. Craig Zahler takes the Lethal Weapon buddy cop movie to hell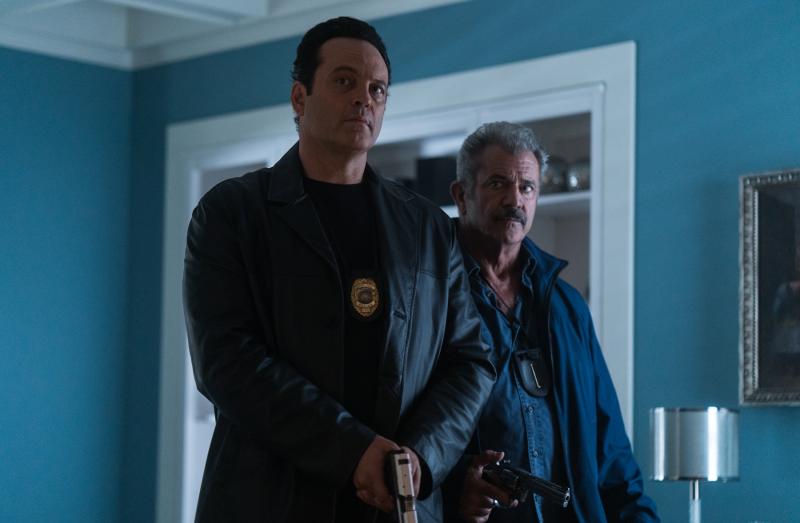 Anthony Lurasetti (Vince Vaughn) and Brett Ridgeman (Mel Gibson)
Mel Gibson's vile drunken rants a decade ago, his 63 years and the price of both inform his role as cop Brett Ridgeman. Writer-director S. Craig Zahler won't comment.
But as Ridgeman and patrol partner Anthony (fellow Hollywood
right-wing
rarity Vince Vaughn) discuss the "hypocrisy" of news channels "treating every perceived intolerance with complete intolerance", and media exploitation of "a private phone-call", the script clearly lets Gibson vent. This doesn't stop the pair's suspension for brutalising suspects, much as Gibson was thrown into exile.
When we follow Ridgeman home to his sick wife and bullied kid in a bad neighbourhood, prompting his very bad decision to make ends meet by robbing robbers, Gibson (pictured below with Laurie Holden) proves more conventionally perfect casting. A callow everyman in his early Australian roles, but prone to mugging as a major star, he now inhabits every grey hair and weary line of Ridgeman's face. Weathered and toughened by the heat of his disgrace, he has grown into this leathery, tragic role.
Alongside him Vaughn, who first got his tongue around ornately hardboiled dialogue in True Detective, then as the fatalistic bruiser of Zahler's Brawl In Cell Block 99, again deploys his size and dry delivery expertly. These days, he's wasted in comedy. He's the perfect foil as Zahler pulls the Lethal Weapon buddy cop film to hell.
Dragged Across Concrete is equally interested, though, in the parallel tale of Henry (Tory Kittles, pictured below left), a young black man just out of jail with his own family to help, who is lured into the bank heist the two cops mean to rob in turn. Anyone who has seen Zahler's horror-Western Bone Tomahawk or Brawl In Cell Block 99 will know extreme violence follows, eventually. But Zahler is a pulp novelist as well as filmmaker, and lets his characters breathe. We spend time with them, so that when something happens, it hurts.
As Ridgeman and Anthony sit in their superior's office early on, we glimpse sunshine, and boats bobbing in blue sea. From then on, everything's in shadow. Like the 40s film noirs, there's a social context to the darkness, as working-class dead-ends are violently fought. Characters' bored humiliations lead to capacity for carnage. "I thought good, honest work would count for more," Ridgeman muses, before the juddering gunplay begins.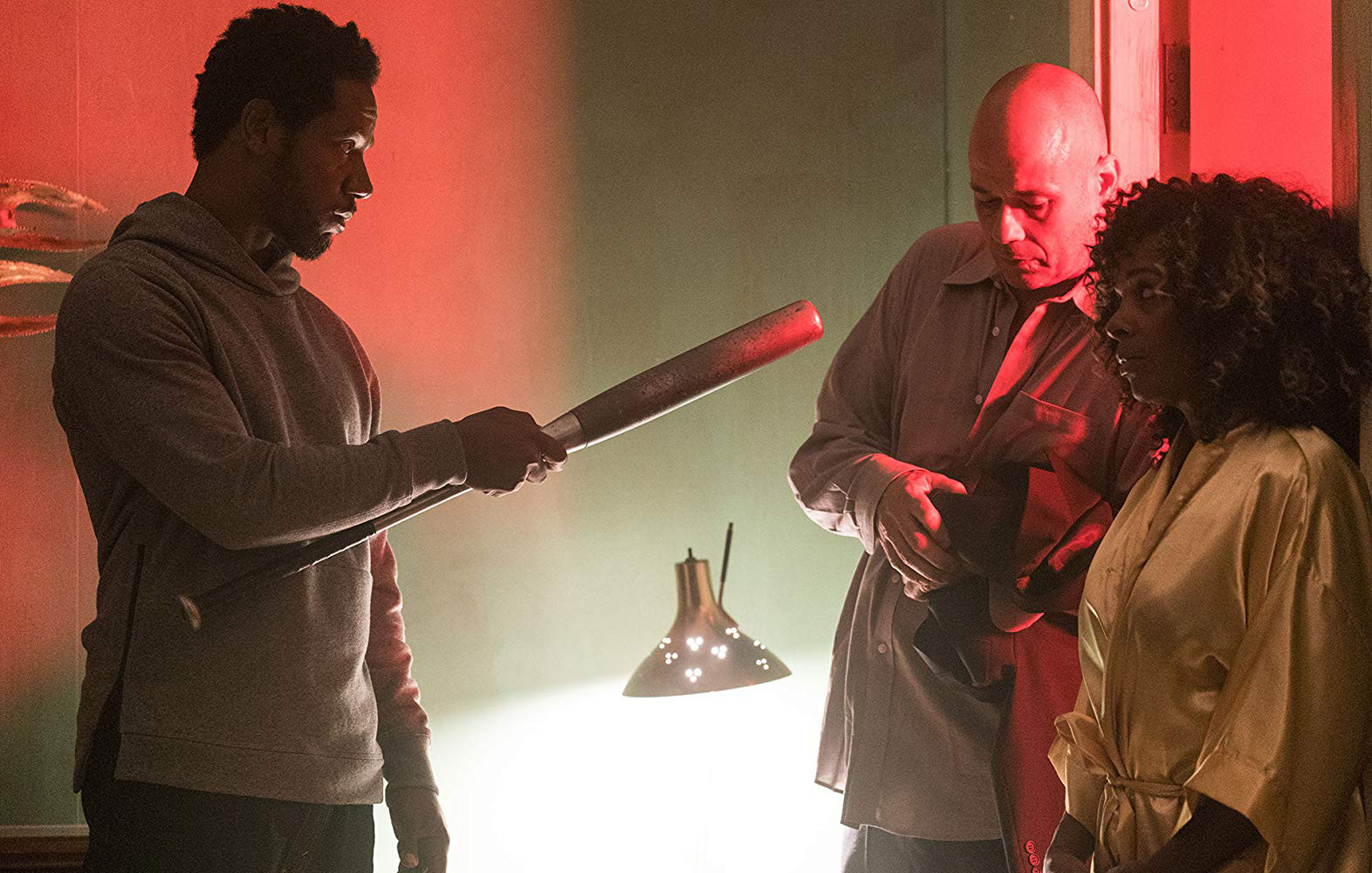 A quarter-century after Reservoir Dogs, Zahler may have finally taken us post-Tarantino. Though he also riffs on pop culture and relishes language, the sense of a serious real world is stronger, and languid build-ups longer. It took 45 minutes for Bone Tomahawk's posse to ride. Dragged Across Concrete brings its characters together after 85. Zahler trusts silence more than motor-mouth Quentin. Easy genre pleasures bleed out in his parched pauses. All his films are part-horror, too, with monsters who fit his characters' (and cast's) conservatism. Bone Tomahawk's Native Americans were troglodyte cannibal cave-dwellers, and Concrete's career criminals are masked, inhuman murderers.
A Zahler-scripted pure horror flick also out this week, Puppet Master: The Littlest Reich, shows how queasily far he's willing to go, as this Jewish writer shoves the Holocaust and Nazi mini-fiends into a gore-crazed blender.
A strong stomach, bladder and drink may aid Dragged Across Concrete's viewers. But for all its reactionary pokes at liberal sensitivities, Zahler's pulp paradise is radically personal, and the perfect place for Mel Gibson's artistic redemption.