Blu-ray: The Thousand Eyes of Dr Mabuse |

reviews, news & interviews
Blu-ray: The Thousand Eyes of Dr Mabuse
Blu-ray: The Thousand Eyes of Dr Mabuse
A Weimar supervillain reborn in Cold War Berlin for Fritz Lang's archaic, prophetic farewell
Kingdom of the blind: Insurance agent Hieronymous (Werner Peters) sees through clairvoyant Cornelius (Wolfgang Preiss)
The Thousand Eyes of Dr Mabuse (1960) was Fritz Lang's final film, resurrecting his Weimar villain in Cold War Berlin and forming a satisfying circle with his career's German first half, which included Metropolis and M.
This ended when Goebbels banned
The Testament of Dr Mabuse
(1933), leading to equally brilliant
Hollywood
exile, and the hard shadows of fierce classics from
Fury
to
The Big Heat
.
Lang's M star, Peter Lorre, ended his exile earlier with his sole film as director, The Lost One (1951), a searing parable of Nazi corruption, madness and murder which was too much for his homeland. Lang, aged 70 and already back in Germany with two tawdrily exotic hits, wasn't running so hot by his swansong. Much like Hitchcock's return to London with Frenzy (1976), its contemporary nature is questionable, belonging as much to the silent serials' secret weapons and hidden chambers as Brandt, Kruschev and Kennedy (the Frankfurter Allgemeine's dismissal of "stale thriller gags and muddled riddles" was typical, this release notes). Mabuse's roots as a Moriarty-style, proto-Bond villain make the many Lang-less, B-movie sequels which followed as fitting as the director's claim that he was a cipher for Weimar, Nazi and West Germany.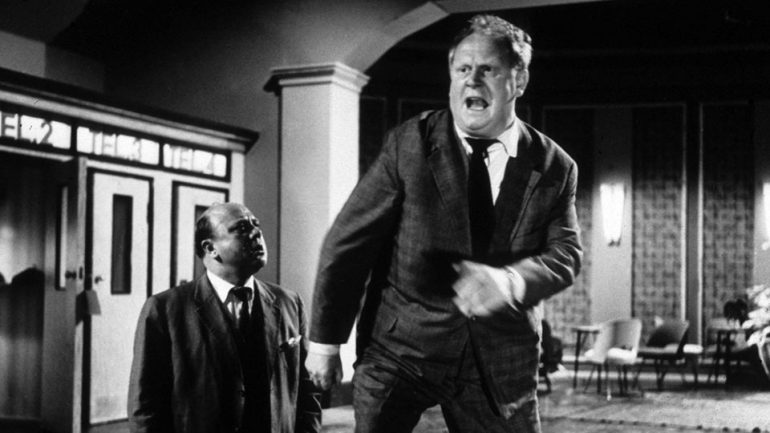 Mabuse, who died in his asylum cell in Testament but retained miasmic, mesmeric control of his criminal empire, is now a half-remembered legend inspiring current perfidy at the Hotel Luxor, a Nazi-built nexus of businessmen and spies, tricked out with surveillance cameras and microphones, one-way mirrors and false walls. Nuclear plans and stock market turmoil fall under the mysterious new Doctor's spell. Deaths are predicted by blind clairvoyant Cornelius (Wolfgang Preiss), a precursor of Dario Argento's eerie horror eccentrics. Future Goldfinger Gert Fröbe's urbane mugging as Inspector Kras, like Werner Peters' calculating showiness as a supposed insurance agent (pictured above left with Fröbe), injects wry cynicism suiting Berlin. English starlet Dawn Addams and Peter van Eyck (best known as The Spy Who Came In From the Cold's duplicitous Stasi agent) convince less as May-September romantic leads Marion and Henry, guests twisted out of shape by the Luxor's secrets.
Lang intended "a brutal and realist style which evoked the news", this Blu-ray's thorough liner notes explain, and the bursts of violence – a gunshot through a rain-streaked window at a séance, a phone-triggered bomb – leave startled, twisted corpses. Bodies are found in bombed-out buildings, and "the whole Nazi nightmare" is blamed for burying memories of Mabuse's original crimes, while Gestapo audio surveillance is updated.
These ghosts of an almost unspeakable past suit Mabuse's pre-war, mad scientist methods. Yet the film jolts into a different register halfway through, as the camera pulls back to a fuzzier screen observed by the unseen Mabuse, omniscient amidst a bank of CCTV. When a sleazy hotel detective invites Henry to watch Marion through a one-way mirror as she undresses and weeps, Lang relishes his intense voyeurism, and thin, angry disavowal when the erotic spell snaps. The swirl of conflicting interests in the hotel lobby and conversations at its coolly functional bar meanwhile convey Cold War mores, before Mabuse's secret identities reveal a dance of endemic deceit. Wolfgang Preiss gives cold malignance to his megalomania, echoing Hitler, but moreso Captain Nemo and other pulp tyrants.
Lang died in 1976, blindness preventing more films after his last became a big German hit. "He had always had enough, even at 22," his friend Eleanor Rose wrote then, "but his desire for power drove him on endlessly." The Doctor would sympathise. Though Lang's methods had become archaic, he chillingly envisioned our intimately surveilled present. Except, that is, in Germany, where Gestapo and Stasi memories mean Mabuse is still resisted.