Ailish Tynan, Iain Burnside/Allan Clayton, James Baillieu, Wigmore Hall online/BBC Radio 3 review – alone together
Ailish Tynan, Iain Burnside/Allan Clayton, James Baillieu, Wigmore Hall online/BBC Radio 3 review – alone together
Fine singing and dramatic flair in hours of sweet solitude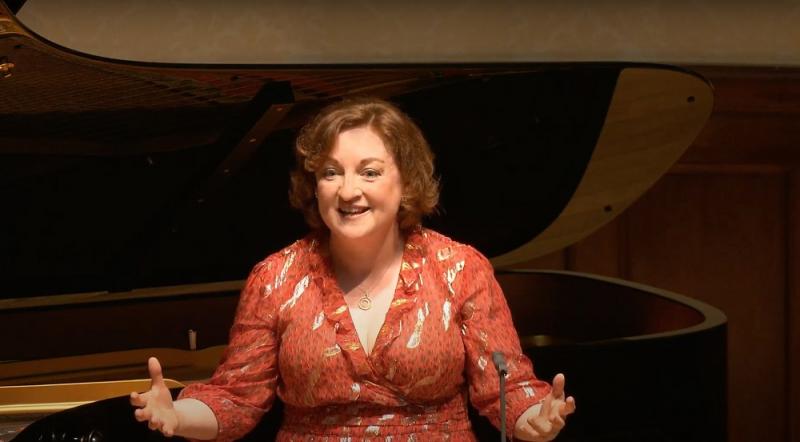 Ailish Tynan: spirit and serenity in abundance
Loneliness haunts the solo song – not simply all those solitary wanderers and defiant wayfarers of the Lied tradition, but the forsaken lovers and questing pilgrims who fill the folk-song repertoire of many lands.
So, amid the general poignancy of the
Wigmore Hall
's lockdown concerts for Radio 3, the vocal performances have carried a special frisson. Warmly communicative voices have projected their anguish over, or resignation to, solitude into ranks of seats empty save for one or two engineers and announcers. This week, both
soprano
Ailish Tynan (accompanied by pianist Iain Burnside, on Wednesday) and tenor Allan Clayton (with James Baillieu, on Friday) chose programmes that throbbed with the sweet ache of separation and isolation.
Yet both singers reached out to touch hearers so directly that the pin-drop silence that greeted the end of each item, and of each hour, felt unusually bleak and disturbing. Tynan and Clayton both generously shared songs of joy as well as pain – and made us realise the essential part that a live audience plays in closing the journey of concerts such as these. In the repopulated musical future (should it come to pass), I'll be less keen to whinge about ill-timed splutterers and premature applauders, who at least remind us that they're present.
In the absence of a visible public, both singers regaled their invisible one with interpretations packed with dramatic flair on top of vocal prowess. Ailish Tynan began with Grieg's Op. 48 Six Songs from German poems, her voice both robust and expressive, and often blooming into genuine grandeur in its middle range. In its emotional compass, the Grieg sequence spans the titillating mischief of "Lauf der Welt" ("The way of the world") and the almost Mahlerian elegiac fervour of the final number, "Ein Traum" ("A dream"). Tynan showed both spirit and serenity in abundance, articulating crisply in the busier passages yet still managing to float the top notes of "Ein Traum" out into the Wigmore void with a show-stopping authority.
After Grieg's easy-access lyricism, the more introspective subtleties of Hugo Wolf's Goethe settings required a shift of angle. Her "Ganymed" had a lovely bloom and sheen, ripening into finely controlled crescendos. As for "Kennst du das Land" ("Do you know the land"), Tynan embraced its yearning and nostalgia with an operatic warmth and depth. For anyone longing for the land where the lemons blossom this summer, her version of Mignon's song all but crossed the Alps by itself. Iain Burnside, meanwhile, supplied a second voice of matching eloquence as he made the most of Wolf's post-Wagnerian sensuousness, somehow lush and yet chaste.
With Tynan and Burnside as their advocates, the four settings of traditional Irish songs by Herbert Hughes that followed didn't sound like such a drastic change of gear. The Debussy-influenced Hughes evidently had one ear on the salon and another on the tavern. If his "The Leprechaun" gave Tynan a showcase for some enjoyably corny shamrockry, then "The Gartan Mother's Lullaby" balanced glorious sweetness with a subdued tension in the piano part that complicates the mood. Tynan's pair of "Memories" by Charles Ives likewise offset one "very pleasant" comic patter song about opera-house curtain-up buzz ("a feeling of expectancy, a certain kind of ecstasy") with the "rather sad" comedown of an uncle's nostalgic tune ("it is tattered, it is torn, it shows sign of being worn"). As Clayton also would later in the week, Tynan properly acted every song as if a packed, cheering stadium hung on her every breath.
After the sardonic, Sondheim-like ambiguities of "Pregnant" by Lilly Larsen, Tynan's "Over the Rainbow" far surpassed mere Judy Garland tribute-act level to channel some of the deferred hopes of these past strange months. But, BBC and Wigmore, why give no credit for Yip Harburg's lyrics as well as Harold Arlen's music? Tynan throughout had offered hints and glimpses of her opera-sized dramatic gift, and her encore of "Si, mi chiamano Mimi" from La Bohème briefly let it bloom. This season, she would have sung that role at Grange Park Opera. Another treat, let's hope, in store for 2021.
Allan Clayton, too, began in the heartland of the German-language art song before moving into the border territory where fragments of traditional music meets conservatoire sophistication. Schumann's 12 Kerner Lieder from 1840, his prolific "year of song", set poems (by Justinus Kerner) that demand from the singer a bulging quiver of Romantic postures and gestures. Clayton covered very inch of this enchanted (and haunted) forest in style, from the declamatory traveller's optimism of "Wanderlied" through the tipsy sways and lurches of "Auf das Trinkglas eines verstorbenen Freundes" ("To the drinking glass of a departed friend") to the full-strength ardour and desolation of "Stille Tränen" ("Silent tears").
Clayton embodies as much as he interprets, enriching every twist of timbre and colour with expressions that ground the music's passions in the here-and-now of performance. He articulates beautifully, and never sacrifices clarity for brute force – although his hall-filling fortissimo passages packed quite a punch. James Baillieu (pictured above with Clayton) proved an admirable accomplice, gently traversing the ever-changing scenery of piano moods that can take in the folksiness of "Erstes Grün" ("First green"), the wistful chromaticism of "Stille Liebe" ("Silent love"), and the sparse, eerie leave-taking of "Alte Laute" ("Sounds from the past).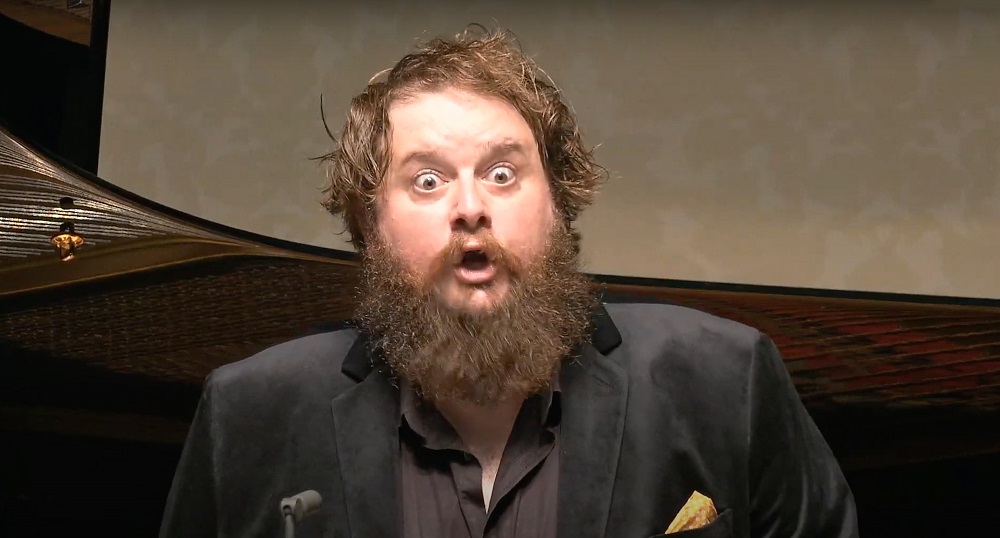 The pair then moved to England, as they contrasted the neo-Tudor cadences of Vaughan Williams's "Orpheus with his Lute" (from Shakespeare's Henry VIII) with the harsher, more sardonic tonalities of Frank Bridge ("Journey's End") and the shadowed nostalgia – tinged with cynicism – of Roger Quilter's "Go, lovely rose". To round off his hour, three Britten settings gave Clayton the chance to prove how much versatile work the "folk song" label does in such endlessly creative hands. If "The Plough Boy" delivers a knowing and satirical slice of Georgian mock-pastoral, then "I wonder as I wander" – based on an Appalachian hymn – sent us back into a lonely, almost archaic, landscape of ritual balladry.
The ringing, prophetic splendour of the voice and the stark austerity of the piano threw out their compelling appeal for divine absolution to a (physical) audience that wasn't there. But solitude can bring serenity, and their encore – Liszt's, rather than Schubert's, setting of Goethe's second "Wandrers Nachtlied" ("Wanderer's nightsong") – guided us gorgeously to rest with an impassioned tranquillity. As it closed, Clayton's tenor climbed impossibly high to vanish into silence above the darkened mountain peaks. "In sweet music is such art," as Shakespeare's Queen Katharine sings in "Orpheus…", "Killing care and grief of heart". The Wigmore's hours of solitary song have certainly helped to do that.
Both singers reached out to touch hearers so directly that the pin-drop silence that greeted them felt unusually bleak
rating
Explore topics
Share this article