Davies, Clayton, Baillieu, Wigmore Hall |

reviews, news & interviews
Davies, Clayton, Baillieu, Wigmore Hall
Davies, Clayton, Baillieu, Wigmore Hall
A scintillating recital combines old and new music to fascinating effect
Saturday, 05 December 2015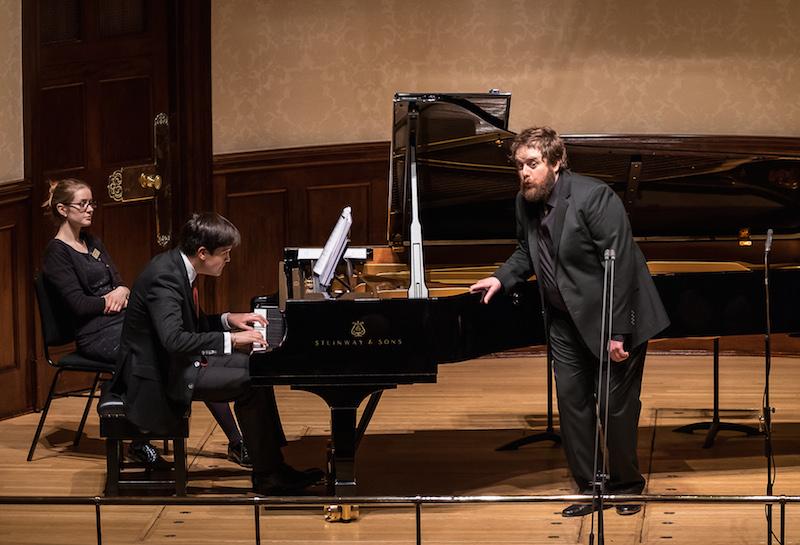 Allan Clayton and James Baillieu at Wigmore Hall
Last night's Wigmore Hall recital by countertenor Iestyn Davies and tenor Allan Clayton, accompanied by James Baillieu, was an all-round triumph: brilliantly programmed, superbly sung and very thought-provoking. Mixing solo items with duos, the programme encompassed Purcell, Britten, Adès, Barber and the young American composer Nico Muhly. If it had been a competition – which it wasn't – Britten would have been the champion.
But he was also responsible for the most troubling of the pieces.
Britten's Canticle II of 1952 sets the story of Abraham and Isaac, as told in the medieval mystery plays. The two singers represent Abraham (tenor) and his young son Isaac (countertenor) and sing together as the voice of God. In one of many theatrical moments through the evening, the two opened the piece as God by turning their backs on the audience, and singing resonantly into the open piano lid.
Clayton and Davies (pictured above) characterised their two parts artfully, Abraham weighed down by God's instruction to kill his son, and Isaac fearful but compliant. Britten, fresh from the success of Albert Herring, moves fluidly between quickfire recitative and aching arioso, such as Isaac's "Father, do with me as you will". The ending, after a brutal passage in which James Baillieu threw all delicacy aside and attacked the piano ferociously, is meltingly beautiful. We are enjoined to follow the example of Abraham, who in his obedience leads us to God.
And this is the troubling point. The story of Abraham and Isaac is one of infanticide averted only at the last minute by a capricious and cruel God. Abraham is a man who will do God's bidding, even when that bidding is plainly evil and wrong – and we are instructed to treat him as a model of moral behaviour. Britten casts this story in such beguiling and brilliantly crafted music as to gloss over the wickedness of the story, making us, the audience, complicit. The performance was brilliant, and the piece stood out as the best of the evening – but I was left feeling ambivalent about what it meant.
Nico Muhly (b.1981) composed his Lorne ys my liking as a companion piece for Britten's Canticle II, using the same forces and also mining the mystery plays for his text, which in Muhly's case tells of the reactions of three women and two angels to discovering Christ's empty tomb. Although full of fine writing the piece did not hold together with the same fluency as the Britten, although this is a high benchmark. The scoring for voices was the most interesting point, with Clayton and Davies often singing in close proximity. They matched their sound beautifully, especially in the a cappella penultimate stanza.
This piece ended with another theatrical flourish, Davies and Clayton both joining Baillieu at the piano for a six-handed coda. It came a bit unstuck in a couple of moments, and was perhaps asking a bit much of the singers.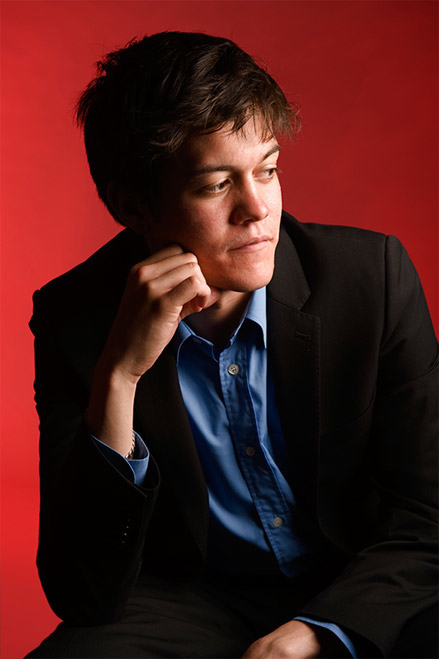 Of the other items, perhaps the biggest revelation was Samuel Barber's Three Songs Op.10, setting James Joyce. Allan Clayton really brought these to life and in the third song was given free rein to let rip, filling the hall with a big sound. This was one end of his wide dynamic range, which was elsewhere hushed, but always clearly pronounced. James Baillieu (pictured left by Kaupo Kikkas) showed himself here – and indeed throughout – a skilled accompanist, following sensitively and taking the lead where it was demanded.
Thomas Adès's The Lover in Winter was written when he was 18, and is an extraordinarily assured piece, chilly and remote until the final song, where the physical passion becomes a descending chromatic line full of longing. Iestyn Davies sang virtually without vibrato, helping to conjure Adès's imagined medieval world, but also largely without consonants, losing some of the bite of the Latin words.
The programme started and ended with realisations – by Britten, Tippett and Adès – of songs and duets by Henry Purcell, such an influence on all subsequent British composers. In "Music for a while" Davies started with a first note which came from nowhere and bloomed into something wonderful; Baillieu's piano playing was restrained, bringing out the inner parts of the accompaniment. Adès's setting of "Full fathom five" was by comparison less deferential, starting with bold octaves on the piano. After finishing appropriately with everyone on stage for "Sound the trumpets" we were treated to a hilarious encore in which the singers swapped roles, Clayton singing falsetto and Davies in full voice, for the children's song "The Deaf Woman's Courtship".
Although all the performers are young – in classical music terms – it would be inappropriate to talk about their "potential" to become great. All of them, but Allan Clayton in particular, are already spectacularly good, and, never mind the future, are doing amazing things in the here and now.
All the performers are already spectacularly good, and doing amazing things in the here and now
rating
Explore topics
Share this article