Steven Isserlis, Fidelio Orchestra Café review – distilled reflection, joy and wit |

reviews, news & interviews
Steven Isserlis, Fidelio Orchestra Café review – distilled reflection, joy and wit
Steven Isserlis, Fidelio Orchestra Café review – distilled reflection, joy and wit
Bounding back from lockdown with superlative Bach and Walton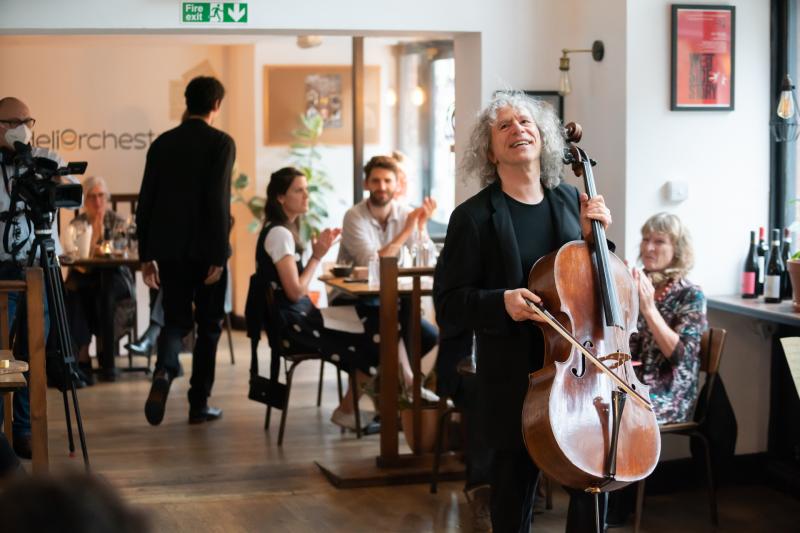 Steven Isserlis, very happy to be back playing to an audience
What music would you choose to hear for your first live event after nearly four months of lockdown? For me, it would be Bach, and probably any one of the Cello Suites. Interpreter?
Ideally, one of four living cellists – so the dream came true last night when Steven Isserlis played the First and Third Suites with the fascinating Walton Passacaglia in between to an audience of 25 in the spacious, light-filled surroundings of the Fidelio Orchestra Café in
Farringdon
.
The very limited numbers include affordable places for under-30s, and each programme is played over three or four consecutive nights – no case of routine for the musicians in repertoire as rich as this. There could be no more grounded way for Raffaello Morales, thoughtful mastermind of the whole venture, to have launched his Fidelio Unbound series. He'd get gold stars simply for bounding across the restart line, but the line-up is spectacular and includes three other artists I'd also go a long way to see without getting on public transport - Alina Ibragimova, Pavel Kolesnikov and Samson Tsoy (though cycling to the Farringdon Road and back between bouts of rain was hardly an obstacle). Morales' thinking is along the lines of many other musicians of the younger generation(s) – present music seriously, but in a less formal setting than the concert hall; provide food as well as drink, but don't serve up the dishes until after the performance.
Which made this a triple whammy of performer, venue and cuisine. I'm not Jay Rayner, so I won't write about Alan Rosenthal's menu other than to say it's excellent. But how to capture the essence of Isserlis's playing beyond marvelling at the gold and silver threads with which he binds Bach's universe of thought and feeling, meditation and choreography together? Only years of deep knowledge and experience can yield playing as seemingly effortless as this (though high humidity last night did make things a bit harder).
Isserlis has not played these miraculous works in public for two years (though he did give a recital recently to an empty Wigmore Hall). It was hardly surprising if the Prelude of the G major Suite went deep; not having heard live notes other than one's own for a very long time, the mood was bound to be one of calm tearfulness. But we were led, seamlessly, out of that, into the joy of the dance movements. You'd not have thought that the spacious vigour of No. 1 could be surpassed, but thericochets and weavings of the C major Suite sent electric shock waves through the listener. And you felt that unique cello resonance within you.
As Isserlis noted in his ever-personable chats between performances, there's so much wit here (I'll challenge him another time on excepting Wagner from composers with a great sense of humour). As there was in the delightful Kabalevsky major-minor study encore. Walton in his Passacaglia alternates between enigma and ruggedness, only really showing his characteristic hand in the strepitous bowl towards the finishing line. Isserlis said that he'd taken time to warm to this late piece, premiered by Rostropovich, but seeing the composer play a bit of it in Tony Palmer's film At the Haunted End of the Day made him think of giving it another go, and the compulsory exploration of solo-cello repertoire during lockdown led him to study it. Frankly I could have heard the whole thing again immediately, but then that's true of the Bach Cello Suites too. What an amazing direct line to profound musicality.
Bach's C major ricochets and weavings sent electric shock waves through the listener
rating
Explore topics
Share this article