Make Up review – coming of age in creepy Cornwall |

reviews, news & interviews
Make Up review – coming of age in creepy Cornwall
Make Up review – coming of age in creepy Cornwall
Deceptive seaside psychothriller-cum-fairytale heralds the arrival of a gifted director
Tightly wrapped: Molly Windsor and Stefanie Martini in 'Make Up'
Minutes into Make Up, Claire Oakley's auspicious first feature as writer-director, unearthly sounds welcome unwitting Ruth (Molly Windsor) to her intimidating baptismal adventure as an 18-year-old who's not so much bi-curious as bi-phobic. A nail-biter to begin with, she's soon hearing and seeing portents of horror everywhere, not least on the tips of her fingers.
An adolescent-seeming Derby woman, Ruth has travelled by coach and taxi to a coastal Cornwall caravan site to join her longtime boyfriend Tom (Joseph Quinn), a regular winter worker there. The sly middle-aged manager Shirley (Lisa Palfrey), to whom Ruth reports late at night, concludes an off-color anecdote with a chortle both keening and wheezy, a witch's laugh. A fox's scream subsequently interrupts Ruth and Tom's lovemaking in their caravan. (Joseph Quinn and Molly Windsor, pictured below.)
Oakley matches Make Up's eerie sound design with images that would be humdrum instead of charged with foreboding – a darkened amusement arcade, a light-pull wafting in the air – if they weren't being seen from Ruth's paranoid perspective. Since her coming-of-age story, which Oakley delivers initially as a psychological thriller, is borne along by her stream of consciousness, it's left deliberately unclear if flashbacks depict memories of real events or her feverish imaginings – some of which are fiercely erotic.
Does the red-headed woman Ruth glimpses speaking to Tom and disappearing around corners actually exist? Having found red hairs on Tom's clothes, Ruth suspects he may be sleeping with this phantom. Yet an argument can be made from evidence provided in the final sequence, a rowdy bonfire party, that the hairs come from Ruth's head, that it's her own shadow she's chasing. This works only if we allow the film's structure to be entirely fluid and accept that Ruth projects images in her mind of places where she has previously stood, walked, showered, and spied on others.
Make Up shows how Ruth, or any other repressed, fearful person, must break into her unconscious, or underworld, and return with psychic treasure before she can start to fulfil needs she may not even know she has. It's a familiar rite of passage, modeled on myths, and Oakley and her cinematographer Nick Cooke make the way hazardous visually. Though ignorant of her quest, Ruth tests the waters, literally, by allowing a child worker (Elodie Wilton) to take her into the sea for the first time in her life; it's choppiness justifies Tom's anger – he genuinely cares for her – even if it's Ruth's experience of being almost drowned that's seen. She is ike a nervy younger sister of Natalie Press's Mona in Pawel Pawlikowski's analogous My Summer of Love; Windsor's quiet, flawless performance follows her affecting work in Samantha Morton's The Unloved and Philippa Lowthorpe's miniseries Three Girls.
When an elderly woman (Maureen Wild) suffering dementia disappears from her caravan one night, Ruth – who's been hired by Shirley – is sent to see if she is concealed in one of its newly fumigated neighbours. They and their fittings have been wrapped in plastic sheets for the winter. Ruth's investigation of their interiors suggests the peeling back of membranes (Molly Windsor, pictured below), a metaphor for her inner journey and need to muster courage.
The caravan site isn't benign. Tom's brutish supervisor Kai (Theo Barklem-Biggs) hates women. Reining in his snarling Alsatian, he makes a remark so obscene and threatening to Ruth she can't reply. It's Kai, presumably, who has taped on a wall of the men's work shed soft-corn porn magazine photos of models minus their heads. His jealousy of Ruth and willingness to tangle physically with Tom suggests he has a sexual agenda he can't handle.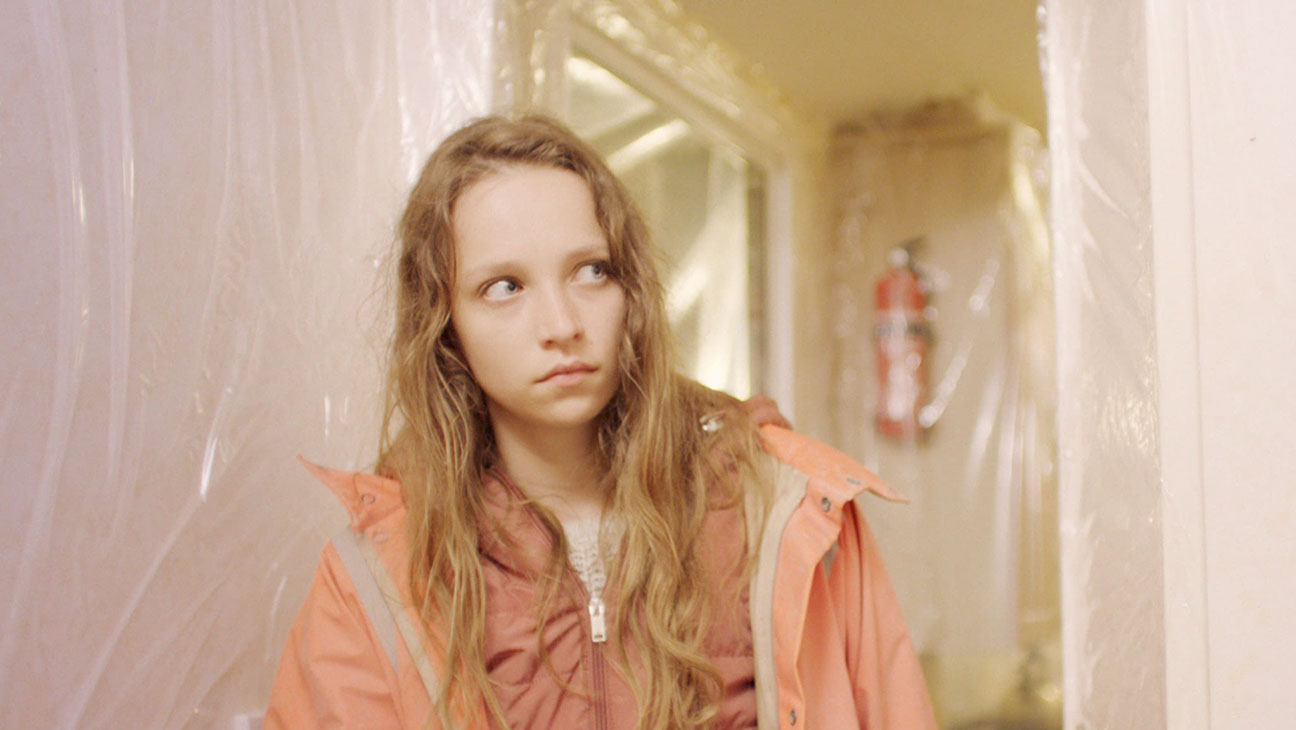 Spoilers alert. Kai and Tom's aggressive relationship is a distorted mirror of the pivotal union – intimate and tender – Ruth forges with the site's twentysomething laundry worker Jade (the excellent Stefanie Martini), a part-time cosmetician and wigmaker. Seeing that Ruth bites her nails, Jade invites her to her caravan to give her acrylic ones she paints crimson; Ruth's horrific mangling of them a day or two later is an attempt to deny strange new feelings. If trappings of traditional femininity borrowed from Jade – makeup, clothes – free Ruth, who enters the movie in a hoodie, to cross the line into adulthood, it's clear Jade also offers her the kind of emotional and physical empathy that Tom, a nice enough guy, cannot.
Make Up is overly indebted to Nicolas Roeg's Don't Look Now – the flitting redhead echoing the Venetian serial killer in the red duffel coat – and to Michael Powell and Emeric Pressburger's Black Narcissus. The garish red lipstick provocatively applied by the latter film's disturbed Sister Ruth is an emblem of sexual self-assertion mirrored by the red wig liberatingly donned by Make Up's Ruth. (Oakley and Cooke's suffusion of the film in lurid reds near the end also indicates Powell's influence.) If you're going to follow British masters, of course, there are none greater. Wintry seascapes and faintly tacky holiday spot included, Oakley's unsettling modern seaside fairy tale is an exquisite directorial debut.