Blu-ray: Walkabout |

reviews, news & interviews
Blu-ray: Walkabout
Blu-ray: Walkabout
Fifty years on from its original release, Nicolas Roeg's solo debut gets a stunning restoration
Monday, 07 September 2020
'It's a case of Sidney Nolan, eat your heart out'
It's always a timeslip moment, revisiting films first seen in your teens, but never more so than when watching this beautifully restored print of Walkabout. Nicolas Roeg filmed and directed this fever dream of a movie in 1970, after co-directing Performance with Donald Cammell.
Very loosely inspired by an
Australian
novel, Roeg enlisted playwright Edward Bond to write a script that diverged fundamentally from the original plot and barely amounted to 65 pages but it won Roeg the necessary funding. He set off with his wife, young sons, a teenage Jenny Agutter and a small crew to film this near hallucinogenic tale of lost innocence in a lost Eden.
Agutter and Roeg's then five-year-old son Luc play English siblings abandoned in the vast outback. A solitary indigenous teenager (David Gulpilil pictured below) finds and guides the two white youngsters through the desert's perils and its paradisiac arenas. The relationship between the three is complicated by that old familiar "burgeoning sexuality" theme. The knicker shots are not exactly subtle and the scenes of Agutter swimming naked fuelled a generation of male fantasies. But the film is saved from veering into voyeurism by the genuine innocence (and excellence) of Gulpilil and Agutter's performances.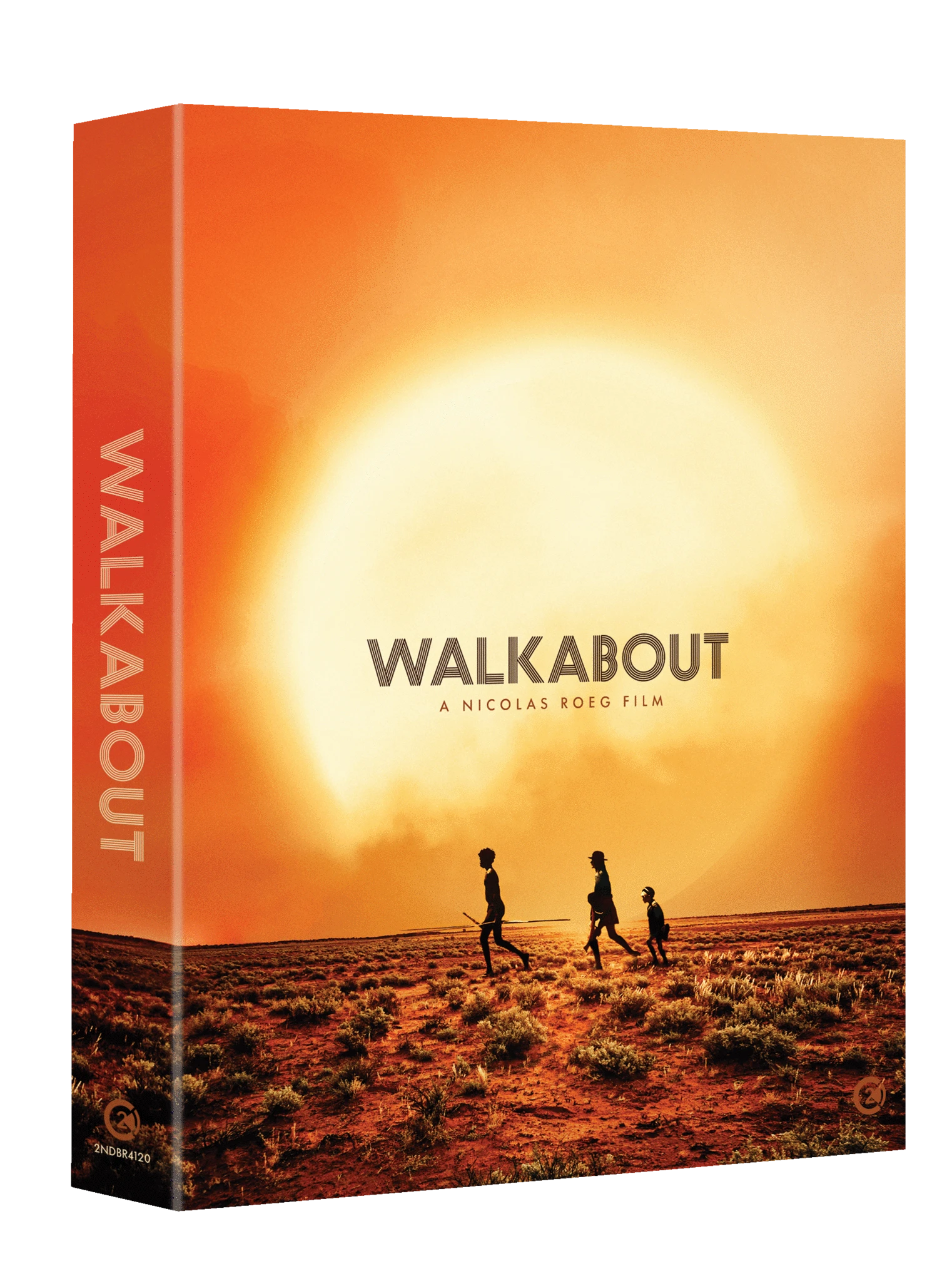 The cinematography – by Roeg himself – is mesmerising. He had got a taste for the Australia outback while shooting Fred Zinnemann's Sundowners ten years before. Vast landscapes stretch out before his painterly eye, the camera captures wildlife both strange and rare. The 4K scan and restoration gives a super-saturated glow to the young flesh on display as well as rendering incandescent the deserts and rock pools. It's a case of Sidney Nolan, eat your heart out.
I had forgotten the opening sequences in the city where we first observe the children and their parents. Here Roeg is at his most elliptical and brilliant in terms of montage but also at his most obvious in setting up his theme: the modern world is an alienating, claustrophobic environment which has turned its back on the natural order. Mankind has fallen from Arcadia and is intent on wilfully obliterating nature. In its eco messaging, Walkabout was well ahead of its time and now plays well in our age of anxiety about the climate emergency. Almost dialogue-free, the soundscape for these opening scenes is a crafted masterpiece of didgeridoo, city blare and snatches of radio. It's a shame when the John Barry-orchestrated score kicks in later; its lushness and emotionality hasn't aged as well as the cinematography.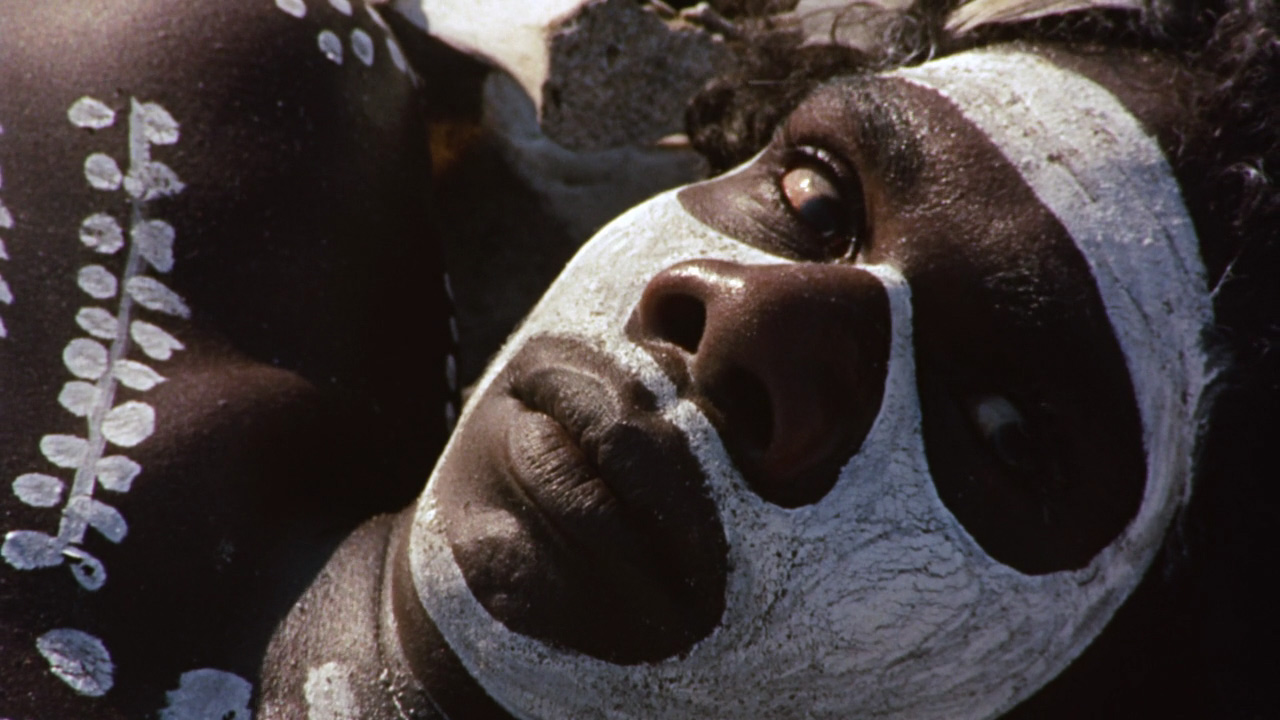 Other elements have not worn the passage of time so well – erased from my memory of the film is a crudely comic-salacious scene featuring a clutch of meteorologists working in the desert. Watching it now, it seems embarrassingly redundant. All the white adults the young trio meets are venal caricatures out to exploit Australia's indigenous people population, slaughter its wildlife and despoil its landscape. While Walkabout was never intended as a realist film in any sense, these Westerners' callous attitude to the lost white children seems implausible and heavy-handed.
It certainly made the film controversial on its initial release Down Under (although it was later credited with kick-starting the Australian New Wave). Conversely, if all the white adults are despicable, the indigenous people are portrayed in a way that borders on the patronising. Fifty years on, that European tendency to extoll "noble savages" is uncomfortable, even though Gulpilil is always dignified in his performance. For a lengthy profile of David Gulpilil, who went on to have an extensive career, you'll have to go to the 2010 Criterion edition. Disappointingly the cultural politics of Walkabout aren't explored in the audio commentary by Luc Roeg and critic David Thompson (who directed the excellent Arena on Roeg, It's About Time), who concentrate on style and production history. Perhaps the film's approach to race is tackled in one of the essays that accompany the Super Limited Edition box set, but for those who want to explore further, there's some excellent analysis of Walkabout's dated approach here.
The Second Sight edition of Walkabout comes with a lavish set of special features: insightful interviews specially shot with its former child stars, Luc Roeg and Jenny Agutter, and an endearing Q&A with its now elderly producer, Si Litvinoff. Also included is an enthusiastic and critically astute tribute to Roeg by Danny Boyle. The director is excellent on Roeg's place in cinema history and his influence on British film-makers to this day. Rummaging in the archives has turned up a 2011 BFI Q&A with Agutter, Luc and Nicolas Roeg himself, where the director, famous in film journalists' circles for being a diffident speaker, provides an enlightening gloss on his work and finally, an archive interview with Roeg shot by his wife.
The restoration gives a super-saturated glow to the young flesh on display as well as rendering incandescent the deserts and rock pools
rating
Share this article