Reissue CDs Weekly: John Coltrane - Giant Steps |

reviews, news & interviews
Reissue CDs Weekly: John Coltrane - Giant Steps
Reissue CDs Weekly: John Coltrane - Giant Steps
60th-anniversary edition of the jazz landmark doesn't go far enough
Sunday, 20 September 2020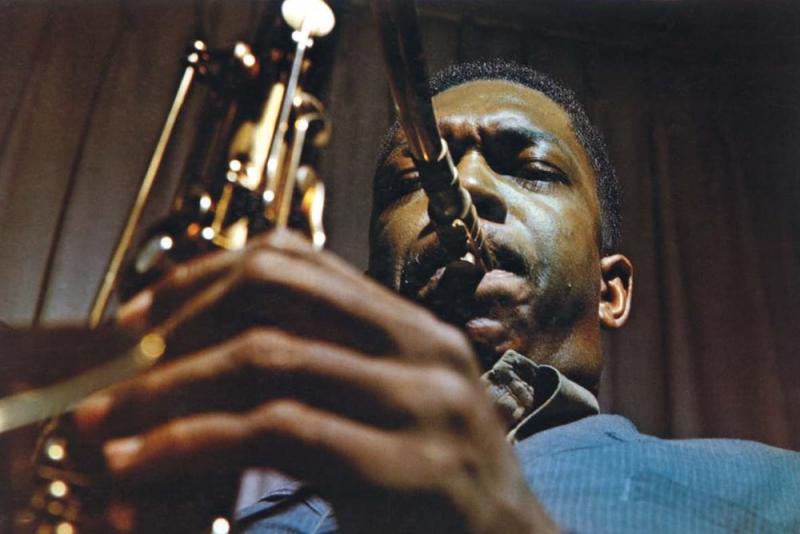 John Coltrane, as seen on the cover of 'Giant Steps'
Giant Steps doesn't suffer from a lack of availability. A couple of weeks ago, two editions of John Coltrane's 1960 landmark set were available in a central London music store.
One was a 2002 CD version which supplemented the album's seven tracks with eight bonus cuts: alternate studio takes which were not originally released. It was selling for £7. For the same price, there was a 2CD set teaming
Giant Steps
with three other Coltrane albums. Internet sales sites have even more keenly priced reissues of the album.
The first CD reissue appeared in 1987. Since then, the master tapes have never sat in the vault for long and there's been a string of editions, most notably a 1998 configuration which was the first with bonus tracks (the 2002 version noted above was a reissue of this reissue). There have been sundry vinyl reissues, of both the mono and stereo versions of the album. In one form or another, Giant Steps has always been available and the trick with re-marketing it and generating fresh sales is to bring something new to the table (this applies to any familar or perennial album). An interesting configuration was a 2008 audiophile, remastered album version limited to 2500 copies. Anyone wanting to hear what was originally intended can of course seek out a first pressing: stereo copies sell for up to £180, mono copies go for anywhere between £100 and £600.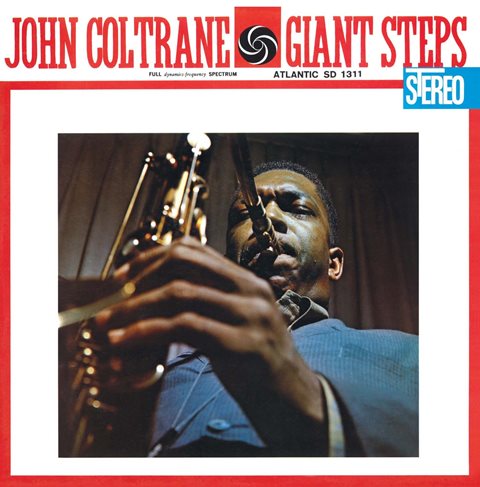 This year is its 60th anniversary. Unsurprisingly, another edition has arrived. Again, it's remastered. It's stereo and the bonus tracks are different to the 1998/2002 edition. They are: "Giant Steps" (Alternate, Take 1, Incomplete), "Naima" (Alternate Take), "Like Sonny" (Alternate Take), "Countdown" (Alternate Take), "Syeeda's Song Flute" (Alternate Take), "Cousin Mary" (Alternate Take), "Giant Steps" (Alternate Version Two, False Start) and "Giant Steps" (Alternate Take). It comes on CD and as a double album. The latter was requested for review but not supplied.
The new 60th-anniversary release sounds fine on CD, a little more open than the 2006 card-sleeved configuration used as a comparison. The bonus tracks further underline – confirming what was already known – that Coltrane and Co. were finding their way to the ultimate take: the ones which ended up on what was originally released. The bonus versions of "Giant Steps", "Naima", "Like Sonny" and "Countdown" were previously heard on the 1995 box set The Heavyweight Champion: The Complete Atlantic Recordings, which is now shown to have not been the full story of Coltrane's studio work while with Atlantic – the other new bonuses were not on that set.
As well as its bonuses, the 60th-anniversary Giant Steps comes with a great new essay by Ashley Kahn, who says "Giant Steps is both a pivot point and a hub of musicality in which past musical approaches meet newer ideas and point the way to future directions Coltrane would explore." Surprisingly, he does not mention the supplementary tracks. (pictured left, John Coltrane at Newport Jazz Festival, 1960. Photo by William Claxton)
However, the physical release is not the end of the story. Also brought to the world is what's marketed as the Giant Steps: 60th Anniversary Super Deluxe Edition. This is available as either a stream or a download. It is hard to see what is "Super Deluxe" about it. Surely, such bigging-up should be reserved for records or CDs? This ones-and-zeros-only Giant Steps collects what appears to be every outtake from the album sessions: 28 in total. There are 10 versions of "Giant Steps", six of "Naima", nine of ""Like Sonny" (two are rehearsals) and one apiece of "Countdown", "Syeeda's Song Flute" and "Cousin Mary". The logic of taking a digital-only tack is impossible to figure out.
Wouldn't the 60th anniversary have been better served by a single, physical box set collecting in one place all of this material? A complete rendering of everything Giant Steps-related makes more sense than the physical 60th-anniversary release; a release which cherry picks rather than seeks to be definitive.
Next week: Helen Shapiro's Face The Music – The Complete Singles 1967–1984

The trick with re-marketing 'Giant Steps' is to bring something new to the table
Explore topics
Share this article