Michael Clark: Cosmic Dancer, Barbican Art Gallery review - mould-breaker, ground-shaker |

reviews, news & interviews
Michael Clark: Cosmic Dancer, Barbican Art Gallery review - mould-breaker, ground-shaker
Michael Clark: Cosmic Dancer, Barbican Art Gallery review - mould-breaker, ground-shaker
A crash course in the life and times of an iconoclast and muse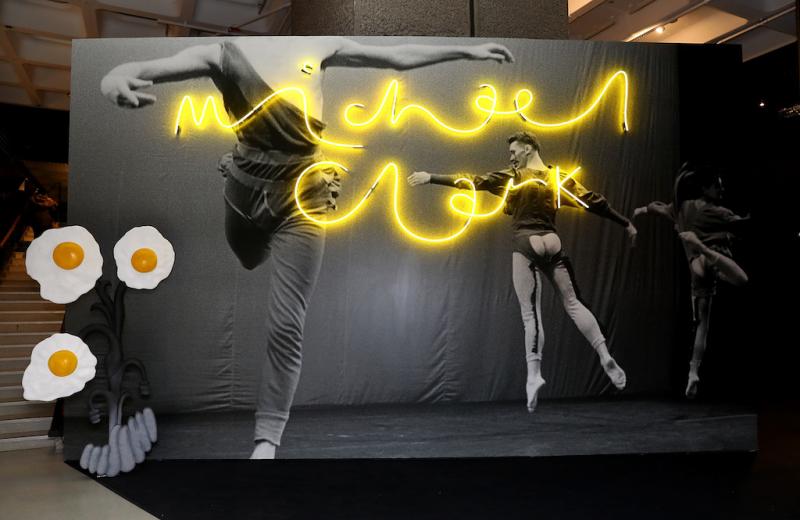 Cheeky: the title wall of the exhibition, showing Clark and company in the notorious bottomless leotards
It must be tough being Michael Clark, subject of one the largest retrospectives ever dedicated to a choreographer still living. Post-punk's poster boy is that curious thing, a creative figurehead who defined a very particular anti-establishment strand in Britain's recent history but who is virtually unknown to today's under-40s. Michael who?
was the common reponse to my own admittedly fairly narrow survey. But Clark deserves a place in the pantheon of 20th-century movers and shakers for the same reason as, say,
Andy Warhol
or
Jean Cocteau
. Like them, he operated at the intersection of many forms of expression: art, film, music, fashion. To limit his legacy to choreography is to misunderstand his story.
In many ways the Barbican Gallery is ideally suited to the task of presenting the full picture. The gallery's absence of natural light works well for Charles Atlas's film installation, a mashup of two films he made in the Eighties including Hail the New Puritan (1986), which shows the young Clark to be anything but. By the age of 22 the dancer had established his own company, and the extensive film offers an intriguing close-up of its members at work and play.
Despite the banter and flirtatious mucking about, the seriousness of Clark's mission is clear. He intended to harness his classical ballet training to London's punk, fashion and club culture in order to challenge the status quo – whether that be by disrupting theatrical norms by performing bare-bottomed, or by dressing the company in policeman's helmets against a backdrop of the House of Commons. In 1986 Thatcherism was at its zenith and the infamous Clause 28, which effectively criminalised any discussion of homosexuality in schools, passed into law. And yet Atlas's film shows a young man who seems quite the opposite of angry. In the many TV interviews he did at the time for BBC One, Clark (pictured above in one of them) is sweet and polite almost to a fault.
Some may be puzzled as to why Atlas's film need be shown simultaneously on seven large screens on angled walls, but the blitzkrieg of light and sound is perhaps meant to evoke the sensual overload of the Eighties club scene. It was in nightclubs such as Heaven, and the notorious Taboo, where the performance artist Leigh Bowery was MC, that Clark forged many of the friendships that inspired his work. Two large walls of the exhibition are devoted to the costumes Bowery designed for him – not just the provocative stuff, but also sumptuous pieces such as gimp masks made from jewelled crewelwork, or fantastical things in feathers.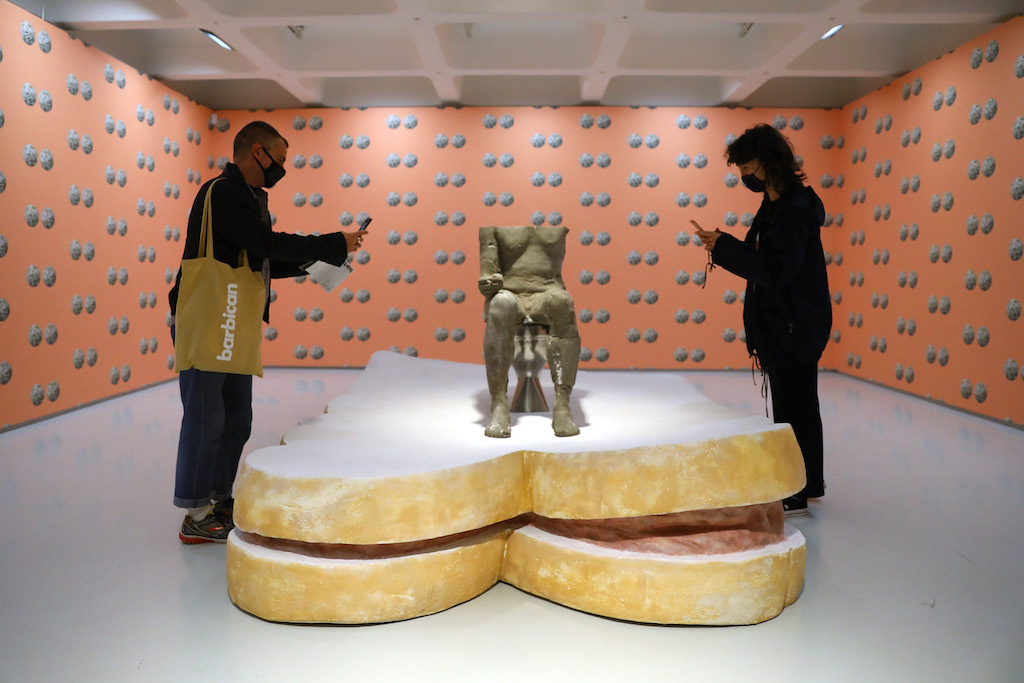 Clark's connections in the art world are well represented, most obviously with Sarah Lucas, the wildest of the YBAs and a close friend. An entire room is devoted to her sculpture Cnut (2004) (pictured above), which consists of a concrete cast of Clark's body, from the chest down, sitting on a toilet and holding a cigarette. Forming a kind of plinth to this tragicomic portrait is a giant sandwich, its dull white surfaces suggesting the worst kind of processed bread, one corner curling back to reveal unnaturally pink ham. Clark was in his forties when Lucas made the work, a sobering time for a dancer, and there is a sense of wounded masculinity in the slumped figure and the anagrammatic vulgarity of the title. Cnut is also, of course, King Canute, a monarch unable to hold back the tide – neither of time and its effect on his body, nor of the mass production of rubbish food.
Less intimate, less confrontational, but no less intriguing is Duncan Campbell's 10-minute collaborative film It for Others (2013) (pictured left), for which Clark choreographed a sequence based on Karl Marx's Das Kapital. Filmed at Glasgow School of Art, dancers from Clark's company form shapes and cyphers on a white floor. Filmed from above, Marx's economic formulae are transformed into mesmerising abstract patterns.
Less successful, in terms of the exhibition experience, is the extensive film archive accessed from a series of monitors into which visitors are invited to plug their own headphones. Everything is here, from a rare recording of Clark's solo Soda Lake (1981), choreographed by Richard Alston for Ballet Rambert, to Clark's most recent – and thrilling – choreography of his own, seen at the Barbican in 2016. To a simple, rock'n'roll ... song showed his skill at its most refined, as well as putting his musical taste in a nutshell. Together David Bowie, Erik Satie and Patti Smith made up his universe of sound.
Nothing wrong with the material, then. The frustration is not being able to select the clips you want to see. Each sequence being on a loop, I had to plough through 20 minutes of Peter Greenaway's tediously overegged Prospero's Books (in which Clark was counter-cast as Caliban) in order to access the three-minute gem behind it. This denial of choice is presumably a Covid precaution – many hands pressing buttons clearly would not do. But what it means is that, unless you plan to spend an entire day in the gloom of the Barbican Gallery, it's impossible to see everything in the exhibition. I clocked up three hours and missed loads.
Ultimately, then, this is a show for affirmed Clark fans. And there are plenty enough of them, albeit all of a certain age.
This is a show for affirmed fans, and there are plenty enough of them, albeit all of a certain age
rating
Explore topics
Share this article