The Divine Comedy: Live from the Barbican review – thirty years of great songs |

reviews, news & interviews
The Divine Comedy: Live from the Barbican review – thirty years of great songs
The Divine Comedy: Live from the Barbican review – thirty years of great songs
Neil Hannon marks the anniversary with a joyful trawl through his catalogue
Saturday, 17 October 2020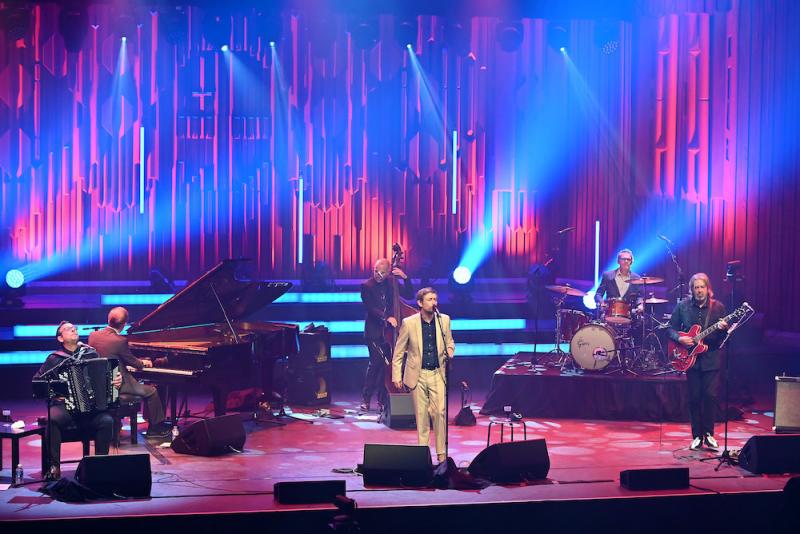 Neil Hannon and the Divine Comedy live at the Barbican
If "things" hadn't intervened, September would have seen the Divine Comedy play a five night residency at the Barbican, playing their entire back catalogue, two albums a night, to mark 30 years since the band was started.
Instead we got just one night – which Neil Hannon described as "the first night of the tour, and the last night of the tour" in front of a well spaced out live audience and a remote streaming audience (which included me). In a short, 13 song set, we had a canter through all the favourites which would remind anyone who needed reminding that the Divine Comedy are a jewel in the British music scene.
The 30th band anniversary – which has also been marked with the release of a box set that I think I'm obliged to describe as "lavish" – is a bit of a swizz, in that the 1990 iteration of the band lasted only a couple of years and only Neil Hannon (pictured below by Mark Allan) himself has been ever-present since then. Only on 1994's Liberation did the Divine Comedy's true identity as the bastard child of Scott Walker, Michael Nyman and early Nineties Britpop settle down, and there have been many swerves and feints since then.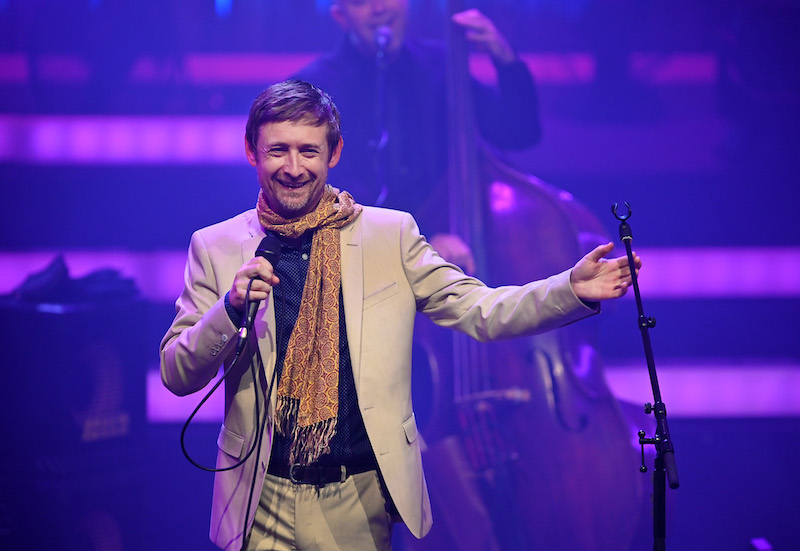 On the albums Hannon is a multi-instrumentalist, as well as producer, but live he works with a line-up of five others which has been together for a number of years. It was testament to their long history together that they were able to produce a tight performance even after such a long lay-off. Hannon himself admitted "I'm not match fit" after breathlessly strumming his way through "Something for the Weekend". And when he baled out halfway through an attempt at one of his trademark unfeasibly long notes, like a horse balking at a Grand National fence, he admitted "not even close: too many pizzas". (To be fair, he nailed one later on.)
Anyway to pick holes is to miss the point: this was a joyful, likeable show. If it was to be his only gig of the year, Hannon said, he was going to enjoy it – and it represented the full range of his work, both in years (songs ranging from 1994 to 2019) and in tone. He went from mid-Nineties exuberance in "National Express" and "Becoming More Like Alfie" to the tender intimacy of "Charmed Life", written for his new-born daughter (who, he winced, was now beginning university).
The band, who normally range over a plethora of instruments, stuck to one each, with a slight nod to their being in the classical hall of the Barbican. Keyboardist (and arranger) Andrew Skeet was on grand piano, particularly exhilarating in his "National Express" solo. Simon Little played an acoustic double bass (sometimes bowed, adding another register) while Ian Watson's accordion (pictured above) offered the most distinctive tinge to the sound. It was all underpinned by the witty drumming of the uber-cool besuited Sean Lock-lookalike Tim Weller.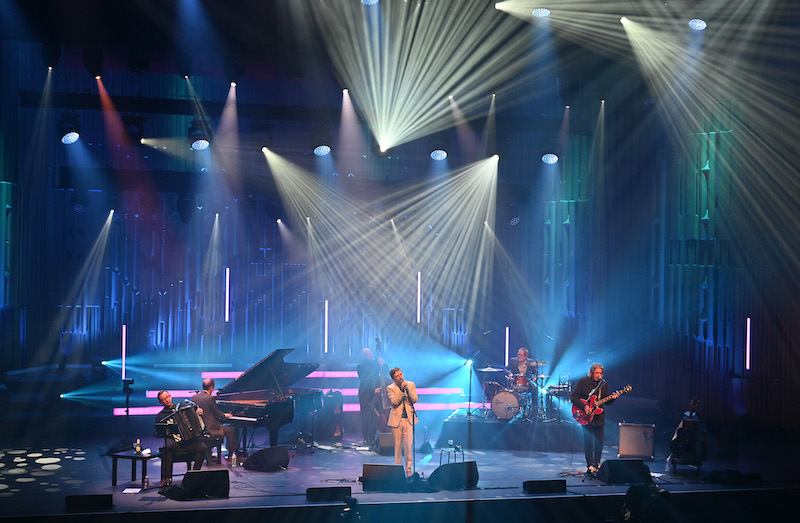 Apart from his knack for putting terrifically catchy tunes over chord sequences of greater sophistication than most pop music musters, Hannon is an astonishing weaver of tales. Perhaps the two highlights here were his two greatest short-stories-in-song "A Lady of a Certain Age", poignant, unflinching and irresistible, sung with heartfelt eloquence, and the simply astonishing "Our Mutual Friend".
This became an unintentional encore as Hannon forget it at its planned place in the running order – but was perfect where it ended up. It is a story of a seduction gone wrong, with a perfect twist in the tail, which in the album version builds to a hypnotic orchestral climax. Here, as the chords circled and circled, and the momentum built Hannon simply lay on the front of the stage and let the music swirl over him, giving way to its inexorable force. If Hannon's songwriting has a fault it is that it can sometimes slip into smugness – but at its best it can't really be bettered.