Meet the Young Artists Week recital, Linbury Theatre – four big personalities |

reviews, news & interviews
Meet the Young Artists Week recital, Linbury Theatre – four big personalities
Meet the Young Artists Week recital, Linbury Theatre – four big personalities
Frissons and high drama from Royal Opera acolytes in song
Thursday, 29 October 2020
Songsters and pianist: left to right, David Gowland, Blaise Malaba, Kseniia Nikolaieva, Alexandra Lowe and Andrés Presno
Throughout this most difficult of years, the Royal Opera has done the right thing for the singers on its Jette Parker Young Artists Programme. They were fortunate to finish the run of Handel's Susanna before the Linbury Theatre closed down for over seven months (yesterday saw its reopening to a necessarily small audience).
Stunning South African
soprano
Masabane Cecilia Rangwanasha amazed as the heroine, and went on to appear in both the third livestreaming from the main house and as the soloist of Barber's
Knoxville: Summer of 1915
in the brilliant
4/4
event. Two of the lunchtime singers, tenor
Andrés Presno
and bass Blaise Malaba, also appeared on film, and soprano Alexandra Lowe was Handel's Daphne in
4/4
(now we know she is ready to sing Strauss's nymph in his opera of that name, a much tougher proposition).
The event was not a competition or a pageant of promise, but a vital opportunity for the singers to project the inherent drama of songs in different languages (French, Italian, Spanish, Russian). They had a sympathetic audience willing them on, and our reward was frissons when each performer released the full pelt of his or her glorious voices at climaxes. This is work in progress, of course, and the mix of first and second year JPYAPers meant varying levels of polish, but the promise seemed unlimited, the possibilities thrilling.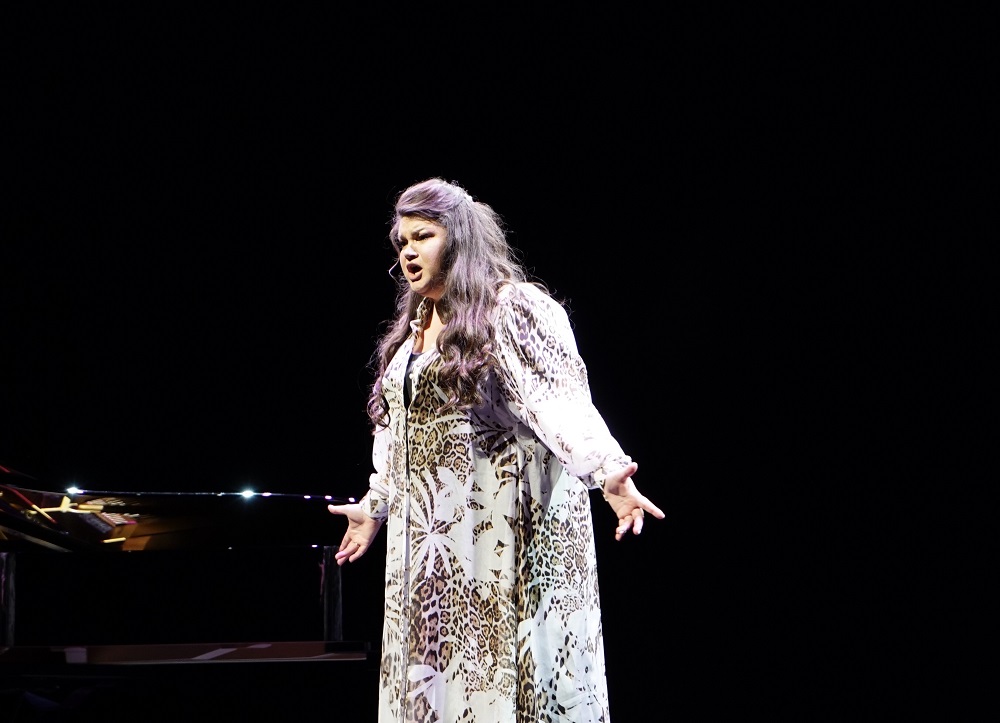 None more so than from the singer new to most of us, Ukrainian mezzo/contralto Kseniia Nikolaieva. Hers is a big voice unleashed with enough power to tell us that with careful handling she will undoubtedly go where her compatriots Olga Borodina and Ekaterina Semenchuk have already trod, in roles with very specific voice-type requirements like Verdi's Azucena in Il trovatore. She got to launch in her native language, feeling the pain of Rachmaninov and Tchaikovsky; you won't have heard "None but the lonely heart" ever delivered more operatically, but at that pitch the cut of the chest voice on the second note was thrilling. She'll need to find a way of sustaining pianissimos with proper support, but that will surely come.
Malaba, the other relative newcomer (pictured below), born in the Democratic Republic of Congo before training in Ukraine, where he was studying for an economics degree, has the true bass voice and the undoubted gift of the born communicator – he knew how to fix individual members of the audience with intense glances. Again, the Jette Parker programme is there to help with finessing over time, but Poulenc's "La belle jeunesse" from Chansons Gaillardes was a spirited and meaningful delight, and the voice-type is perfect for Russian/Caucasian melancholy in Rachmaninov's early Pushkin setting "Do not sing for me, o fair one, the sad songs of Georgia".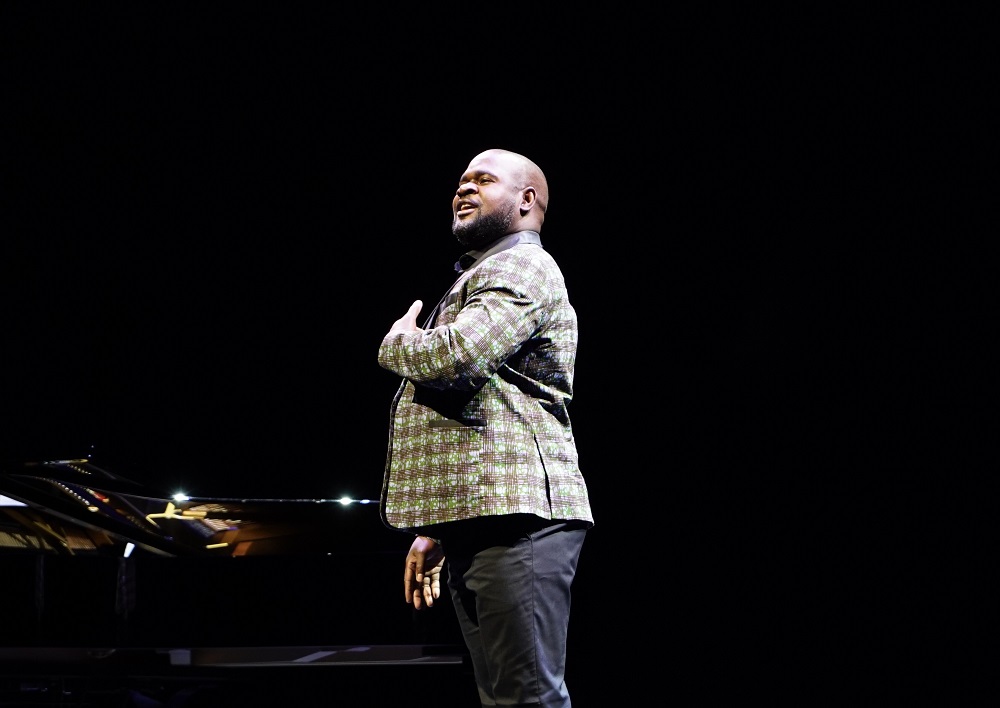 Lowe proved that there are darker colours in the soprano voice than would have been appropriate to hear in her Handel with "C'est l'extase langoureuse" from Debussy's Ariettes oubliées, gave due notice of her Straussian lyric credentials in "Epheu" (the clinging ivy) his from Mädchenblumen and went the whole dramatic hog with focused panache in the "ay, ay, ay ay"s of Nin's."Canto Andaluz".
The biggest numbers went to Uruguayan tenor Presno, who rose to the big ask of starting the concert with Duparc's "L'Invitation au voyage," rising to epic status in the second verse. That was true, too, of his Liszt Petrarch Sonnet setting "Pace non trovo," where the endless top notes rang out with clarion brilliance and he managed to stop just short of the tenorial instinct to over-emote: thrilling without vulgarity (and a reminder that Liszt's real talent, once you strip away all the piano notes, tends more to the heightened realms of Italian opera than to any Germanic profundity).
Artistic Director of the JPYAP David Gowland provided perfect, calm support for all four of his protégés, and introduced the songs, though it would have been good practice for the artists if they'd done that themselves, Remembering Katie Derham's chat with the utterly engaging Malaba in the second of the livestreamed events from the main house, I even wished for once that there had been a compère present. But be careful what you ask for…
The promise seemed unlimited, the possibilities thrilling
rating
Explore topics
Share this article