Birmingham Royal Ballet, Sadler's Wells review - onward and upward
Birmingham Royal Ballet, Sadler's Wells review - onward and upward
Carlos Acosta sets out his stall as artistic director of BRB
Saturday, 31 October 2020
In a whirl: Tom Rogers and Yu Kurihara of Birmingham Royal Ballet in 'Lazuli Sky'
It was a night of multiple firsts: the first live performance at Sadler's Wells in seven months (the place hasn't been dark for so long since the War); the official first day of Carlos Acosta's tenure as the new director of Birmingham Royal Ballet; and the premiere of his first co
mpany commission – an ambitious piece involving live orchestra, 12 dancers and a sorcerer's handbook of visual effects. It was also, on a note rather less positive, the first time in its history that
Sadler's Wells
is likely to have considered a 30 per cent house to be a roaring success.
Like the Royal Ballet a fortnight ago, BRB will be hoping to top up meagre box-office revenue with pay-per-device streaming of the programme over the next seven days. This could be the new modus operandi for our major dance companies and those who value their survival should support it. That said, for the lucky 500 in the auditorium it almost felt like business as usual: a triple bill of new or unfamiliar ballets accompanied – hurrah – by live music. You only noticed that the orchestra had been Covid-downsized when Wagner's Prelude and Liebestod came across as uncharacteristically thin. John Adams' densely powerful Shaker Loops – the choice of choreographer Will Tuckett for his new ballet Lazuli Sky – worked better for the string players of the Royal Ballet Sinfonia who palpably enjoyed the mental challenge of its intricately pulsating textures.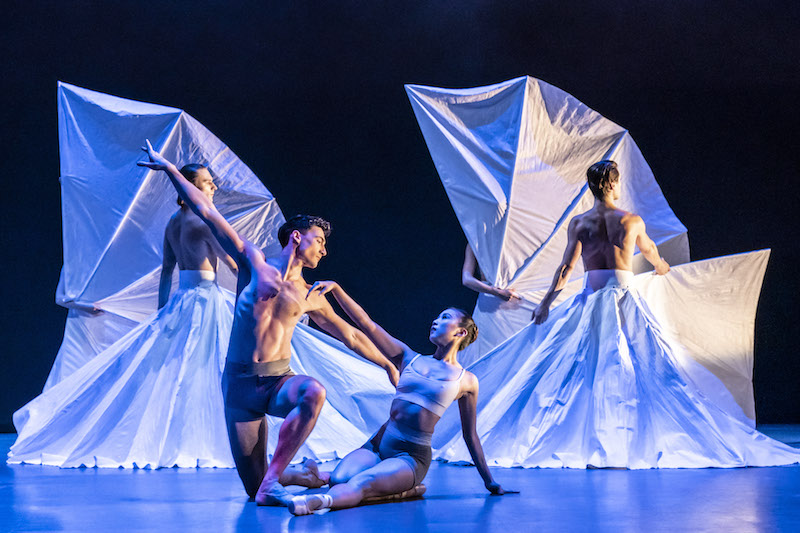 I can't have been alone in doing a brief double-take on seeing Tuckett's name attached to neo-classical ballet. He is best known for wordy hits such as The Wind in the Willows and offbeat dramatic marvels such as The Soldier's Tale and Ellzabeth. But, sure enough, Lazuli Sky shows an equal mastery of stage geometry, of steps and shapes and shifting groups of bodies.
The title refers to the startling clear blue skies seen during lockdown when the absence of planes and airborne pollution made the entire population look up and out, more conscious of the natural world. Tuckett's 12 dancers begin on a grid, each imprisoned in a square, but soon the walls and floor are projecting rapidly changing textures: clouds, wind-tossed treetops, flocks of birds. The dancers too become textural material, embodying the thrum of John Adams' shimmering strings and at one point a whirling sonic vortex. In a serene central section (pictured above), they manipulate huge hinged white skirts to suggest lilypads and scallop shells, or even the solar system. The intricately changing picture is superbly controlled and utterly absorbing, the dancing a triumph of ensemble. At the end, I wanted to see it over again.
Earlier, we'd had a taste of what Carlos is likely to bring to BRB long term – beyond first-name-only celebrity glamour and sheer likeability. Some latin influence is inevitable, but I hope that future choices might play a little less safe than Our Waltzes by Venezuelan choreographer Vicente Nebrada. It's a useful technical showcase but the too-strong influence of Jerome Robbins' Dances at a Gathering – live piano on stage, the men in flowing frilly shirts, a continuous string of couple dances in which occasionally some poor girl is left a wallflower – makes it look like a cut-price imitation.
Not so the male solo number from the Israeli, Soviet-trained choreograoher Valery Panov. Starting with a near-naked figure coiled foetally tight on the floor, Liebestod inevitably brings to mind the birth of Apollo, or the limb-stretching languor of Faune, but it develops into such an explosive and expansive eyeful of masculine dance prowess that comparisons melt away. Bradford-born principal dancer Brandon Lawrence (pictured above) is a knock-out in the role. I'd like to say I could detect Carlos's coaching in those pantherish turning leaps, but I'd be guessing. Suffice to say that Lawrence is set for great things, and he has the best possible model to follow.
This almost felt like business as usual
rating
Share this article