Ariodante, Royal Opera online review – stylish, but confined |

reviews, news & interviews
Ariodante, Royal Opera online review – stylish, but confined
Ariodante, Royal Opera online review – stylish, but confined
Accomplished ensemble tries its best to cross the footlights in livestream-only Handel
Paola Murrihy as Ariodante in torment
"After black and gloomy night, the sun shines all the brighter," sings hero Ariodante after a life-threatening bout of jealousy nearly scuppers a royal wedding. There's a snag in Handel's dramaturgy: all that sunshine in preparation for the nuptials in Act One isn't really earned.
It probably needs a live audience to beam love and support to the
Royal Opera
's engaging soloists, but you get the impression they're trying really hard to an empty house, while orchestra and conductor behind them on the wooden box of a stage, though audibly supportive, show no visible joy in the proceedings.
It matters, and maybe a stage director for this score-free concert performance might have spruced everyone up; all seven singers command the stage, but with different gestural armouries. Only compare the elaborate but precise body language Adele Thomas drew from her two singers in Apollo and Daphne, the Handel cantata which opened the stunning 4/4 evening (admittedly they had props and costumes too).
Slice in at any moment, though, and you will hear much fine singing put across with ample sense of meaning. The roles of Ariodante and his beloved, then wronged, Ginevra, are taken by two singers who command the stage. We've seen too little of Irish mezzo Paula Murrihy in London of late, though she shone in another trousers role, that of Ascanio in Berlioz's Benvenuto Cellini, at ENO. Her sympathetic presence has you on the noble knight's side very quickly.
There are bumps along the way. One of Handel's greatest arias of sorrowful anger, "Scherza infida"("Play on, faithless one"), is admirably done in principle, but the quiet dynamics of the lightly decorated returning main section, however dramatically contrasted with sudden outbursts of pain, threaten to sap the life out of the piece, and conductor Christian Curnyn surely needs to move it on here. It's a pity we don't get the Act Thee aria "Cieca notte" ("Blind night"), the only major casualty in a judicious series of cuts. Had this been given before a Royal Opera House audience, would it have run through at nearly three hours? Intervals have been dropped in all performances up to the second lockdown. As it is, you can take a break when you feel like it. And you're spared the potential irritation of a presenter.
Chen Reiss (pictured above) takes the palm with Ginevra's "Il mio crudel martoro" ("My cruel torment") at the end of this superb second act, meaning poured into each "Morte, dove sei tu?" ("Death, where are you?"). Hers is also the most developed characterisation, a petted princess momentarily caught off mental balance with a false accusation of infidelity and the (also false) news that her beloved has killed himself, but rising to tragic regal dignity at the end of that crucial aria and keeping her poise for the rest of the drama.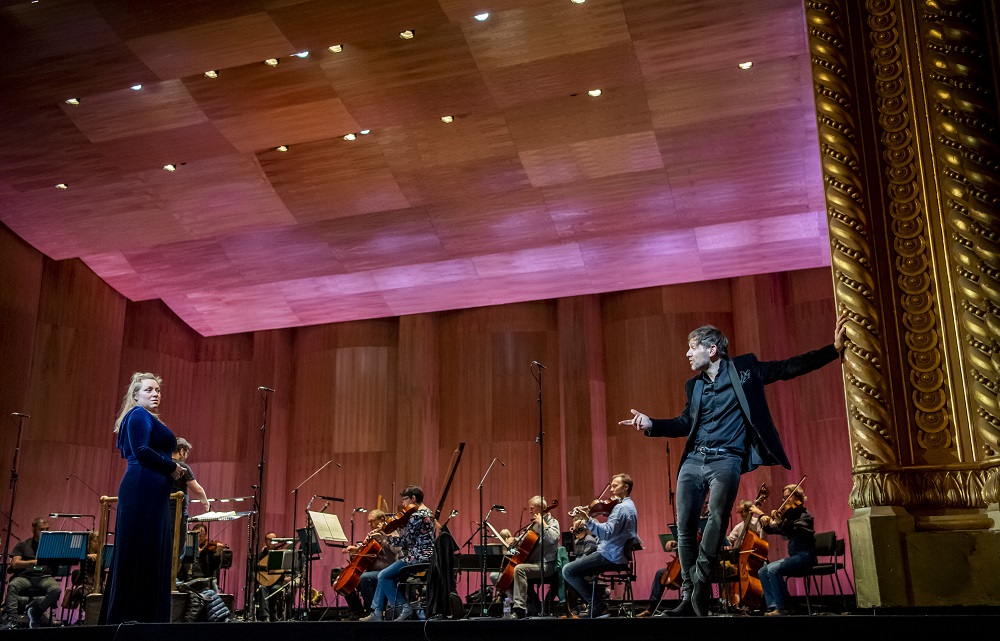 It says much for Gerald Finley that the King's aria of suffering between the two bigger numbers has almost as much impact; this glorious bass-baritone stays resonant and focused throughout the range, and the authoritative gestures back it up. The scene where he wants to reach out to his wronged daughter but can't quite do it is a dramatic highlight in a work which doesn't allow for many shades (least of all in the jealousy/betrayal plot).
Iestyn Davies (pictured above with Sophie Bevan and the Royal Opera Orchestra) goes full out for dissatisfied, hate-spitting villainy as scorned suitor Polinesso; it's not his fault if a proto-Iago doesn't exactly fit well with a supremely limpid and flexible countertenor voice. Ed Lyon and Sophie Bevan as secondary love-interest are as fully engaged as the rest; the duet where they finally come together is as joyous and lovely as Ariodante's with Ginevra. Classy work throughout, then, but there's no disguising the fact that Handel wrote showpieces as well as deeply expressive numbers for specific voices to wow the audience in front of them. This team is fully professional, but let's get back to Handel in the House as soon as possible.