Best of 2020: Theatre |

reviews, news & interviews
Best of 2020: Theatre
Best of 2020: Theatre
Out of pandemic-driven chaos and confusion came moments of clarity - and "Blindness"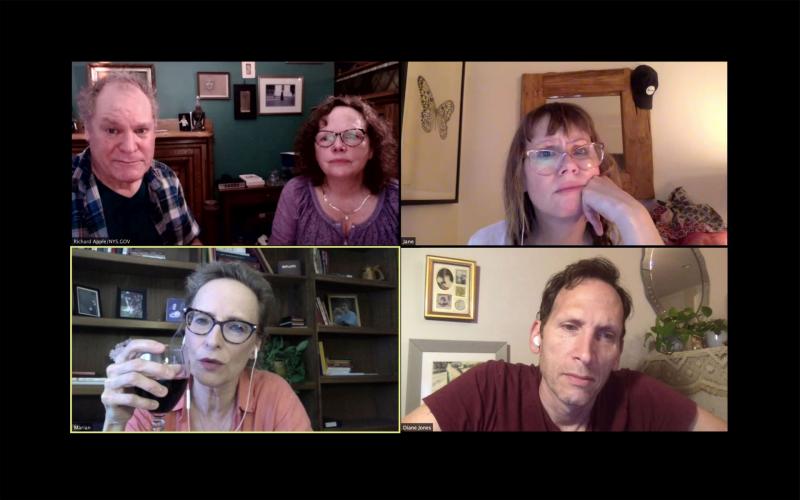 Zoom-era brilliance: the company of Richard Nelson's 'And So We Come Forth'
"Goodbye": The single word lingered heavily in the air last March 16, as the scripted closing both of the terrific Southwark Playhouse revival of The Last Five Years and as an ancillary farewell to live theatre.
Late afternoon on that same day, in response to the gathering spread of the COVID-19 pandemic, a decision had been taken to shut theatres down, but the Jason Robert Brown two-hander (plus band) decided to go ahead anyway for the simple reason that the talent were already assembled in the building.
And so it was that an audience sat held both by the musical's depiction of marital woe itself and also by something we knew that the performers at that specific point did not: that Monday night show was to be their last, as Oli Higginson and Molly Lynch would be informed in the bar directly following the performance, and who knew when theatre in general would open its collective door to us again? As it happens, the same fate befell Jonathan O'Boyle's incisive staging of this Off Broadway favourite later in the year when The Last Five Years returned for a second run to settle unfinished business only for that engagement, too, to be shuttered by a further lockdown. (Molly Lynch as Cathy pictured below, photo c. Pamela Raith) Lady Bracknell would surely have had something to say about a show's wings clipped not once but twice by an airborne contagion.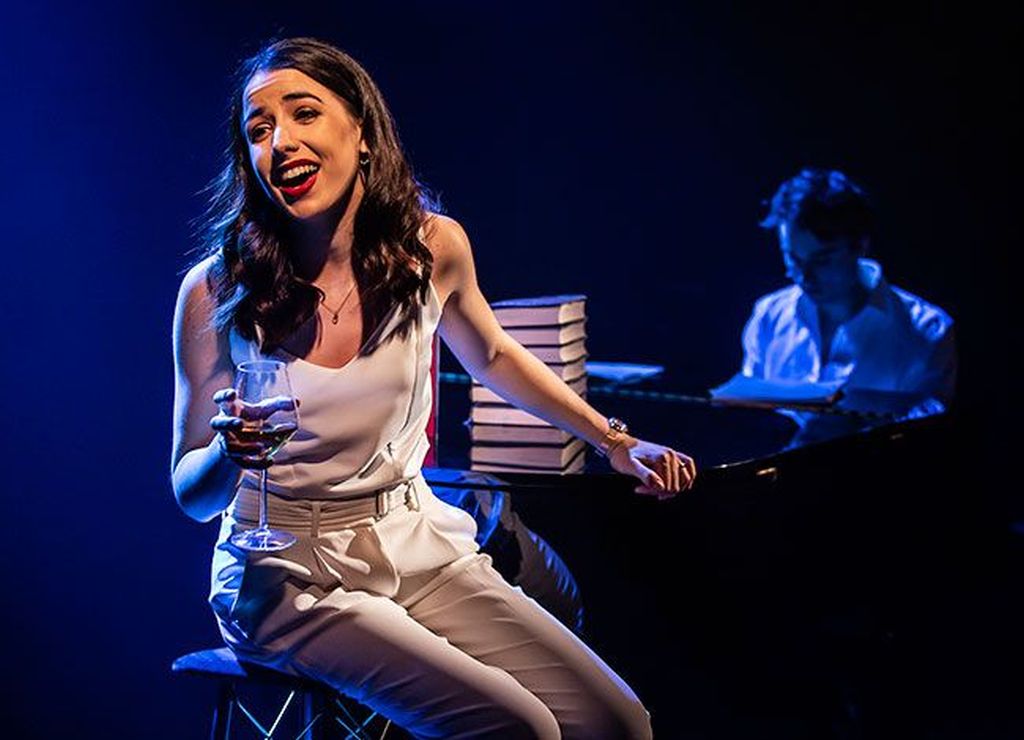 Confusion and, worse, fear were on some level the order of the day throughout a year that began with playhouses offering such high-profile openings as Tom Stoppard's memory play, Leopoldstadt, beautifully served by his director Patrick Marber, and Lesley Manville in an iffy Tony Kushner adaptation of The Visit. But once the coronavirus began to extend its ever-expanding tendrils, anxiety set in: what would happen to carefully planned seasons of work? How would creatives pay their bills? And what did any of this mean for an industry devoted to connection and togetherness confronted by a medical scenario that was hellbent on severing both those things?
While the government faffed around, suggesting in some quarters that re-training might be the best solution for especially anxious creatives (gee, now they tell us!), a £1.57 billion relief package was proffered in July just in time to allay terminal despair.
And by late August, when the fast-off-the-mark Bridge Theatre launched a series of solo plays with Ralph Fiennes, of all people, taking centre-stage to play a COVID-stricken David Hare, a new if determinedly strange normal seemed to have established itself: live performance, preferably smaller, would happen when and where it could, and in the meantime Zoom-era theatre would become a more-than-viable option, too. Indeed The Last Five Years got an entirely separate, socially distanced airing online late-June directed by its distaff co-star, Lauren Samuels, who recognised an opportunity and ran with it.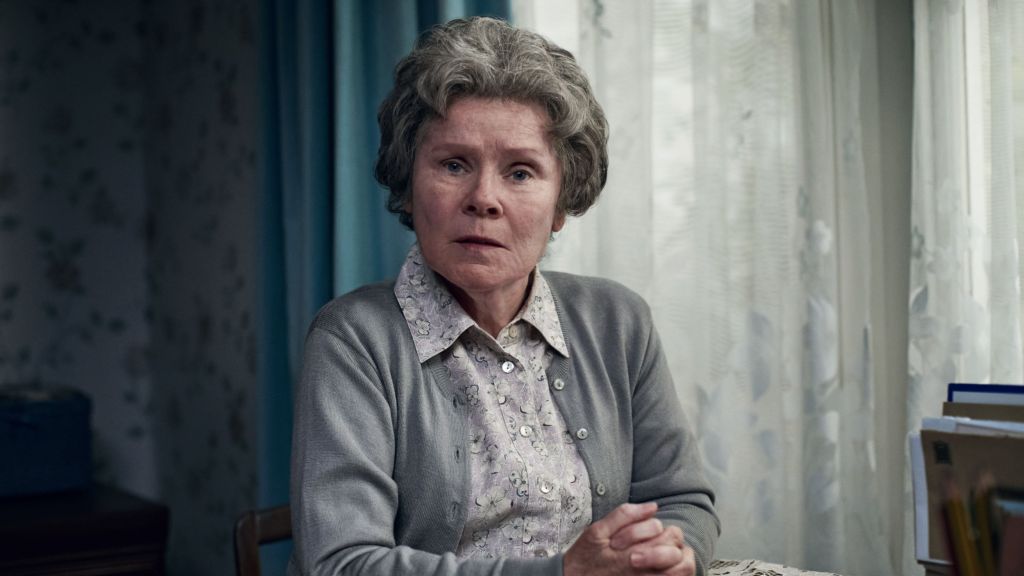 Suddenly, the monologue reigned supreme, having in the past been relegated at least unofficially to sometimes second-rank status in a theatre culture that likes to think big where it can (Leopoldstadt had a cast of 43, by way of example). Alan Bennett acceded to the very sensible suggestion that some of his Talking Heads titles from decades ago be revisited, first for the BBC and then onstage, at the quick-thinking Bridge Theatre. That, of course, is the newish venue run by Bennett's longtime friend and colleague Nicholas Hytner, who more than any single individual was devoted to the principle that live performance be seen to happen, of whatever size. And so it was that the auditorium was reconfigured to accommodate playgoers either solo or in bubbles who had their temperature checked upon arrival and who got drinks brought to their seats: playgoing suddenly acquiring something of the feel of an airline upgrade, with hand sanitiser thrown in for good measure. (At the National for the opening of Clint Dyer and Roy Williams's fine and furious Death of England: Delroy, which also happened to be that fiery evening's closing performance, I found myself ocupying a specially allocated space in the foyer, as if, in fact, in an airport lounge awaiting my turn to board.)
And so, over at the Bridge, we had the chance to engage in person with the brilliant Tamsin Greig, Imelda Staunton (pictured above in A Lady of Letters, photo c. Zac Nicholson/BBC/London Theatre Company) and Lucian Msamati, to name just a few out of a terrific lineup of Bennett perfomers who brought renewed life to the self-delusions and emotional abrasions of a cross-section of people seemingly able to confide in us even as they weren't always truthful with themselves. Inua Ellams' Evening with an Immigrant at the same address combined reminiscence with the impassioned fervour of a rally as this actor-poet-playwright recounted a litany of indignity that, coupled with his surpassingly evident compassion, brought the audience to its feet.
Occasional experiments announced themselves against the odds, amongst them an entirely forgettable musical based on Sleepless in Seattle that got more ink than it would normally have merited for braving the odds during the autumn as a show of size if, in this case, not substance. At the other end of the spectrum was the Donmar's brave and bleak Blindness, in which a physically absent Juliet Stevenson was heard via headphones burrowing her way deep into our disoriented consciousness in a startling adaptation of the José Saramago novel that will travel across the Atlantic next year: set against the backdrop of a pandemic, Simon Stephens's take on this Nobel laureate had the unexpected effect of seeming to sharpen our senses so that we emerged shaken and refreshed into a deserted (due to the dictates of the times) Covent Garden. (The reconfigured auditorium for Blindness is pictured below, photo c. Helen Maybanks)
Come early December, there was the heartening feeling of things being back on track when I found myself attending ten theatre openings across as many days, the Bridge's ravishing A Christmas Carol, led by Simon Russell Beale, the clear pick of a motley array. But scarcely had theatre staffs been re-engaged before tier 4 reared its ruinous head and venues went dark yet again, for how long this time is anyone's guess. The first half of 2021 promises a new Lloyd Webber musical, Lisa Dwan in Beckett, and a reprise of the mighty In Camera season at the Old Vic, but quite how theatre over the year ahead will end up shaking down remains anyone's guess. All one can say for sure is that the willingness, without doubt, is there.
In the end, all one could do was take a cue from the aural exhalations that punctuated the magisterial trio of pandemic-era Apple family plays conceived for Zoom and written and directed by Richard Nelson, the American playwright furthering his enquiry into a family in Rhinebeck, New York, who are simply attempting to adapt and adjust to times that during 2020 seemed more than ever to be out of joint.
Centering around the communal gathering allowed by food, these snapshots of heartache, anxiety, and hope were steeped stylistically in Chekhov but attuned to the scars unleashed by the era of Trump. And in the final offering of this superlative trio, the family now scattered and the possibility of a shared meal no longer on the table either literally or metaphorically, Nelson seemed to be grabbing at the last gasp of a humanity pushed to the limit and, at times, beyond. One can only hope the Apples reconvene only because I for one want to see where the world takes them next. As for the theatre in 2021, well, as Maryann Plunkett's Barbara Apple would surely do, all one can do is take a deep breath, exhale, and do as best one can to move forward. Never has a new year felt more necessary.
Inua Ellams coupled reminiscence with the impassioned fervour of a rally as this actor-poet-playwright brought the audience to its feet
Share this article