Romeo and Juliet, Palace Theatre, Manchester online review - futuristic and timely |

reviews, news & interviews
Romeo and Juliet, Palace Theatre, Manchester online review - futuristic and timely
Romeo and Juliet, Palace Theatre, Manchester online review - futuristic and timely
Innovative technology places actors virtually on the stage
Romeo and Juliet against a CGI background: Emily Redpath and Sam Tutty as the ill-fated lovers
The story of Romeo and Juliet is well known, worth revisiting endlessly and always relevant. But there is another story here: the making of the piece using innovative digital technology including CGI, to keep actors and creative team safe in a pandemic.
The actors didn't meet (except for Sam Tutty and Emily Redpath, the two leads, who had one, Covid-tested, day together), neither did they visit the Palace Theatre in Manchester, yet this production appears to use the whole building
–
stage, auditorium, bar and costume store.
In a studio much smaller than the theatre, over hundreds of hours but in a mere 14 days, the elements were put together by Ryan Metcalfe, Simon Gordon and their team at Metcalfe Gordon Productions with Gary Beestone, Events and Theatre Production Manager, using a green screen soundstage. In other words, the characters, directed by Nick Evans, might be talking lovingly to each other, stabbing a rival, sharing a drink or attending a ball but actually be entirely separate, working independently. Actors were then "dropped into" scenes using CGI.The ball scene (to which the party-goers wore Covid-19 masks rather than glittering accessories), in which 15 people appear "on stage" (pictured below) was filmed over 15 separate sessions.
This 21st century story is remarkable, but does the clever technology pay off? Is it worth all the effort? In one sense this isn't really theatre at all, yet threaded through every scene there is nevertheless a celebration of theatre and a tacit acknowledgement of what we are missing when, in normal times, we come together to share the experience. After a legend on screen informing us that the setting is the near future, cities are abandoned and empty theatres colonised mainly by wealthy people and urban gangs, a great theatre knight speaks. Derek Jacobi (pictured below), here "the Narrator", appears to be sitting alone in an empty auditorium as he gives the opening lines of the Chorus. The melancholy message of the speech is emphasised by his loneliness in an area that ought to be crowded with theatre-goers. An outbreak of plague preventing the delivery of the Friar's message to Romeo and precipitating the tragedy suddenly has a new resonance in 2021.
The young people in the cast – several making their professional debut – rise to the challenge with apparent ease. Only during the fight scenes is there occasional difficulty when, for instance, the dying Mercutio berates Romeo for coming between him and Tybalt's knife when his interference can be no more than verbal. On the plus side, there is a terrible contemporary aptness to that swift murderous street stab and Romeo's similar revenge.
The trimming of the text is mostly understandable. While the reduction of the Nurse's role places even more focus on the young people, Lucy Tregear, earthy and sympathetic, might have relished the bawdy comedy. The Capulet parents become one character, with Helen Anker combining father and mother, harsher now in pushing her daughter towards marrying Paris. There is no frantic preparation for a wedding feast, but this fits well with the pared down melancholy. The only lines I really miss are the first part of Juliet's speech as she longs for Romeo: "Gallop apace, you fiery-footed steeds...".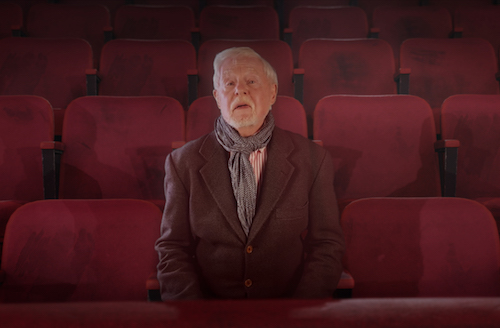 Olly Steel's sound design, Sam Dinley's music and Elliot Smith's lighting, with visual effects by Preevue Ltd, a virtual set design by Jamie Osborne and mostly street-style costume design by Natasha Bowles combine to conjure a world both familiar and eerily strange.
The actors, aided by skilful editing, seem to play off each other remarkably well given their separation. Among them, Brandon Bassir's Mercutio suggests both witty intelligence and an unfulfilled dream of his own. Vinta Morgan's Friar, surrounded by growing herbs but certainly no hippy, is genuinely trying to do his best by the young people as a benign father-figure. Jessica Murrain's Prince is properly authoritative and Daniel Bowerbank as Benvolio is a young friend out of his depth in gang culture. At the centre of it all, Sam Tutty (lauded for his lead role in the West End production of Dear Evan Hansen) and newcomer Emily Redpath are first rate as the star-crossed lovers: fervent, youthfully impetuous and believably smitten with each other even on the occasions when they must be imagining the other's presence.
As with many other aspects of life, theatre may never be the same again post-Covid-19. Who would expect to see a sentence like this in a theatre programme? "Lighting is applied as a layer to the final product, in the same way the cast is." This is a fascinating hybrid and a memorable achievement, using (as theatre always has) whatever extraordinary new ideas that can serve it. Nevertheless, being in the same room with others, sharing a story told by a group of people working in the same space is an experience still much missed. It will return, energised with innovations given life by the pandemic.
Sam Tutty and Emily Redpath are first rate: fervent, youthfully impetuous and believably smitten with each other
rating
Explore topics
Share this article