Some Kind of Heaven review - a Florida retirement community yields its secrets |

reviews, news & interviews
Some Kind of Heaven review - a Florida retirement community yields its secrets
Some Kind of Heaven review - a Florida retirement community yields its secrets
Quietly poetic documentary about 'Disneyland for retirees'
Cheerleading is one of many activities on offer to residents of The Villages in Florida
In the UK, we usually get a peek inside The Villages in Florida every four years, when intrepid reporters take to their golf carts in the retirement community to test the water in presidential elections among its 132,000 residents. Their views provide a useful guide as to where the silver-haired vote stands.
And on first sight, this "Disneyland for retirees" may seem like Nirvana, especially as one of the first people featured in Lance Oppenheim's quietly poetic and touching film says: "You come here to live, not to die" and another posits: "It's like going to college. Everybody can be who they want to be here."
Oppenheim – at 25, a good few decades younger than even his youngest interviewee – could easily have picked some low-hanging fruit to get some comedy juice (or indeed mockery) out of old folks' idiosyncrasies. But there's no postmodern irony at play here, rather a talented documentary maker in his feature-length debut snuffling out interesting people with interesting stories to tell, and letting those stories develop organically as he cuts between them.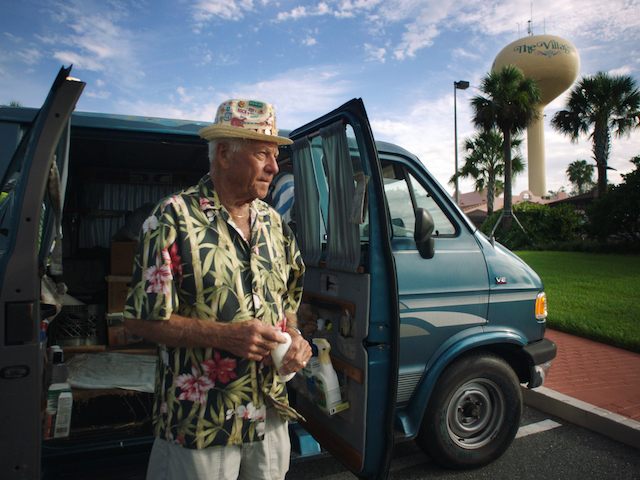 We meet Anne and Reggie, 47 years into a marriage that has weathered some storms and encounters a new tempest when the newly spiritually-awakened Reggie is done for possession of small amounts of THC and cocaine; Barbara, who was widowed since she moved from Boston and is feeling lonely despite being surrounded by people; and Dennis (pictured right), an 81-year-old shameless chancer full of stories about famous people he says he has worked with, who lives in a van outside the complex and wants to find some rich old lady inside who will keep him the style to which he'd like to become accustomed.
There is comedy, but it's not imposed by the director, although terrific editing by him and Daniel Garber and David Bolen's captivating cinemaphotography help it along.
Dennis, while squeezing his tall frame on to the makeshift bed in his van, wants us to know he's in control of his life because he has standards; he wants to find a lady he "wouldn't be embarrassed to be seen on the street with". What a charmer. And as Barbara tries out one of the gazillions of clubs onsite – everything from formation golf-cart driving and seated tambourine bands to tenpin bowling and cheerleading – Oppenheim catches her eyes glazing over each time. But then they light up when she meets a golf-cart salesman known as The Margharita Man and she's straight to the hairdresser for a new 'do.
All of that is set against an idyllic backdrop of palm trees, golf courses, manicured green lawns and pretty homes. But although there is a chance to reinvent yourself when moving to The Villages, some cannot leave their old baggage behind – as Barbara says: "It hasn't been the fantasy land I imagined."
Oppenheim's subtle and enjoyable film allows us to deduce that, for some, their heaven is another person's idea of hell.