A Midsummer Night's Dream, Shakespeare's Globe review - a blast of colour from our post-vaccine future |

reviews, news & interviews
A Midsummer Night's Dream, Shakespeare's Globe review - a blast of colour from our post-vaccine future
A Midsummer Night's Dream, Shakespeare's Globe review - a blast of colour from our post-vaccine future
A production that revels in the joyously absurd while hinting at the play's darker edges
Somewhere over the rainbow: Victoria Elliott is a vibrant scene-stealing Titania
It's no longer a natural expression of the kind of exuberance we take for granted, but a reminder of what we might be again – a blast of colour from our post-vaccine future.
The Globe is, for obvious reasons, one of the best ventilated theatres in London, but full social-distancing measures are in place and the cast reminds us that if evenings like this are to remain possible we must keep our masks on. Proceedings open with the audience being riotously serenaded by rainbow-hued brass band, before the stage is cleared so that nothing is on it but a box marked 'Fragile'.
From the moment that Victoria Elliott's warrior-queen, Hippolyta, blasts out of the box, complete with breastplate, we are left in no doubt of the contempt she has for Peter Bourke's Theseus. The opening scene of A Midsummer Night's Dream is, after all, a disturbing one. Not only does it show Hermia threatened with the death-sentence for refusing to marry Demetrius, but the text strongly implies that Theseus abused Hippolyta when he defeated her in battle. So while she is not fragile, she is trapped; and Bourke's Latin-American dictator-style garb puts this in context as much as the lovers' decision to flee his influence by going to the woods.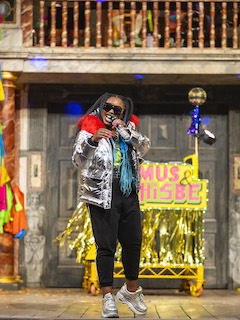 Yet this is overall a production that revels in the joyously absurd, much as it hints at the play's darker edges. Both Elliott and Bourke return from the 2019 production to double up as Hippolyta/Theseus and Titania/Oberon and Elliott in particular seems to be having a ball as she emerges into the woods on a pink scooter in silver high-heeled boots as Titania. It's a scene-stealing turn, especially combined with her comic timing and singing. Though she is more than matched by Sophie Russell, who replaces Jocelyn Jee Esien as the verbally-incontinent Bottom, strikingly clad in a metallic red jacket and glimmering leopard-print trousers before being transformed into a carnivalesque donkey.
In contrast to the rainbow-explosion of the rest of the cast, the lovers are dressed in black and white - the aesthetic a mash-up of Tudor and modern streetwear, with ruffs emerging like body armour from shoulders and backs, and boots-with-attitude. Only the charismatic Ciarán O'Brien returns from 2019 as Demetrius – Nadi Kemp-Sayfi is a savvy and compelling Hermia; Bryan Dick is an appealingly bolshy Lysander; and Shona Babayemi exudes both power and pathos as Helena.
It's one of the great innovations of this production that Puck appears as a flash-mob, with several members of the cast doubling up to help wreak anarchy - this is deployed to particularly good comedic effect at the play's conclusion, as the different Pucks compete to deliver the final words. The rude mechanicals remain a highlight, with Nadine Higgin's blue-tressed disco-leader Peter Quince (pictured top) ably heading up the revelries, whether she's leading rehearsals or stirring up the audience to sing 'Caravan of Love'. In this diverting crowd, Rachel Hannah Clarke in particular makes her mark as a comedically timid Snug, who starts out as a cowardly lion but suddenly finds her roar once the spotlight is on her.
Most overwhelmingly, though, this is a production that shows that life as we once knew it might be possible again. Jean Chan's riotous design, all hallucinogenic forest creepers and wild party costumes, is a tonic from the start. We emerge feeling that with just a modicum of caution, we can enjoy love, laughter and music once more. Carnival was always a subversion of the status quo; but here it's about the liberation of a human spirit that has been scared and constrained for far too long.
This production shows that life as we once knew it might be possible again
rating
Explore topics
Share this article