Die Walküre, Longborough Festival Opera review - heroic defiance of farcical constraints |

reviews, news & interviews
Die Walküre, Longborough Festival Opera review - heroic defiance of farcical constraints
Die Walküre, Longborough Festival Opera review - heroic defiance of farcical constraints
Wagner cut down to size refuses to shrink
Lee Bisset's Brünnhilde reaches out to Sarah Marie Kramer's Sieglinde
Whatever might be said about Longborough Festival's first live opera since 2019, the first and most important thing is to praise the company without reservation for putting on a show of anything like this quality in the face of obstacles of the sort that normally confront the heroes of Russian fairy tales.
So: no kissing, embracing or even approaching within two metres in an opera that begins with twins falling passionately, violently in love, and ends with Wotan literally kissing away Brünnhilde's immortality (pictuted below, Paul Carey Jones at the end of the opera). So: general distancing that enforces a reduction of Wagner's orchestra by more than two thirds with the string section on the stage, thereby also reducing the available acting space to a series of narrow upstage catwalks and a thin strip at the footlights. So: string players masked but singers and (presumably) wind players not, hence I daresay spreading clouds of deadly viruses all over the rest of us. At the best of times Wagner can be a conductor's and director's nightmare. Under the Covid Soviet it verges on farce.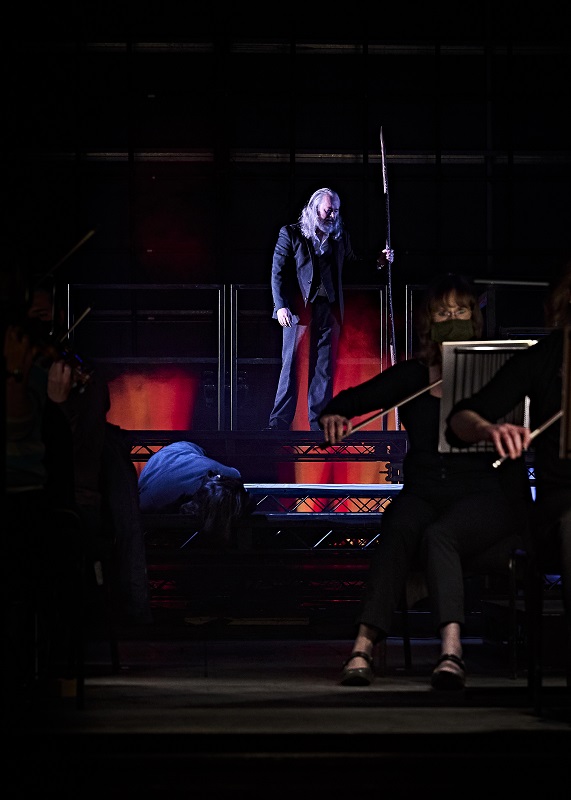 I suspect that Amy Lane would want to stand by this semi-staging of Die Walküre not as an example of her best professional work, but as a tribute to her ability to put a worthwhile show together at all under such absurd conditions. Just think. There being no space in front of the orchestra for any significant action, most of it had to happen behind it, with predictable consequences for vocal-orchestral balance. But the catwalks had to be raised, so that we could see them, which meant the movement of characters was entirely linear, like cars going through one of those chicanes on the old East German border. Now and then a character would disappear, and reappear mysteriously at the footlights. My friend Barry Millington, who knows everything there is to know about Wagner, thought this indicated the humanising of, first, Brünnhilde then, later, Wotan. But maybe it was simply getting too crowded on the catwalks.
Lane has already staged a mercifully straightforward, concept-free Rheingold at Longborough, and the rest of her Ring will be well worth waiting for. Meanwhile we have this very good, potentially very strong cast, and the always excellent Anthony Negus, giving us a Walküre memorable on musical as well as logistical grounds. The key to the performance is an extraordinary reduction of the score by Francis Griffin, whose re-creation of Wagner's textures and sonorities is so astonishingly successful that at times one wonders whether Negus hasn't got another fifty or sixty players tucked away in the far corners of the pit as well as the woodwind and brass players one can clearly hear.
Wagner specifies sixty-four strings, Negus has sixteen; Wagner has quadruple woodwind, Negus has single; Wagner, eight horns (with Wagner tubas), Negus two horns and no Wagner tubas; and so on. The textures are sometimes very simple, but often complicated; yet apart from odd moments, I was only really conscious of a limitation in the intricate final pages, where the two separate themes of Wotan's lyrical farewell counterpoint with Loge's fire music. The Ride of the Valkyries, with its spectacular scoring for woodwind and brass, worked a treat. All this tends to confirm Karl Böhm's suggestion long ago that Wagner could be read as chamber music. This was chamber playing, with quality to match.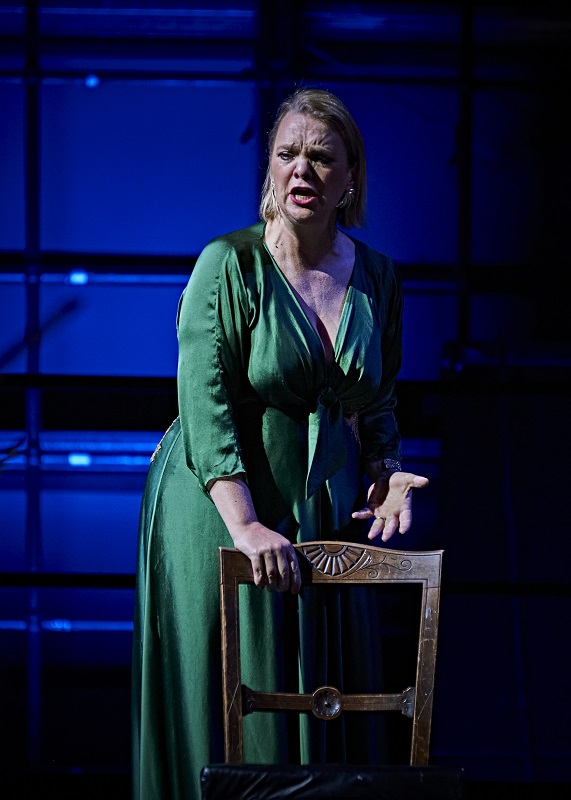 The cast, like the production, sounds better than it looks. After a tepid start Sarah Marie Kramer and Peter Wedd are a fine, emotionally intense pair of lover-twins, while looking more like father and daughter. Perhaps make-up, involving touch, is still against the rules. Paul Carey Jones is a musically rich, dark-sounding Wotan, but a wooden actor, even by catwalk standards, while Brindley Sherratt's Hunding has great vocal menace but looks like a retired headmaster.
But the stars of the show, for my money, are Madeleine Shaw (pictured left), who completely dominates Fricka's scene with Wotan - which, of course, she is meant to do, and what a psychologically incomparable scene it is; and Lee Bisset's lively, attractive Brünnhilde, moving seamlessly from "Hojotoho" Valkyrie to the lost, desperate woman of the final scene as if the latter were already implicit in the former, a deeply touching, convincing portrait. Everyone overacts, with arm-wavings and body-swayings that explode disproportionately out of the catwalk mentality. But this will soon, surely, be no more than a quaint memory.