La traviata, Opera Holland Park review – a revival in rude health |

reviews, news & interviews
La traviata, Opera Holland Park review – a revival in rude health
La traviata, Opera Holland Park review – a revival in rude health
Rodula Gaitanou's production roars back with splendid singing and emotional conviction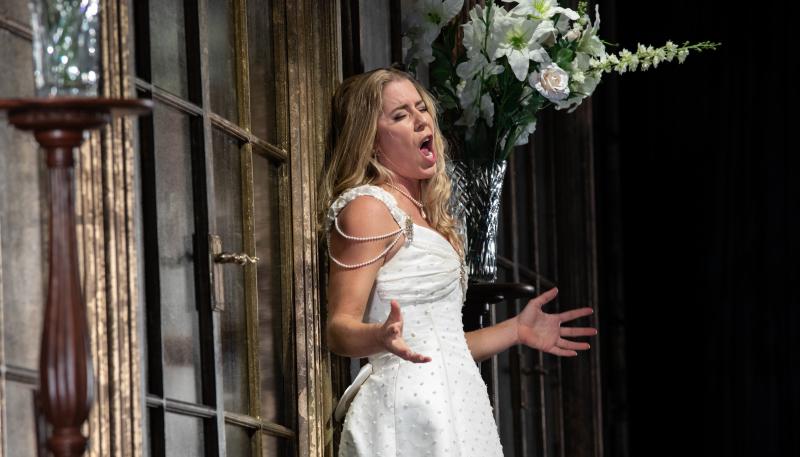 Breath of life: Lauren Fagan as Violetta
Loudly and painfully, the consumptive Violetta wheezes before we hear a single note. Her pitiful gasping for the breath that deserts her precedes the prelude to Opera Holland Park's La traviata; the same effect ushers in Act Three.
At first I assumed that
director
Rodula Gaitanou had tweaked her 2018 production for its post-lockdown comeback but, no – the original staging featured this device. That uncannily prescient stroke apart, Gaitanou lays a light but skilful hand on a work that, even in non-
pandemic
times, needs no fancy manipulation from concept merchants impatient of its power and fame.
What Verdi's pre-verismo tragedy of the 1850s Paris demimonde demands is a cast of singer-actors who can make its familiar agonies and ecstasies ring utterly true. Three years on, Gaitanou's principals – Lauren Fagan's Violetta, Matteo Desole's Alfredo, Stephen Gadd's Germont – return to the remodelled and socially distanced Holland Park stage in finer voice than ever. The result is a luminous, heartfelt and strongly sung revival that has only gained in impact after the world-changing emergency that compelled James Clutton's company into a 663-day break before its new season began last week.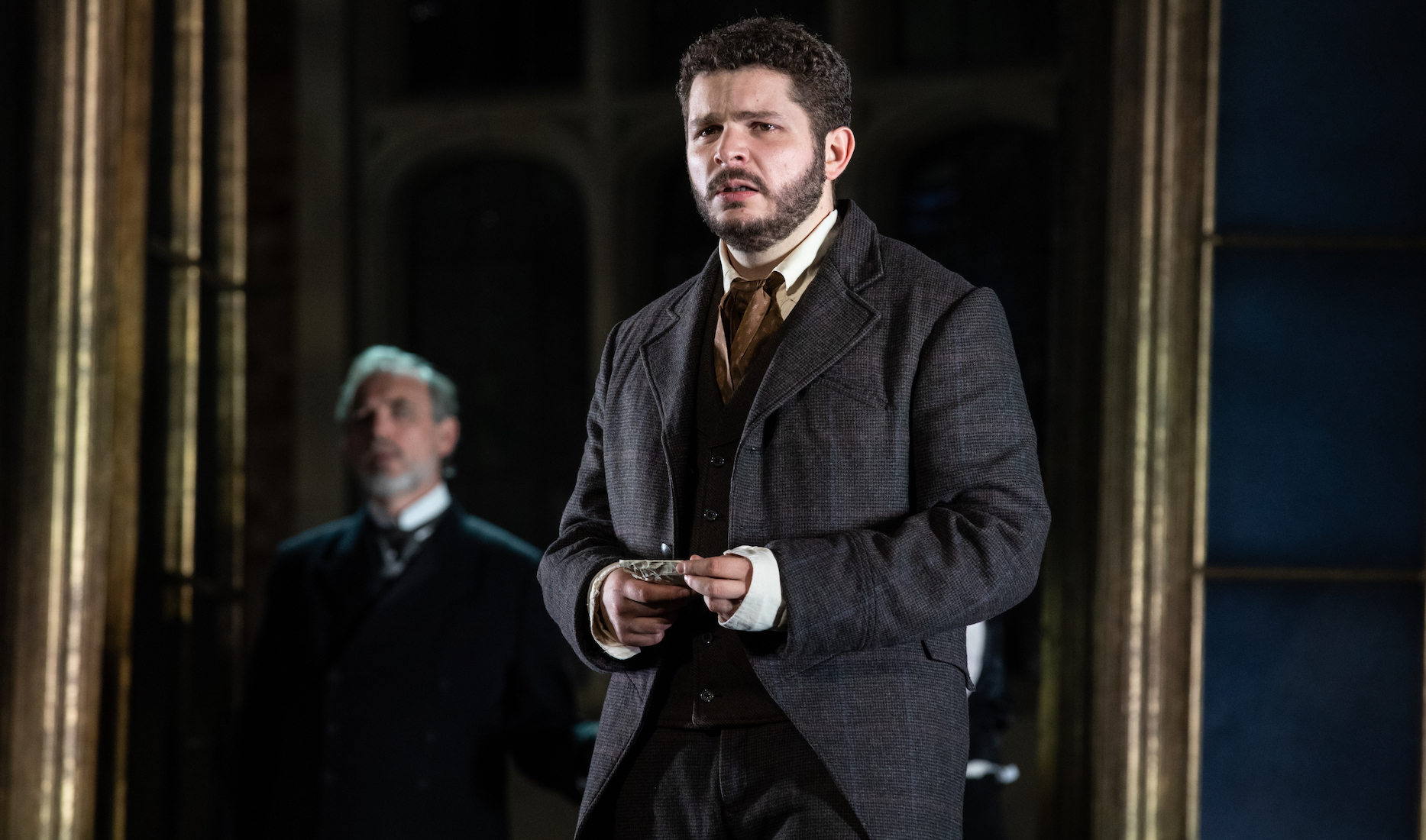 If La traviata foregrounds a woman's loss of voice, the stifling of her breath and agency, then the pain of social distance also drives the plot. Behind the fleeting intimacies of the Parisian courtesan's role lie the chasms of stigma and contempt that will divide Violetta from her beloved Alfredo (pictured above: Matteo Desole with Stephen Gadd) at the stern bidding of his father, Giorgio Germont. Although the OHP chorus in their Toulouse Lautrec-like finery make merry with the close-contact whirls and huddles of the party scenes, what strikes you most about Cordelia Chisholm's set – stretched out over the wide playing area – is the sense of yawning apartness and separation. The scenery gives visual expression to the gulfs that keep Violetta from Alfredo, and Violetta herself from the dream of freedom she clutches at in the joyful but doomed coloratura leaps of Sempre libera. Even the audience, poised on our isolated clusters of chairs in a venue that must operate at 40 per cent capacity, feels a little remote – until, in the final act, the action suddenly moves from behind the orchestra to in front.
Stage left, Violetta's curtained chamber serves as the cocoon for her bliss and agony in Acts One and Three. In Act Two it transforms into the rural hideaway where Germont père arrives to compel the "fallen woman" to give up his son for the honour of his spotless daughter and family – and the survival of an entire patriarchal order. Stage right, an extended stretch of mirrors and doors serves as public stage for showdowns, soirées and balls (pictured below): the sites of costume, performance and pretence. Gaitanou makes the most of the almost panoramic vistas and racetrack lengths the long, shallow set permits her. In place of static close-ups, the singers range far and wide over these expanses. Germont's fervent Act Two entreaties to Alfredo to recall his family and homeland (Di Provenza il mar) almost become a long-distance chase.
So this free-roaming Traviata, under a Holland Park canopy open at the sides to the impromptu choral contributions of peacocks and parakeets, sometimes feels more of a wide-angled social snapshot of 19th-century Paris than an intense, confined chamber drama. In these semi-al fresco conditions, the performances have to supply the sort of intimacy and engagement that can abolish distances. That they certainly do. Warmly assured, forceful but never without that underlying fragility, Lauren Fagan's Violetta manages the tricky shift from the coloratura high jinks of the opening scenes to the darker, brooding colours of the later acts. If a few of the early top notes tended to drift off into the wide open spaces, her confrontations with Germont and deathbed defiance saw her in absolutely commanding – and extremely moving – form. It's always hard to attempt to hear, say, Addio, del passato as if for the first time, but Fagan has all the truthful artistry, and strength across her generous soprano span, to strip the crust of routine from such moments. And, when Alfredo and Violetta at last emerge from behind to band to sing (almost) at our feet, it makes the transgressive power of their love thrillingly actual. As her tubercular body fails, her voice acquires an eerie glamour and grandeur. That is La Traviata's essential suspension of disbelief, and a tough trick to make work unless, like Fagan, the voice has a fully characterised finesse to match its fate-defying force. As it does, for instance, in the duet Parigi, o cara.
Matteo Desole's Alfredo boasts everything a Traviata buff could want: genuine bel canto refinement, warmth and richness above and below, and a dramatic flexibility that allows him to engage as a team-player rather than fire off the great set-piece arias and duets as isolated cannon-shots. That said, numbers such as De' miei bollenti spiriti had a winning blend of tenderness and authority. Meanwhile, Stephen Gadd's Germont rained on the lovers' parade with elegance, even compassion, alongside his severe bourgeois rectitude. His awesome baritone blast of order and control came all the same from a recognisably human, and vulnerable, place of paternal love. Among the supporting roles, Ellie Edmonds's mezzo crafted a touching, assured Annina, while baritone Nicholas Garrett's Barone Douphol – the rival claimant on Violetta's charms, entitled in every way – made a scarily plausible symbol of the social hierarchy she and Alfredo vainly try to flee.
Sometimes cheesy rather than louche, Traviata's party scenes and good-time choruses can derail a staging. Here, however, they looked and sounded fine, making up in attack and cohesion what they may have lacked in sheer lavishness, from "Libiamo" to "Noi siamo zingarelle". Under Matthew Kofi Waldren's baton, the 16-strong orchestra from the City of London Sinfonia sounded well-sprung, sensitively paced and, when the occasion demanded, surprisingly massive, but with fine filigree work from woodwinds and solo violin. However, it's the uniform excellence and authenticity of the leading trio of singers that ultimately anchor Gaitanou's production. They made this Traviata a comeback to cherish at a time when the musical stage – and the world in general – hopes to breathe a bit more easily.