Carousel, Regent's Park Open Air Theatre review - brave rewrite doesn't land |

reviews, news & interviews
Carousel, Regent's Park Open Air Theatre review - brave rewrite doesn't land
Carousel, Regent's Park Open Air Theatre review - brave rewrite doesn't land
The Rodgers and Hammerstein classic has been tweaked but also flattened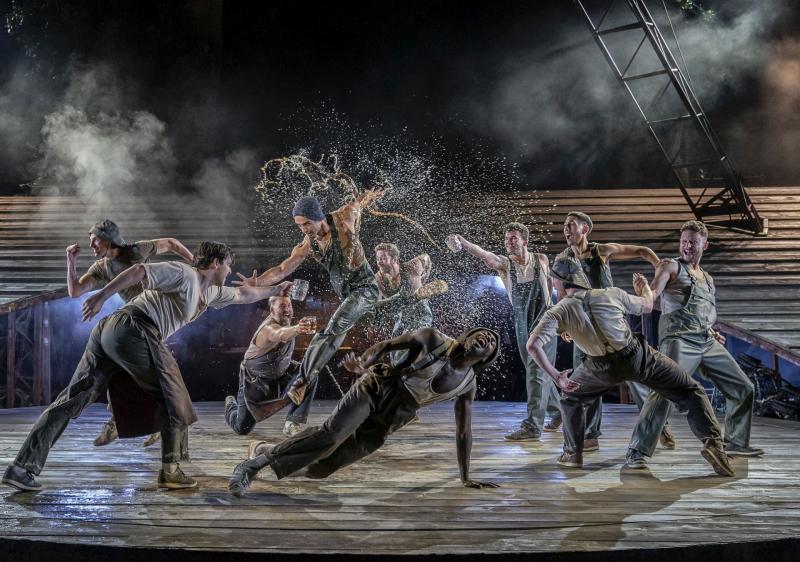 We're not in Maine, anymore: the company of 'Carousel'
You've got to hand it to the Open Air Theatre in Regent's Park: this venue never simply dusts off a familiar musical title and plonks it onstage.
Their commitment to reinvestigating the material, whatever it is, has done wonders for the disparate likes of
Andrew Lloyd Webber
and Jerry Herman, and Rodgers and Hammerstein remain ripe for continually fresh interpretation, as Nicholas Hytner's revelatory
Carousel
for the National in 1992 so agelessly proved and countless further reappraisals of their canon (the Daniel Fish
Oklahoma!
) have since borne out, as well.
But returning to this 1945 show nearly three decades on from that production, and with one its luminous stars (Joanna Riding, an unforgettable Julie Jordan back in the day) here cast as Julie's cousin, Nettie Fowler, a supremely gifted creative team have gone back to their momentous source, in my view diminishing it in the process. Its text at once tweaked or truncated, a piece set in a Maine fishing village in a bygone era now takes place in a hardscrabble, macho climate of recognisably contemporary, hard-drinking Englishmen who know a thing or two about domestic abuse, whether physical or verbal: the carousel owner Mrs Mullin is dismissed as an "old slut", and the celebrated dream ballet tilts toward an attempted rape by way of West Side Story as fashioned anew by choreographer Drew McOnie. (The rain throughout press night fully suited the newly Anglicised locale, it must be said.)
That emphasis tallies with the troublesome passages in a show whose heroine, Julie (Carly Bawden), can be seen from a contemporary perspective to be making light of the ill treatment she has suffered at the hands of her adored Billy Bigelow (Declan Bennett, a onetime Jesus in Jesus Christ Superstar at this address): the offending lines have been cut. But the overall result is to transform a once-miraculous study in the vagaries and varieties of human behaviour and interaction into a singleminded tract that comes across as an issue-laden Sunday night drama on a topic for our time. The revisionist impulse is entirely laudable given the ongoing prevalence of such abuse as is documented in the show's programme but it is achieved at the expense of the broader perspective taken by two genius creators who didn't come furling banners or placards, preferring to let their audience find such points of empathy and connection – or revulsion – where they will.
You overlook pretty quickly the fact that this blokish terrain is hardly a community to be worrying about clambakes. Instead, it soon becomes apparent that a production hellbent on holding the characters up for judgment misses the chance seized unforgettably by Hytner and his choreographer, Kenneth MacMillan, to see the vicissitudes of humankind in the round.
From the outset, when Christina Modestou's deliberately vulgar (or so one assumes) Carrie Pipperidge emerges holding an enormous stuffed toy, it seems as if we are being encouraged to look down on these people and even to scorn them. In context, Carrie and her beloved Enoch Snow (John Pfumojena, late of The Jungle and here given lots of comic stage business) come across as the sorts of baby-making machines that you can imagine the Daily Mail holding to account via a headline about the money their numerous progeny are costing the state. Bawden's grim-faced Julie (pictured above with Bennett) hardly invites sympathy for as conflicted a heroine as the musical theatre knows, and "What's the Use of Wond'rin?" now sounds a signal note of resignation rather than unfurling an inner self-debate of quietly voluble force.
The compassion of the piece is in the lyrics – Hammerstein's feeling for "two little people who don't count at all" who have been thrown off life's carousel to ruinous effect but might possibly find redemption. And whilst I am the first to admit that The Starkeeper encountered by the suicidal Billy after his death is a tricky character to make sense of in the modern day, the second-half rewrite on view sacrifices pathos on the altar of defiance, the women in the company staring the audience down in a climactic gesture whereby they turn their backs on their men and are no longer anyone's playthings.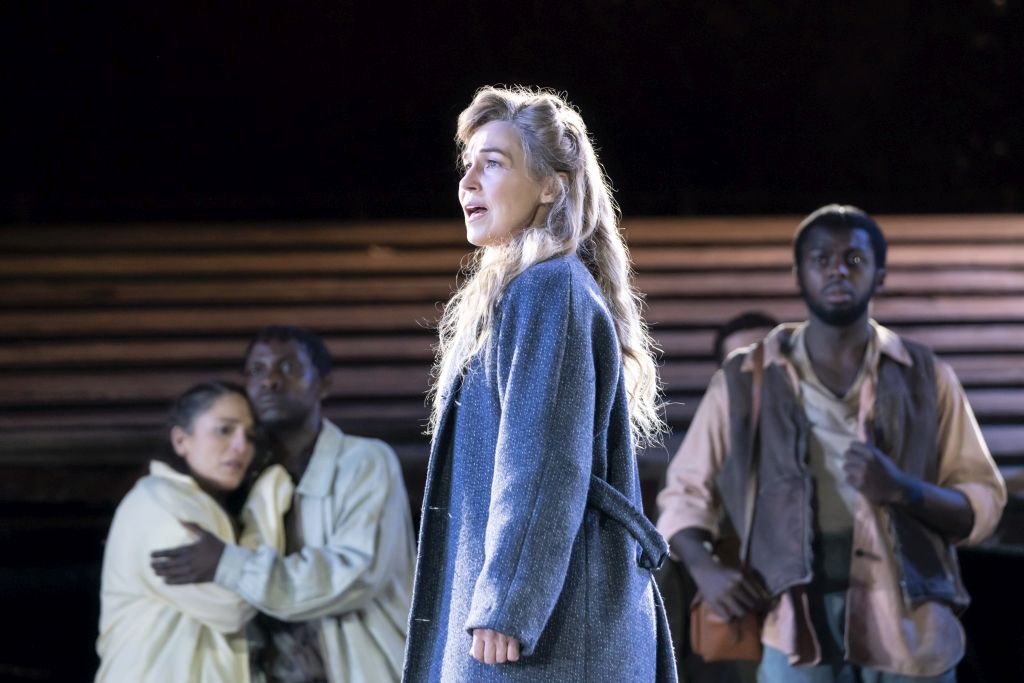 The revisionist result is thematically well and good but tends to miss the fact that Carousel is equally shot through with tenderness and care (Nettie Fowler embodies both): the show embraces far more than just the self-sabotaging outbursts of the carnival barker, Billy, who is given a Shakespeare-worthy soliloquy of his own in the celebrated first-act "Soliloquy" (aptly titled) requiring a big voice that doesn't come naturally to Bennett. Indeed, I felt with this Carousel that those who could act their roles couldn't necessarily sing them, and that a lot of the singing was loud, yes, but not especially musical. This is a shame given the wonder of Tom Deering's new orchestrations, which jettison the strings to find an eerie muscularity to Rodgers's melodies that allow a brass band to open and close the show alongside the unearthly rumblings of a soundscape akin to Mike Oldfield's "Tubular Bells": Deering's achievement is a major one.
Tom Scutt's sloping wooden set features a central turntable that picks up on the eponymous carousel into which are inserted any number of poles during the dream ballet that function as skeletal reminders of the carousel and also as (yes) phallic symbols that then get removed one by one in time for the pointedly revised finale. That's around the time the eternal earth mother Nettie (a lustrous-looking Riding, pictured above) returns to reprise "You'll Never Walk Alone", a hymn to the value of community amid adversity and the supremacy of companionship even at moments of piercing grief. (Her jazz hands at the finish of "June Is Bustin' Out All Over" belong to a different musical ethos altogether.)
But what if the community surrounding you is as hateful as the boozy, brazen attitudes embodied by Craig Armstrong's Jigger Craigin here? No wonder the director Timothy Sheader's decisive closing image is of a stricken-looking Natasha May Thomas, as Billy and Julie's daughter Louise, seemingly adrift in a malign world. Could anyone ever take comfort from this lot? "Not bloody likely," you can imagine the likes of Carrie retorting in an unmoving Carousel so busy trying to make peace with itself that you begin to wonder why the creatives bothered with this show in the first place.
The revisionist result is thematically well and good but tends to miss the fact that this 1945 classic is equally shot through with tenderness and care
rating
Share this article