Elisabeth Leonskaja / Goldmund Quartet, Edinburgh International Festival review - established and emerging stars shine bright |

reviews, news & interviews
Elisabeth Leonskaja / Goldmund Quartet, Edinburgh International Festival review - established and emerging stars shine bright
Elisabeth Leonskaja / Goldmund Quartet, Edinburgh International Festival review - established and emerging stars shine bright
Jubilant Brahms and dramatic Schubert in two bite-sized chamber concerts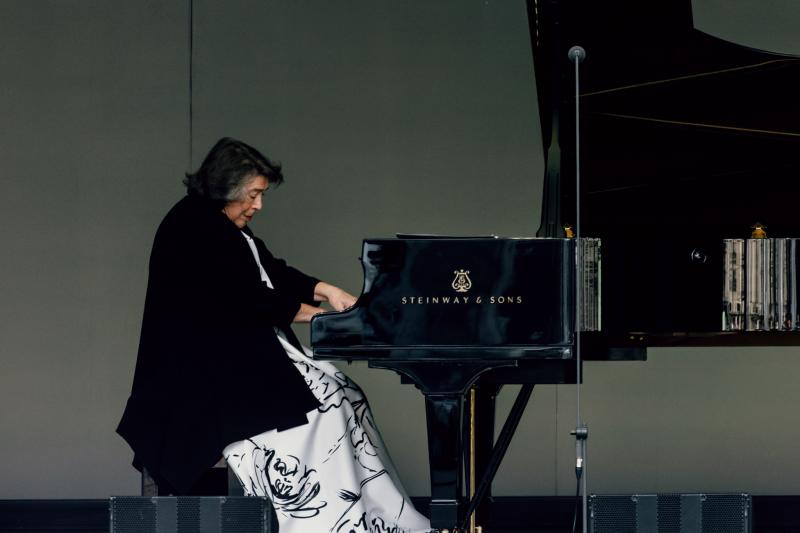 Elisabeth Leonskaja playing in Edinburgh's Old College Quad
Hosting some of the finest
chamber musicians
on the international stage, that venue has seen countless incredible, more intimate performances over the years. While the doors of the Queen's Hall remain closed for International Festival activity this year (there are still other concerts happening there), EIF's chamber music programme is currently taking place just down the road, in a purpose-built outdoor venue housed in Edinburgh's Old College Quad. And, despite the obvious concerns (weather, traffic etc), it works very well. Of course there are more microphones than usual, but the sound is expertly controlled, amplified but not manipulated, so what the audience hears is clear and completely natural.
The pianist Elisabeth Leonskaja gave a splendid recital on Wednesday, opening with a deeply lyrical, expressive interpretation of Schubert's Allegretto in E flat Major. She then moved onto Schoenberg, playing his Six little piano pieces. They are indeed little, with the fourth lasting not even 30 seconds. She brought out a distinct character to each one, though, lending a real tenderness and playfulness to Schoenberg's atonal music.
Brahms's Sonata in F minor had a grand, ardent beginning, with every single note conveying a depth of meaning. The second, Andante espressivo, movement was still and glossy, while the Allegro energico Scherzo, was just that, Leonskaja completely in control of the music's robust energy. It was the finale which shone brightest, Leonskaja's virtuosic playing emanating radiant joy.
The following day, the quad was home to exciting young string players the Goldmund Quartet. Opening with Haydn's String Quartet in B minor, Op. 33 No. 1, their refined sound and nimble playing were evident from the start. The second, Allegro scherzando, movement was buoyant, though with a dark edge to it, and the whirling flurries of the presto finale ended heartily..
A work which needs no introduction is Schubert's String Quartet No. 14 in D minor, "Death and the Maiden". The Goldmund Quartet brought fresh insight to this piece, wonderfully illuminating Schubert's dramatic harmonies. Opening the first, allegro movement, they played with a fresh, raw tone and tight synchronicity, and careered through the harmonic shifts of the movement's final bars bringing a dusky hue to the final chords. The scherzo had a fiery energy and a strong sense of rhythm, before moving into the final, presto movement. It was fast paced, but not so raucous a ride that detail was lost, and the florid final bars were powerful and compelling.
It was the finale which shone brightest, Leonskaja's virtuosic playing emanating radiant joy
rating
Share this article