Album: ABBA - Voyage |

reviews, news & interviews
Album: ABBA - Voyage
Album: ABBA - Voyage
After 40 years of silence, pop's great quartet makes a welcome and convincing return
'If you're susceptible, there's no escape'
Immortality is reserved for monotheistic religions and Marvel superheroes, but in the material world, we also know Abba's songs are ageless and will not die. After all, they have their Abbatars; we have our abattoirs.
Their songs from the Seventies stand as the finest examples of 20th century European sacred music in the popular tradition. Their combination of profound melancholy and joyous uplift reveals itself in song after song. As the decades go by, the power of those uplifting songs of yearning and sadness grows more potent, as if they mean more to you the further away you are from the age at which you first heard them.
Which makes Abba's return with an album of new songs 40 years after their last release, an unprecedented and perhaps dangerous resurrection. Collectively, they may prove mortal after all, Abbatars or no.
As it is, Abba then and Abba now are more like the ageless fairy folk of Celtic legend, making magic music and singing magical songs you can't help but join in with and dance to, after which your fate is as sealed as Napoleon's at Waterloo. Suddenly, 40 long years have passed and you still appear to be dancing and singing along, no longer in the fay realms of pop immortality, but at some old friend's hen night or marquee birthday, not quite knowing how you got there. But you're there.
The music uplifts and centres you in the way that the best of Abba does
And here we are with Voyage. Its opening song and lead single focuses on faith in light of experience. "There was a union of heart and mind," sing Agnetha and Anni-Frid on "I Still Have Faith in You", against the plumped-up strings of the Stockholm Concert Orchestra, whose lush tones feature heavily throughout. Their voices are matured, as if they're singing from deeper waters, their trademark harmonies still captivating. Come the chorus, the music uplifts and centres you in the way that the best of Abba does, and if you're susceptible, there's no escape.
On its B-side (the album's fourth track) "Don't Shut Me Down" has Agnetha taking the lead on one of Voyage's many character-led narrative songs. Here she's a woman sat in a park on a bench as the light fades, and a kind of euro-reggae with an old-fashioned disco backbeat strung with fuzzy bass kicks in alongside a lyric that condenses a short story about estranged partners into a few verses that speak of emotional experience and fortitude, both centres of lyrical power in Abba's best work. Should have been the A-side.
How you respond to "When You Danced With Me" may depend on how you take to its opening flourish of a Celtic tune, where Scandi meets Riverdance (imagine the costumes!) and a lyric about the good old times of dancing in Kilkenny. Okaaay. It's catchy as hell though, as is "Little Things", with its tiny little piano melody, over which the singers' harmonies glacially unwrap simple words of mother-child dynamics and Christmas joys. On the one hand, it's saccharine enough to rot the teeth AND ears, especially once the children's chorus pipes up, but on the other, it's tender and true and charming, and loaded with the kind of empathic feelings we all want to recognise, whether we feel them or not: "Little things like my gentle touch / It's amazing, darling, that so little can achieve so much." How true is that?
"Just a Notion" stands out as double-platinum Abba pop, perfectly formed and expressed, harking back to the early hits, with that same trailing of melancholy through an uplifting, upbeat melody. A yearning and a vulnerability runs through it, as it runs through their finest songs.
Musically and lyrically, several tracks tend towards theatrical show tune territory more than pop. "I Could Be That Woman" has Agnetha on lead vocals, unfolding a short story involving a fighting couple, a sofa and an affectionate dog. Both lyric and vocal feel as if there are plots and characters jostling just out of earshot. It's a song marbled with regret, but with fortitude, too, and that fractured couple narrative continues through the oddly titled "Keep an Eye on Dan". Its fabulous and addictive opening synth line builds up to a sweet, synthetic mesh, with Agnetha singing as a mother worrying for the son she is leaving with his father for weekend access. A piano quote from "SOS" wraps it up at the end; I hear it as a tender, knowing touch.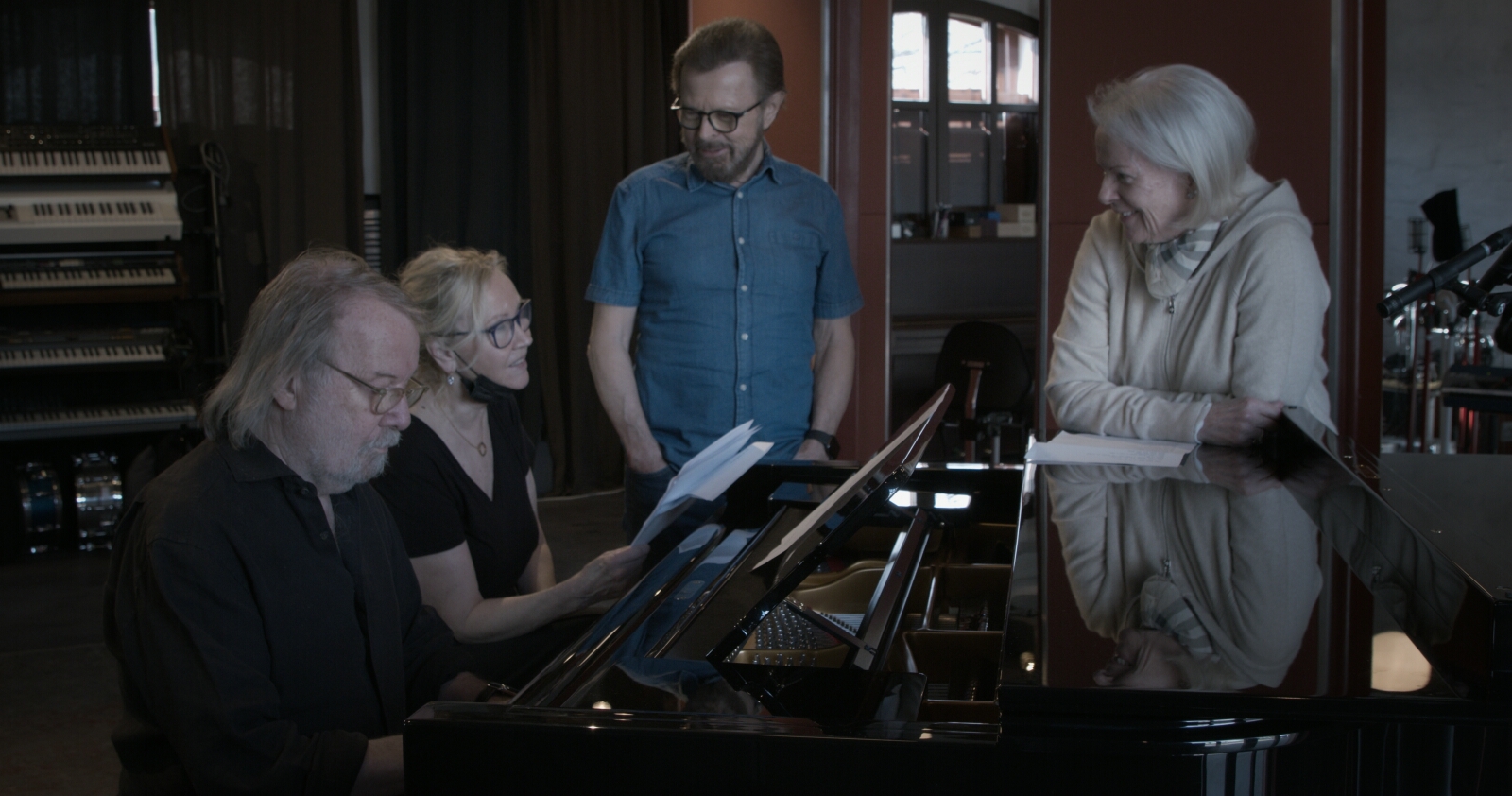 "Bumblebee" starts by quoting "Fernando" on the back of Pär Grebacken's flute, while the main vocal strays, bee-like, from a bucolic, lazy summer garden scene to the fear of losing said bees forever. Ecocide and the climate emergency enter Abba's songbook with a buzz. Sweet.
"No Doubt About It" is another prime slice of upbeat, down-low Abba pop class – while album closure "Song To Freedom" may sound the schmalziest of all, but under the sweet, thickening strings, a wise equivocation looms: "There is no Ode to Freedom truly worth remembering."
Voyage could have seen them crash onto the rocks and sink, but it has songs that can match, in maturity, Abba's achievements of up to half a century before. Immaculately produced, too. It feels like a lifetime ago, but they can still earworm their way into our hearts. Will songs from Voyage feature in some future sequel to Mamma Mia: Here We Go Again? Who knows, but I've had the chorus of "Keep an Eye on Dan" running through my head all day, and I can't shake it. A spin of ABBA Gold may do the trick.
'Voyage' has songs that can match, in maturity, Abba's achievements of up to half a century before
rating
Share this article