Anselm Kiefer Pour Paul Celan, Grand Palais Éphémère, Paris review - an installation of rare profundity |

reviews, news & interviews
Anselm Kiefer Pour Paul Celan, Grand Palais Éphémère, Paris review - an installation of rare profundity
Anselm Kiefer Pour Paul Celan, Grand Palais Éphémère, Paris review - an installation of rare profundity
Anselm Kiefer's spectacular homage to the poet Paul Celan
Tuesday, 21 December 2021
'This is art that feels like it might have been made with debris, a sombre recycling of the dark material collateral damage of war'
The exhibitions of the German artist Anselm Kiefer have always been spectacular: large works with a numinous presence, often breath-taking and always mysterious. His new installation in Paris's Grand Palais Ephémère, the temporary structure at the end of the Champ de Mars which stretches south from the Eiffel Tower, is perhaps the most ambitious work he has ever presented in a museum space.
As in the Grand Palais, which is undergoing a major restoration, this is a cavernous space, one that invites artworks of gigantic scale. "Anselm Kiefer Pour Paul Celan" belongs to the tradition established in the Monumenta series, which included Christian Boltanski, Richard Serra, Anish Kapoor and Kiefer himself, all of whom impressively rose to the challenge of creating massive pieces, in the city that has given us gestural statements such as the Eiffel Tower, the Pyramide du Louvre, the Centre Pompidou and, most recently, the jaw-dropping Arc de Triomphe wrapped by Christo.
There is a good deal more than showmanship to Kiefer's new exhibition: it is a homage to the poet Paul Celan, who has been a constant source of inspiration to the artist for 40 or so years. Celan, born and raised in Bukovina, whose parents were shot into a ditch by the Nazis, is a writer whose work – like Kiefer's – is steeped in the darkest aspects of humanity. Kiefer admitted, in an encounter with journalists on the day of the opening, that no day went by when he didn't feel touched by the great poet, and that he'd learned many of his poems by heart.
With a series of large-scale paintings rising over 10 metres high, towards the darkness of the domed ceiling, walking into the show is every bit as dramatic as entering a vast cathedral. As so often with Kiefer, the works are awe-inspiring, in a way that stands alone from the work of most of his contemporaries. The awe here is not just a matter of effect: Kiefer's universe speaks to us in a language at once impenetrable and yet strangely familiar. The works draw on visual themes that evoke the aftermath of terrible conflict and almost monochromatic hues that have haunted Kiefer for most of his career: a grim range of blacks, whites, greys, browns and ochres, the colour and textures of earth torn up by destruction and war, and the use of singularly un-beautiful materials such as sand, ashes, dried-out straw and ferns. The paint, where it is used, is applied in thick layers with a violence and surface texture that both unsettle and move. This is art that feels like it might have been made with debris, a sombre recycling of the dark material collateral damage of war.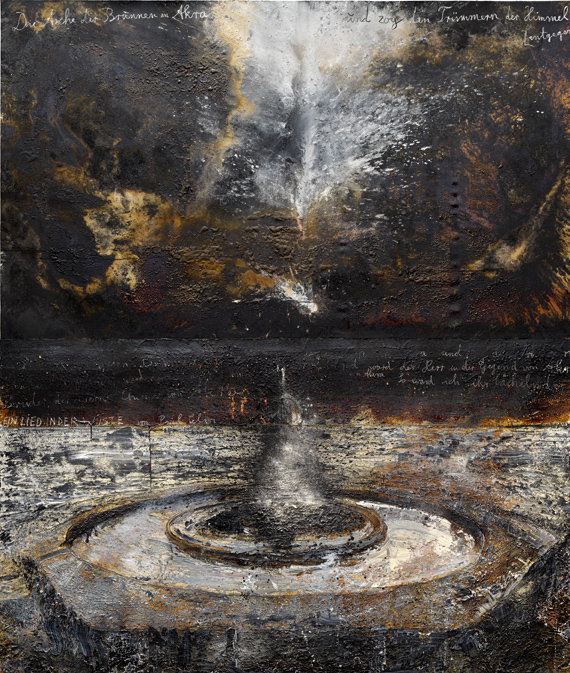 Although, as always, there are words hand-painted onto the vast canvases, samples from Celan's rich poetry as well as his own, these are far from conceptual works. Above all, Kiefer elicits emotion. The poet's work moved from a lyrical evocation of the horrors of the Final Solution – as with "Todesfuge" ("Death Fugue"), his extraordinary and celebrated song-like evocation of Auschwitz – towards increasing abstraction, a victim's quest to both deconstruct and re-invent the language of the perpetrators. Similarly, Kiefer's work is not reducible to interpretation: it speaks in tongues we can only guess at, but that touch many layers of our imagination. Even though Kiefer's mystery – shamanic and close to the realm of sacred images – tempts his audience and critics to attempt the comfort of explanation, the work functions best without being reduced to simple allegory or facile symbolism.
There is a turbulent confrontation of light and darkness. There are constant references to an earth ploughed by violence, and harvests that produce as much death as life. And perhaps most significantly, the perverse coupling of memory and forgetting – with the ever-present dried-up poppies so characteristic of Kiefer, which themselves evoke the poet's first post-war collection "Mohn and Gedächtnis" (Poppy and Memory). In German culture, the poppy, in its post-blooming phase, is linked to the forgetting that comes with the soothing and blissful analgesia of opium, whereas our own red poppy flowers are all about remembrance.
Along with the gigantic paintings that dramatically break up the space's nave, there are other works: a round concrete bunker, with large poppy stalks rising in melancholy fashion from its grim surface; a full-size 1940's style aeroplane, flightless as created entirely of out lead, its wings weighed down by massive books with still and silent pages, made of the same material – an evocation of Saturn the god of time and melancholy, as well as the metal that was used by the alchemists to make gold. Might this be an allusion to the transformative potential of the tragic weight of history? The alchemist Kiefer works with reclamation and recycling, turning debris and lead into gold. In the midst of the darkness he conjures, the artist occasionally allows for an explosion of near-blinding light, white and gold splashes of paint, that make the near-obscurity bearable.
Kiefer's work is not reducible to interpretation: it speaks in tongues we can only guess at
The Grand Palais Éphémère is ephemeral, or in other words temporary. Kiefer's work, although concerned with memory, evades time and temporality. There is something beguilingly time-less about a show that reminds us that human violence and frailty are not time-bound. Genocide is not limited to the Holocaust. If history teaches us anything, it is that humanity is rooted (or perhaps stuck) in cycles of repetition. Images of perfectibility and progress are an illusion. This is a dark view. Kiefer belongs indeed to the tradition of dark romanticism, a philosophical and spiritual outlook that questioned and even rejected the promises of the Enlightenment. The awe that his work inspires reaches into the obscure and dream-related parts of the human psyche in a way that comes close to the mythical world that inspired Wagner. As with the composer of works of forbidding scale, might Kiefer not be embodying currents of the human unconscious that run at times dangerously close to the psychological and emotional abyss that allowed for the excesses of totalitarianism?
There is a turbulent confrontation of light and darkness
rating
Explore topics
Share this article