Ballake Sissoko & Vincent Segal, Roundhouse review - kora and cello combined |

reviews, news & interviews
Ballake Sissoko & Vincent Segal, Roundhouse review - kora and cello combined
Ballake Sissoko & Vincent Segal, Roundhouse review - kora and cello combined
The Malian master and French cellist demonstrate the powers of lyrical string theory
Thursday, 27 January 2022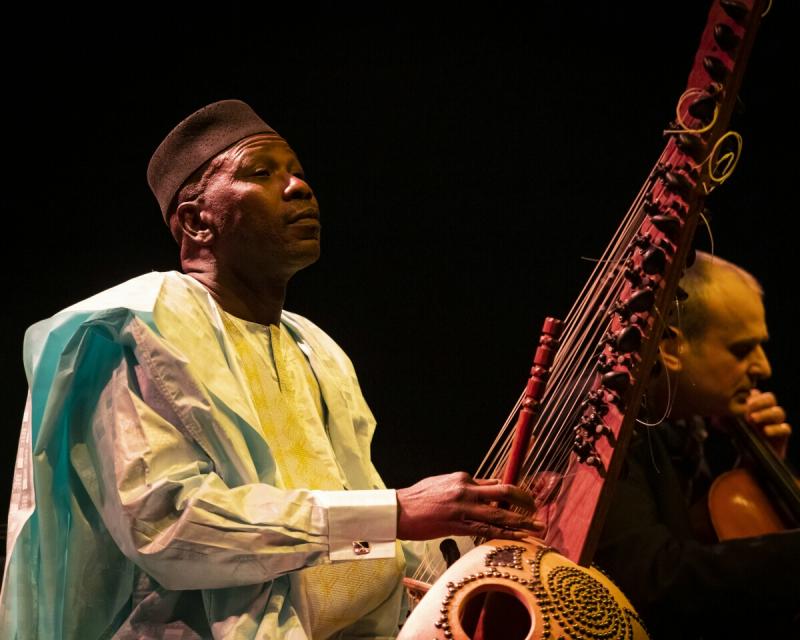 Malian kora master Ballake Sissoko is a griot steeped in the musical and cultural traditions of West Africa, whose duets with his cousin Toumani Diabate on the world music classic, 1999's New Ancient Strings, are rightly celebrated.
His duets with French cellist Vincent Segal first appeared in 2009, on the French No Format label; Chamber Music was hailed as a classic of world fusion, and their follow-up, 2015's Musique de Nuit, extended and expanded that spirit of improvisation, recorded live in a studio in Bamako in Mali – and, more poetically, on Sissoko's rooftop.
That intimate sense of trust and ease between the two players extends powerfully to their concert work, and the duo's appearance at the last night of The Roundhouse's In The Round festival was a long-expected treat following multiple cancellations as a result of the Covid pandemic.
A packed-out audience on a freezing Monday night in January stood testament to the magnetic attraction their music has on audiences. You're drawn in by the opening ripple of Sissoko's kora strings on "Chamber Music" from their first album, and "N'Kapalema" from Musique de Nuit, Segal's plucked cello punctuating the basslines on the kora while Sissoko stitches and weaves.
Between them, they swap rhythm and lead parts in an intuitive, flowing exchange, Segal crossing back and forth between the plucked and the bowed, leading the melody lines, plumping the bass upon which their music builds and flows, an aural architecture rising high into the air.
Across a nine-song, 90-minute set, their musical intimacy and intuition plays out across pieces from both their albums and from Sissoko's solo repertoire, with Segal, in his customary charcoal suit, exchanging his cello for castanets and circling Sissiko in his flowing blue robes as he delivers a striking interpretation of "Asa Branca" from Sissoko's At Peace album.
Ending their set with the slow, lyrical airs of "Mako Mady", the music flowing like honey – hypnotic honey – a lengthy standing ovation led to an encore that saw the opening act, South-African, UK-based cellist Abel Selaocoe return for a thrilling improvisation between the three of them. Selaocoe recently presented an enlightening three-part series about the cello for BBC Radio 3, and his thirty-minute set was one of the few opening acts I've seen to enjoy a standing ovation. For good reason – here's a star in the making, a brilliant instrumentalist, an inventive singer and an assured performer who can draw the audience into the palm of his hand, and then start playing it – getting us all to hum in C as he wove the Prelude from Bach's Cello Suite 3 around us to thrilling effect. We're going to hear a lot more from Abel Selaocoe.
Their music builds and flows, an aural architecture rising high into the air
rating
Explore topics
Share this article