The Eyes of Tammy Faye review - Jessica Chastain pulls out all the stops |

reviews, news & interviews
The Eyes of Tammy Faye review - Jessica Chastain pulls out all the stops
The Eyes of Tammy Faye review - Jessica Chastain pulls out all the stops
Televangelism and the Bakkers' prosperity gospel revisited in Michael Showalter's biopic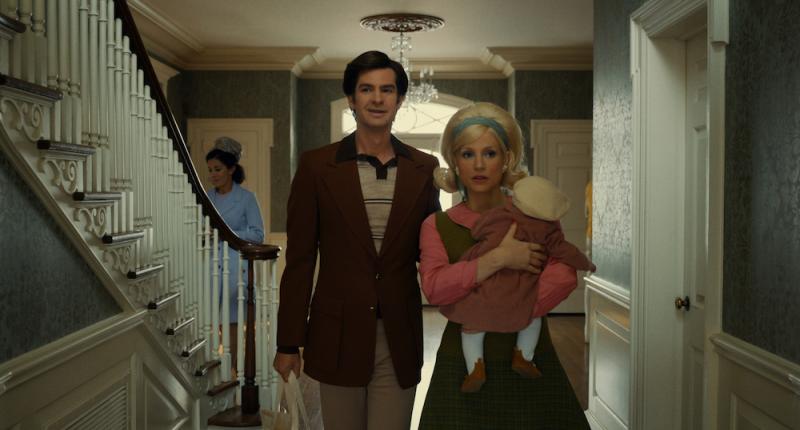 Spreading the prosperity gospel: Andrew Garfield as Jim Bakker and Jessica Chastain as Tammy Faye
US televangelists Tammy Faye and Jim Bakker's rise and spectacular fall from grace in the Seventies and Eighties has already been covered in a documentary film of the same name, released in 2000 with a voice-over by RuPaul.
Why, you may ask, another one now? This biopic, directed by Michael Showalter (The Big Sick; Search Party; Wet Hot American Summer) starring Jessica Chastain as Tammy Faye – she was inspired by the original, bought the rights to Tammy Faye's life and immersed herself in all things Tammy for seven years – with Andrew Garfield as Jim, doesn't adequately answer that question.
It's all a bit insubstantial, shallow and predictable, often verging on SNL-esque parody, though Chastain portrays the giggling Tammy Faye with a huge amount of vim and vigour and Garfield does a creditable turn as nattily clad, boyish Jim. But we never get far beneath the layers of make-up, the over-the-top costumes and the Betty Boop voice, not to mention the cutesy puppets that sparked Tammy Faye's success (pull in the kids and the parents will follow, was her motto). And montages speed up time, leaving no room for reflection.
It's interesting, though, to see Jim and Tammy at the start of their itinerant evangelism. They meet at bible college in Minneapolis in 1960 and Jim's prosperity gospel is right up Tammy's street. God does not want us to be poor, she agrees, batting her famous eyelashes, and forgives him when their car is repossessed after he fails to make the payments.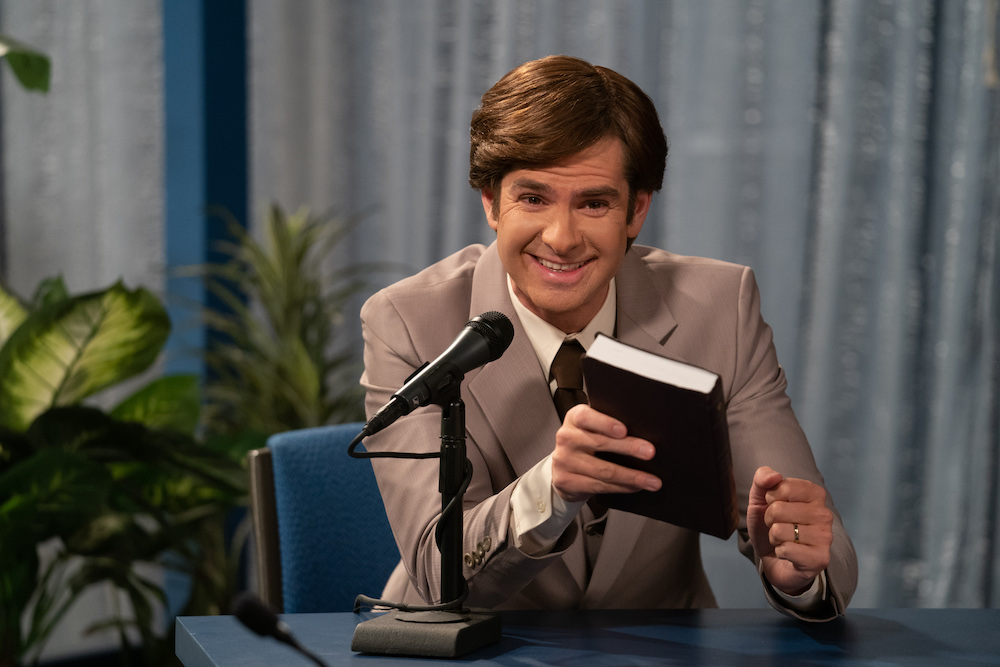 It's her genuine humanity and tolerance in the rigidly homophobic world of televangelism that attracted Chastain to Tammy's story. In the most memorable scene, she gives a powerful, empathy-filled satellite interview in 1985 with Steve Pieters (Randy Havens), a gay pastor and activist and "an AIDS patient," as she puts it, establishing her as an LGBTQ icon. She refuses to sit with the other wives at a big-wig lunch and instead plonks herself down, baby in tow, with the men, and makes no bones about dismissing the crusade waged by the Reverends Pat Robertson (Gabriel Olds) and Jerry Falwell (Vincent D'Onofrio) against the American liberal agenda. Falwell is a snake in the grass, with a creepy hissing delivery. "We're all just people made out of the same old dirt," she tells the men in her oddly Sarah Palin-like accent. "I'm in the business of healing people."
But it would have been nice to have more details about how the immensely successful Bakker empire slid into corruption. The PTL (Praise The Lord) TV network, "broadcasting 24 hours a day until the second coming of Christ", with its late-night talk show (Little Richard and Ronald Reagan were guests) and Heritage theme park in South Carolina – the first Christian water park, surely something the world was longing for - reached 20 million viewers world-wide. The pledges rolled in, financing fancy houses and luxury lifestyles for the Bakkers and their family.
In 1979 the investigations into misuse of funds begin and they try to turn it into an on-air pledge opp. "Let's give the devil a black eye," says Jim, as the phones start ringing. But he went to prison in 1988 for fraud and diverting funds, some of it used as hush money for Jessica Hahn, a church secretary who accused him of rape.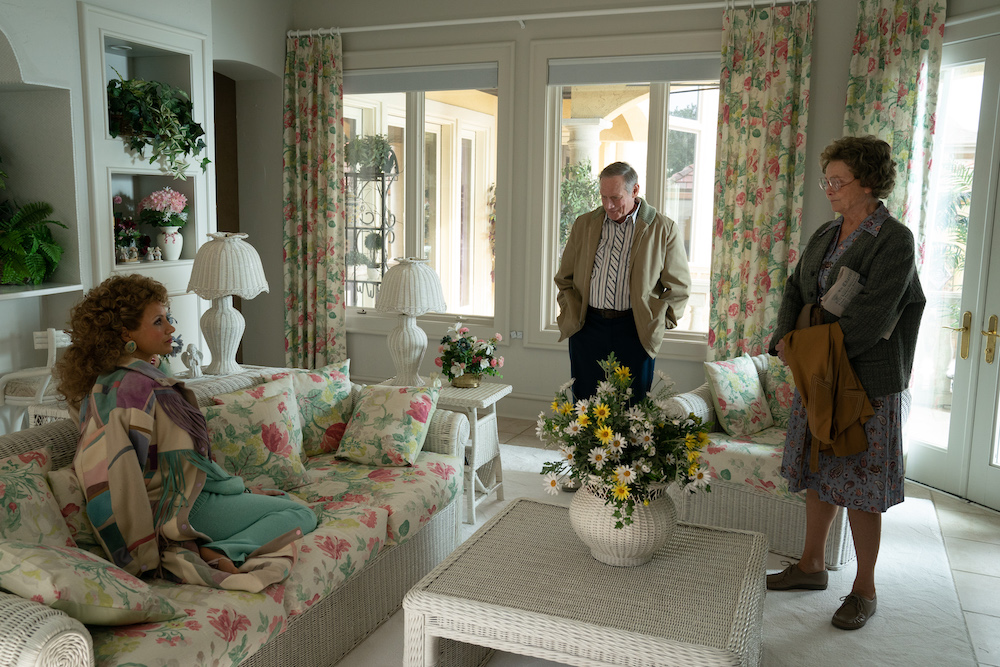 Pearlygate was all over the US tabloids but Hahn is hardly referred to here. Instead the film focuses on Jim's possible homosexuality – there were allegations of impropriety there too when the fraudulent accounting scandal broke. He loves a spot of rough-housing with his manager and tends to forget his "manly duties" regarding his wife, who becomes increasingly lonely and has a short-lived affair with her music producer (her waters break in the middle of a clinch). But there's little attempt at backstory in either of these potentially interesting threads. Their two children are conspicuous in their absence.
Tammy Faye's mother (the excellent Cherry Jones; The Handmaid's Tale; Succession; pictured above with Fredric Lehne as her husband) is the voice of reason and sees through Tammy's foolishness (when Tammy fell to the ground and started speaking in tongues as a child in church, she told her to get up at once). She continues to ask awkward questions throughout her daughter's career. Where is the money coming from? Who's paying for these houses? Nevertheless, she reluctantly accepts a fur coat and a house. Tammy pops pills and swigs Diet Coke.
By the end, that fur coat is one of the only remaining items. The houses are dismantled, the beds are carried out. Jim goes to prison and Tammy, optimistic and with her eye make-up shinier than ever, accepts a singing gig at Oral Roberts University where we see her offset by pink heavenly choirs. Glory, glory hallelujah.