Compagnie Ieto, LIMF, Purcell Room |

reviews, news & interviews
Compagnie Ieto, LIMF, Purcell Room
Compagnie Ieto, LIMF, Purcell Room
Two modest Frenchmen with immodest circus skills and bags of imagination
Thursday, 28 January 2010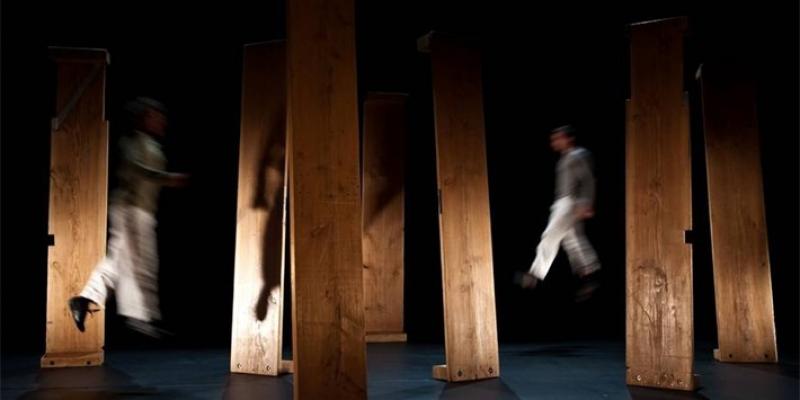 Compagnie Ieto: two modest Frenchmen with immodest circus skills
Compagnie Ieto are two modest Frenchmen with immodest circus skills - modesty in all the right proportions. Jonathan Guichard and Fnico Feldmann teamed up in 2006 and were finalists in the 2008 Jeunes Talents Cirque with this show Ieto, last night's hugely entertaining offering at the Purcell Room by the London International Mime Festival.
Mime theatre can be spoilt sometimes by lofty pretensions, but here all that was lofty was the eyewatering height at which Feldmann and Guichard were prepared to stand on perilous structures which they gleefully destabilised under themselves.
Guichard is an engaging younger version of Mr Bean, with large speaking eyes and a goofy grin to offset the stern demeanour of Feldmann, a time-honoured clown partnership. Fortunately this seems to be easier to take from young Frenchmen than any other nationality, and they haven't yet let it become too irritating a distraction from their remarkable and unusually fresh application of acrobatics, into which they have infused essence of streetdance, and then added a wow factor that makes all b-boys I've ever seen look like ninnies.
Their trademark is long wooden benches. They begin sitting on one, like two schoolboys waiting for a bus. Guichard tries to be winning and pal up; Feldmann sullenly resists, combusting into some speedy, lightfooted backflips and b-boy whirligigs around the stage. The feint only provokes Guichard, of course, to respond with his own cartwheeling, and soon the pair are locked in an ingeniously flowing and constantly changing sequence of body curls and flying jumps. This establishes that these two men have the bodies of caterpillars and the strength of Turkish wrestlers.
It is no surprise, therefore, that when one of them upends the 4m-long bench onto its little foot, on which it rocks thoroughly unnervingly, Feldmann (who though stern-faced is miraculously nimble on his pins) shins up it in a trice and stands atop it, like Simon Stylites on his column, or a boy on his tree, scowling at visitors. This very extraordinary demonstration of his sense of balance is paradoxically only emphasised by Guichard's subversive attempts to climb up himself - the ease with which the bench smashes down onto the stage underlines Feldmann's lightning reactions as he leaps for safety. This command of equilibrium and timing becomes the main engine of the beautiful development in which they rope together ends of benches and create swaying forests of them, up, over and between which the two men scamper about like squirrels, enjoying using their weight to make the unstable edifices sway mightily - while we sit in the audience our palms pricking with fear.
Lighting is subdued, evening-ish. A ghostly little girl's voice on a loudspeaker asks slightly worrying childish questions - why poppers look much stronger than they are, and whether a little electrocution would make guinea pigs less fat, lazy and boring. Piano notes drop occasionally into the air, or soft resonant sustained strings, unobtrusively adding to the genial, loopy atmosphere.
Feldmann apparently first had the idea of using wooden planks or forms for a sort of nutty kinetic sculpture, but the pair have nicely thought through with director Christian Coumin the process of construction itself, so that the capricious tilting and propping of the planks against each other, and the careful roping of them, has its own alluring suspensefulness. Nothing, though, can prepare one for the totally insane idea of balancing a huge horizontal cross piece on top of a vertical one in a gigantic T and then having both men shin up it and stand on the T-bar deliberating turning the whole crazily unstable thing into a life-threatening seesaw. I assume that each show will have its own outcome from this particular enterprise.
For the final number Feldmann hands the stage to Guichard, who is primarily a tightrope artist. Once again they set to roping benches together in strange interlocking ways, and the marvellous ship-like structure that they gradually assemble is finally a gift for Guichard to ply his skills on. Meanwhile the saturnine Feldmann watches quietly from the shadows, perched 4 metres up on a discarded, upended plank. Quietly ingenious, not over-characterised - there's something very appealing about these guys, and I hope they'll be back soon.
Compagnie Ieto are performing until Sunday at the Purcell Room, South Bank Centre, London

Meet the Artists on Saturday
Watch a trailer: