The Batman review - lean and mean, yet again |

reviews, news & interviews
The Batman review - lean and mean, yet again
The Batman review - lean and mean, yet again
Robert Pattinson's handsome, fearsome crusader battles the Riddler, and diminishing returns
A couple of strays: Catwoman (Zoë Kravitz) and Batman (Robert Pattinson)
Robert Pattinson's Batman is lean and aquiline, his Bruce Wayne an obsessive recluse.
Matt Reeves'
reimagining is similarly handsome and cerebral, much like his genre craft on the
Planet Of The Apes
franchise. But superhero reboots have become tellingly frequent, as if being jolted back to life by increasingly desperate electro-shocks. For all the consummate care expended on
The Batman
's beautiful surface, its substance subsides through familiarity.
We're in Batman's second year on the job, no one having the stomach for another origin yarn (though you can't help thinking – not for the last time - of Todd Phillips' Joker, with its traumatised rich kid Wayne and his obnoxious, slain one-percenter Pa). Much like No Time To Die, we begin with a wrongfooting, horror film scenario, as the Riddler (Paul Dano) stands unnoticed behind Gotham's mayor in his home on Halloween, the start of a serial-killing assault on the city's corrupt figureheads.
More impressive is the opening depiction of Batman's hold on Gotham. "Criminals are a superstitious, cowardly lot," Bruce Wayne reasoned as he assumed his alias in Bob Kane's original 1939 comic, and the Bat-sign piercing the night sky is enough to send vandals and stick-up men scurrying for cover, seeing their nemesis in every shadow. The real Batman materialises out of velvet dark with jackboots smashing into the rain-drenched streets. Ben Afleck's JLA version was a tank, armour souped-up to take on Superman, and echoing militarised US law enforcement. Pattinson's is just a man in a bullet-proof suit, taking punches as he fights with reckless rage. Back in stately Wayne Manor, he slobs around in a T-shirt, old retainer Alfred (Andy Serkis) – now with a back-story in Le Carre's Circus – nagging him to take a shower.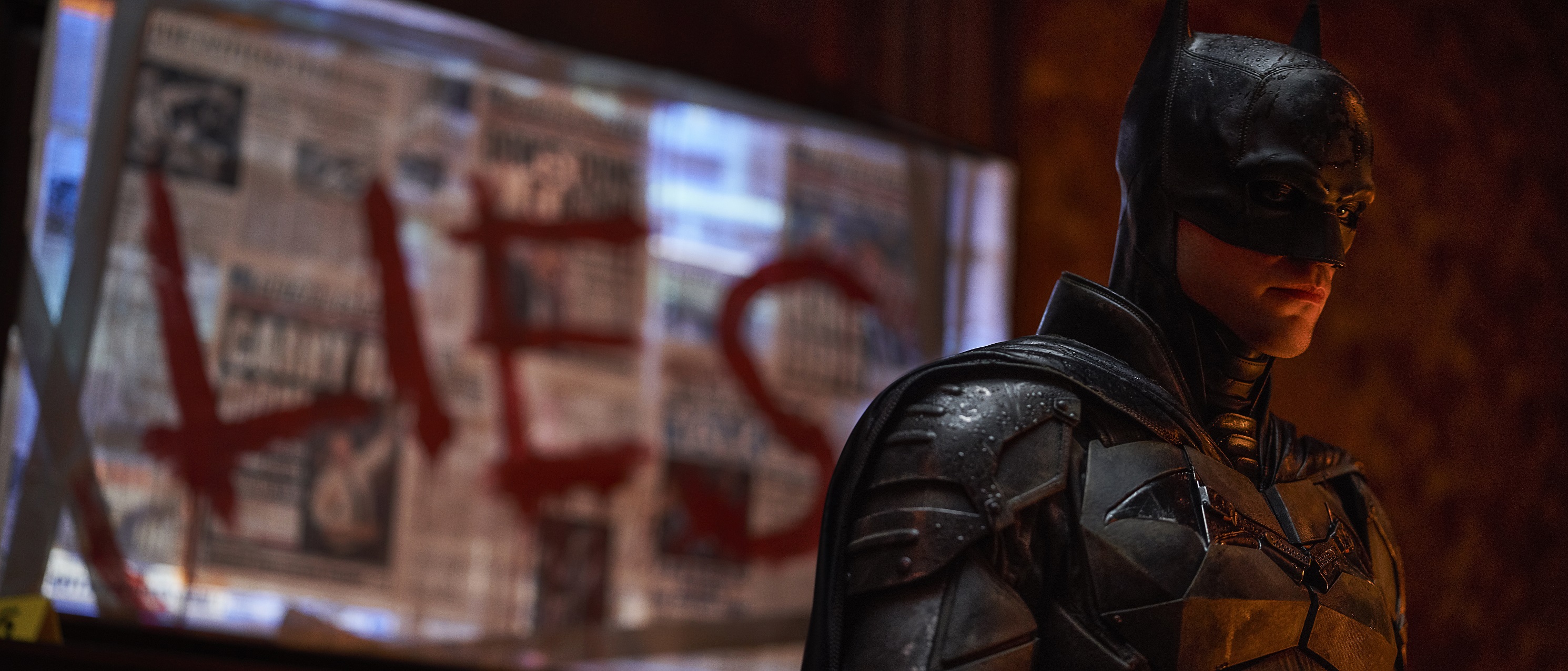 Selina Kyle (Zoë Kravitz) wears a crude balaclava for her Catwoman mask and has unpaid bills piling up, seeing Batman as a fellow stray but, as the Riddler also rails, clearly privileged, in a very class-conscious Batman film (with Skyfall's introduction of an aristo Bond, the world is being saved by a beneficent elite almost daily). Nirvana's "Something In The Way", Kurt Cobain's song about huddling under a bridge, alienated and alone, emphasises these are orphans, and Pattinson's notion of Wayne as a rock star hermit.
Production designer James Chinlund and cinematographer Greig Fraser (Dune) combine to create a Gotham of vertiginous, ad-bedecked skyscrapers in a golden haze of neon, shadow and rain, mixing Blade Runner, idealised, pre-digital '70s and '80s film hues and '30s design, while the rotten weather plus the anonymous Riddler's maddening clues and sickening crimes add clear Seven vibes. Michael Giacchino's elegantly propulsive, ominous score is an equally crucial, cohesive element, not least the tolling, "Darth Vader theme" piano for this half-bad, cloaked Batman.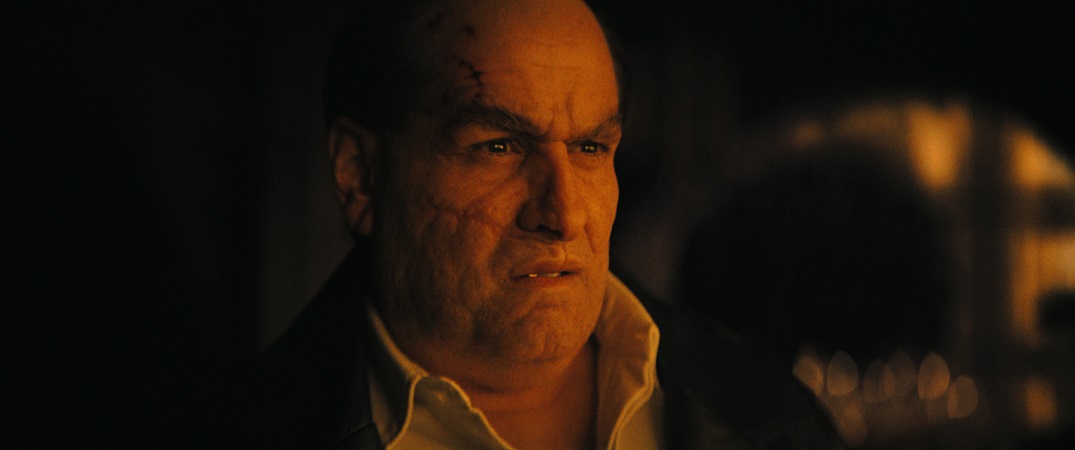 Reeves says The Batman lies separate from DC's stuttering cinematic multiverse, but it's clearly Joker's flipside, lacking only Joaquin Phoenix's centrifugal force, and Phillips' useful pretension that his was a '70s Scorsese, not superhero, film. There are no superpowers here, either, just urban venality exploited by mob boss Carmine Falcone (John Turturro, an idiosyncratically calculating, slim, greying malevolence). Colin Farrell riffs on De Niro's Untouchables Capone as the Penguin, pictured above, here puffy, pulpy, and a preciously rare spark of fun. When Dano's Riddler is revealed, he's Mark Chapman - or Seven Spacey - ordinary, with an idealistic grudge against the world much like Phoenix's Joker. Though dabbling less in right-wing currents than Phillips, Reeves makes the Riddler a QAnon chaos merchant, meaning to demonstrate the old order's sickness then overturn it, with methods learned from Batman: "Fear and a little focused violence."
It's hard to care for most of this leisurely film's considerable length about the vague conspiracy Batman's solving, till the Riddler masterminds the sort of anarchy also seen in Joker, The Dark Knight Rises and the US Capitol. For a moment, Reeves finds ideas and tone of worrying import, transforming Batman towards true heroism along the way, in a briefly very interesting superhero film.
But Gotham's streets have been viciously mean ever since Frank Miller's comic The Dark Knight Returns (1986), with its realistically murderous Joker, and Batman as a battered old John Wayne vigilante in a media-saturated, crime-ridden city. Neither Tim Burton nor Christopher Nolan, the Gotham TV series or The Batman have got beyond that thrilling, grim last word, 36 years ago – except when they've cribbed from Miller's Batman: Year One (1987). A lot of good work has gone into Reeves' film, and DC have the right Batman now. But how many more do we need?